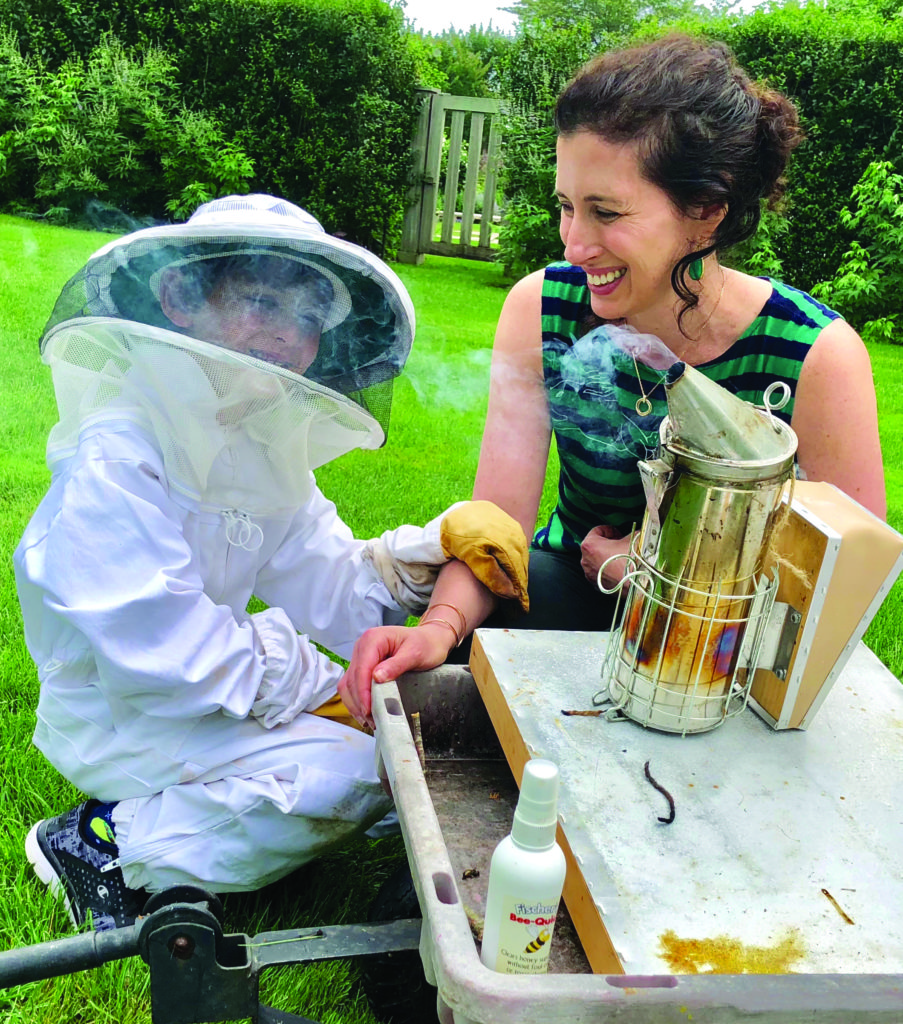 by Kate Solomon
When I was growing up, my father took a beekeeping class at our local nature center. The next thing I knew, he had eight hives in our backyard. At 9 years old, I would watch him construct the frames, put on his bee suit and tend to the bees every weekend. We harvested over 300 pounds of honey every year—it was an all-hands-on-deck family operation.
After college, I learned that the Peace Corps had a beekeeping assignment. I applied and was assigned to Paraguay in South America, where I spent two-and-a-half years. My village was four hours from a city and had no running water or electricity. What it did have, though, was the kindest, most soulful people who taught me farming and agriculture. In turn, I taught the women farmers how to bee-keep so they could earn income by selling honey. We even created a side business making soaps and lotions with beeswax and honey. These creations launched my great passion for developing natural personal care.
Once back from South America, I worked in product development for over a decade at global companies like Avon, LVMH and L'Oréal. In 2007, I began to pursue my dream of developing plant- and mineral-based products. Back then, there were very few products on the market without toxins or that used the power of plant science. I saw a great opportunity in baby and kids' hair, skin and sun care. The sun-protection formulas on the shelves were loaded with chemicals, so I worked hard to create a clear, lightweight, zinc-based mineral sunscreen. I also developed shampoos and lotions that I could use on my soon-to-be-born baby.
Even though I had products, I still had no name for the company. One day, my son was carrying around his stuffed security bunny (the one he couldn't live without) and calling it "Babo." I thought, what a great name to signify safety, comfort and security. And thus, Babo was born in 2010!
Over the past eight years, Babo has grown quickly. We just expanded nationally, through Whole Foods. White's Apothecary carries our entire range. Retailers like Ulta and Target sell us online. As my children have grown (and I have, too), Babo has also matured. This year, we launched products for adults with sensitive and eczema-prone skin.
Now, everything has come full circle. I have three children who help harvest the honey once a year. This past year, our yield was 400 pounds! Our amber honey has a floral and fruity taste that is divine. (The Hamptons are a magical, unique environment for bees to flourish.) My kids are so proud of their work, and they give it to their teachers for holidays. Educating my kids on the bee cycle and ensuring they understand the connection between work, environment and food is very important to me.
And of course, that beekeeping is a family tradition makes it all the more special. Babo's tag line is Family Comes First. Naturally, I live by that. babobotanicals.com