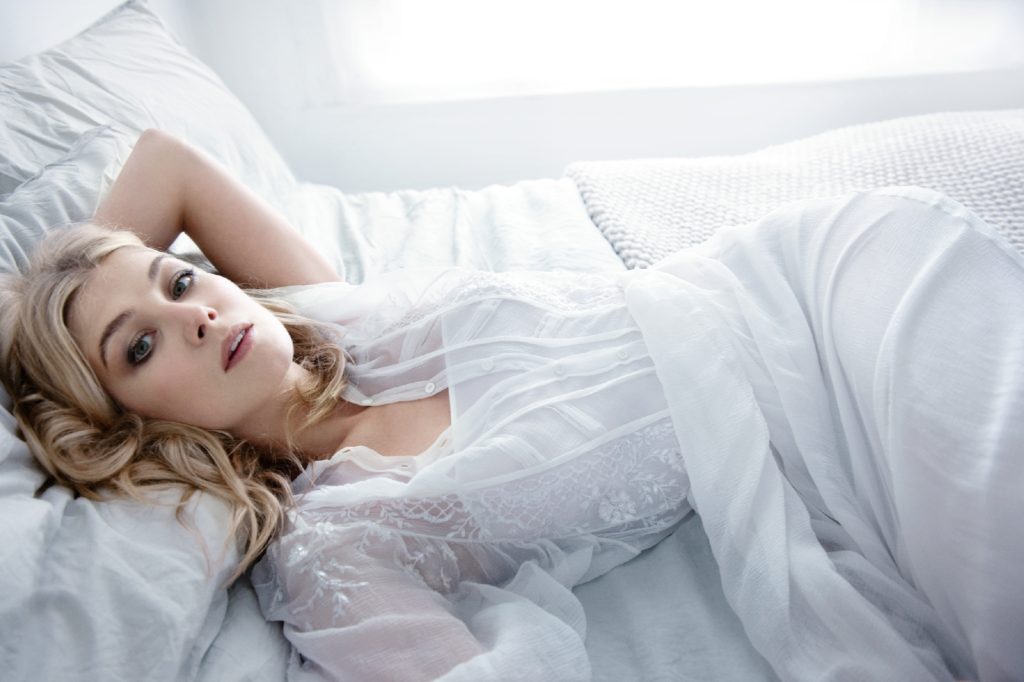 by Cristina Cuomo
From Bond Girl to Gone Girl, Academy Award-nominated actress Rosamund Pike finds meaning in the role of a lifetime as Marie Colvin, one of the most celebrated war correspondents of our time, in A Private War. With a new Netflix movie, I Care A Lot, and a star-turn as Marie Curie in Radioactive, the 39-year-old British actress and mother of two sons is no stranger to daring, complex female lead roles, having made a name for herself in Pride & Prejudice with Keira Knightley and action dramas Die Another Day and Jack Reacher.
The fearless and renegade Colvin, who chronicled the cost of war for The Sunday Times in London for over 25 years, traveled to the frontlines of harrowing war-torn towns in the Middle East, where the intrepid reporter physically and emotionally sacrificed everything—all in an effort to give a voice to the voiceless victims of conflict.
Pike's process and portrayal of Colvin goes deep, and is evident when we sat down to talk about her important place in history and in this film, in which Pike gives such a convincing performance that when Colvin speaks on video at the end of the film, it sounds uncannily like Pike. Pike echoes the same sentiment with which Colvin lived her life: Will enough people care when this story reaches them?
Led by Academy Award nominee and critically acclaimed documentary filmmaker Matthew Heineman, this narrative feature also stars Jamie Dornan, who gives a wonderfully authentic performance as Colvin's colleague in the trenches, photographer Paul Conroy. Honoring the Oyster Bay, Long Island, native, the Marie Colvin Stony Brook University Center for International Reporting was established after her death.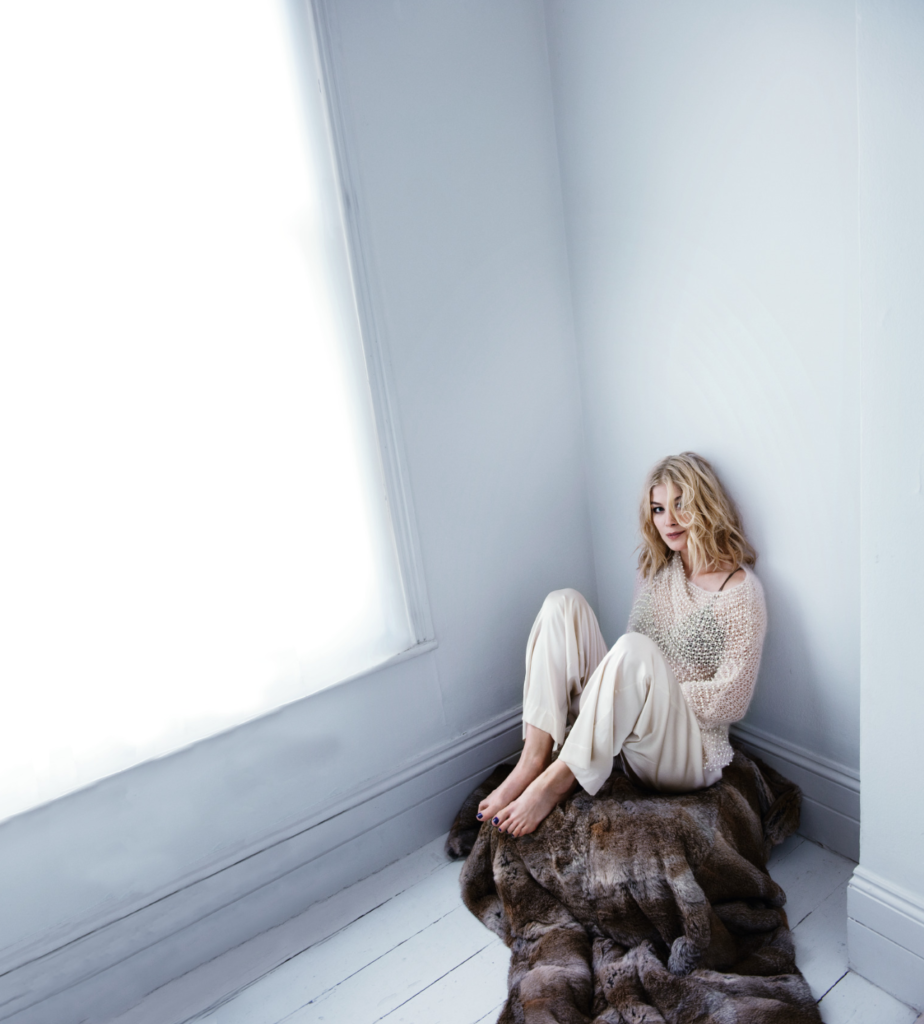 CRISTINA CUOMO: A Private War is an incredibly told story. When did you first come across the story of the war correspondent Marie Colvin, and what was the appeal of this part for you?
ROSAMUND PIKE: I felt very passionately about Marie. I had read about her and felt very moved by her story, and the way she put her own life on the line in pursuit of the story and the truth. It was a courage I admired, and I'm very drawn to people who show that kind of courage. I felt that I understood her. I don't know why, but I felt I could relate to her, and I knew I wanted to play her. I believed that a documentary maker by trade would challenge me to be very fearless in my performance, because I knew there was nowhere to hide if you've got someone who's used to filming total reality. And I knew that he was not going to accept any artifice.
CC: Did Marie's desire to share this very real human aspect of war and the stories of the victims as a means of telling the truth of history resonate with you?
RP: The crossover with my mode of working and Marie's is that I also look for the human in the stories I tell. I want people to relate to the human in all of us. You're chasing something that will resonate with people and make them feel something—a moment of humanity and truth, as they sit in a dark room watching a big screen. And I think she wanted people to sit at home with their breakfast reading the papers and feel something. That's where we crossed over. Sharing the human experience and realizing that we are not isolated and we are not insular—that's what makes us transcend the everyday in our own lives. Raising awareness was hugely important to her. It is very easy for wars to be told in the history books as tribal conflicts, territorial conflicts or governmental conflicts, and she wanted to remind people that it's the old, the elderly, the sick, and the women and children who suffer the most.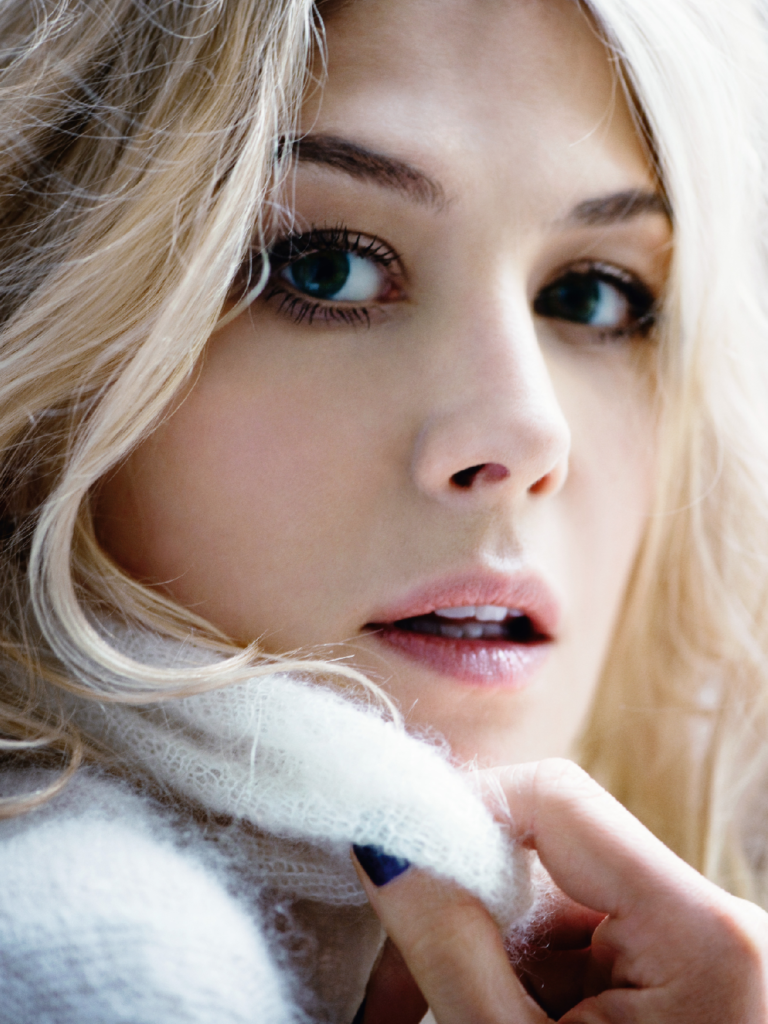 CC: How did you research who this girl from Oyster Bay, Long Island, was?
RP: It was a very unusual experience and a very profound one because I stood in her shoes a fair bit and met her friends and was privileged enough to have a certain intimacy with some people who are very close to her. 'The life of the party' is what a lot of people remember of her. And you have to have a sort of black humor when you're in situations like that, as I learned from Paul Conroy—who is played by Jamie Dornan—who joined us for the whole shoot. Paul was with us everyday, so stories would just bounce out of his mind. He was amazingly generous.
One of her friends lent me one of her sweaters, which I wore in the film, and then when we were in Jordan filming in each of the conflict zones, Matthew got whatever level of reality by casting supporting background cast who were frequently refugees from the conflict that we were covering. So in the Homs section, 80 percent of the people featured were people who lived in Jordan after coming from Syria. And the women in the widow's basement, that's what they called it—a widow's basement, women who had gone to shelter underground not knowing where their husbands were and if they'd ever see them again. Women and children were sheltered there and the stories that I get from those women, those are their real stories. Those aren't scripted lines. It was a very profound experience for me.
CC: That must have been harrowing to see first-hand all that treachery of war. Was there any part of that that you struggled with while filming?
RP: There were definitely very emotional days and a kind of window on appalling situations that are very hard to forget. There were images during the making of this that will probably be seared in my brain forever.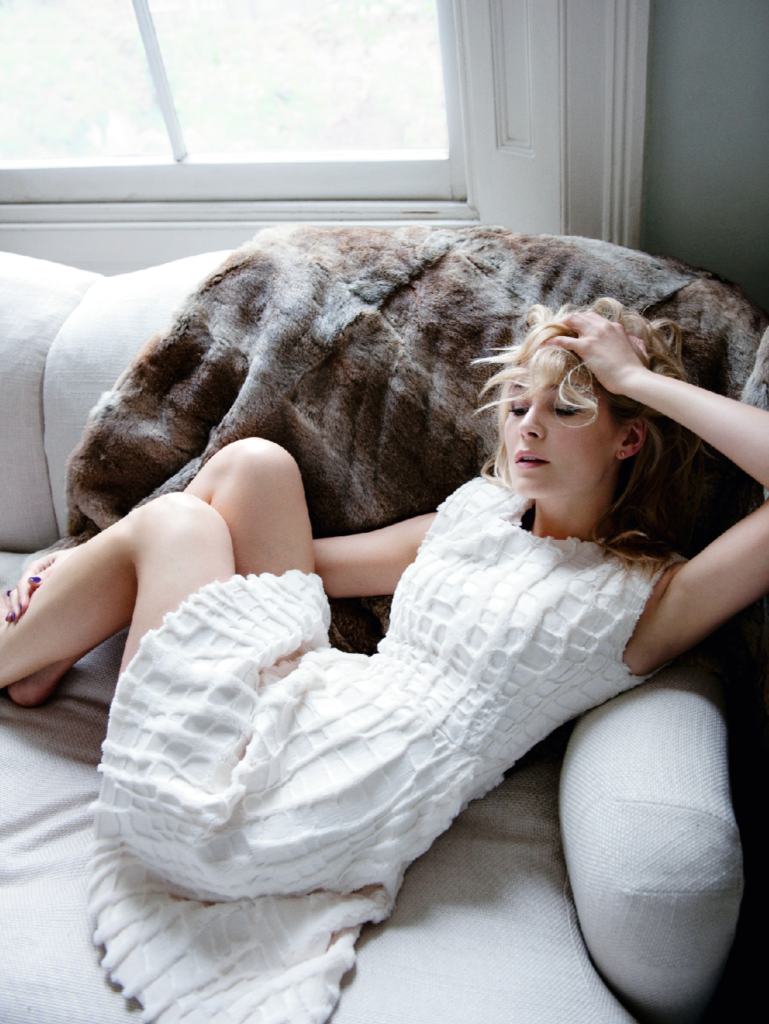 CC: When she comes back to receive her correspondent of the year award after Sri Lanka, and her producer tells her that some people are saying that she's foolish for going in there, what part of that had to do with her being a woman?
RP: She was seen as a bit of a kamikaze. She set her bar higher than most people would feel was an acceptable risk. She was rarely treated any differently by the people she worked for because she was a woman. It got her access when she was in the Middle East that a man might not have gotten because she was sort of more unfathomable. She wasn't necessarily their version of a woman, and nor was she a man. She said sometimes she occupied the space of a third sex. I'm sure that's what got her the close relationships she had with Yasser Arafat and even Colonel Gaddafi. She was a curiosity and she traded on that. She knew that she could play the curiosity, but underneath be tough as nails.
CC: And she's relentless in her faith in humanity. Do you think she made a difference?
RP: Well, she certainly did in some places and I think as anyone who works in the humanitarian field will say, it can be a drug if you've had one success. But it's a fallacy to think that you can save anybody. You can raise awareness and you can perhaps influence…. Early on in her career, Marie was in East Timor and the U.N. had a compound of people who they were sheltering from the hostilities. And then there was going to be an imminent attack. There were people who were closing in on the compound with machetes and guns and it was deemed too dangerous for the peacekeeping presence and the journalists to stay, so everybody got out. Marie was the only one who stayed, and her presence there shamed the U.N. into keeping their presence there and saving those people from certain death. That was when she said her famous line, when her editor rang and said, "What do you mean you didn't get on the plane?" And she said, "I can't go. If I go these people will die." And he said, "Where's everybody else? Where are all the men?" And she reponded, "Well, I guess they don't make men like they used to." Which has gone down in history but people don't often don't know the context.
CC: I was so impressed with how you channeled her physical struggles and her deterioration. How did that affect you when you were in the moment?
RP: If I go back into her voice or anything it comes with all the physicality of her, because you work on it in preparation and rehearsal. You try and take her into you physically. You know the way she carried her shoulders, the way she used her hands, the way her fingers spoke, the way she handled her eye patch, the way she touched her face, the way she ran her hand through her hair, everything I studied from documentary footage and private footage that people shared. Even still photographs. I tried to piece together a walk from that still image. And then I'd just be in a room walking, sitting, standing, talking, smoking, lying, crouching, running, trying to be her—in a dance studio, so it's got mirrors and you can see what seems to be working and what isn't working. It's a really interesting process. I'm having fun these days doing parts that are physically further away from me.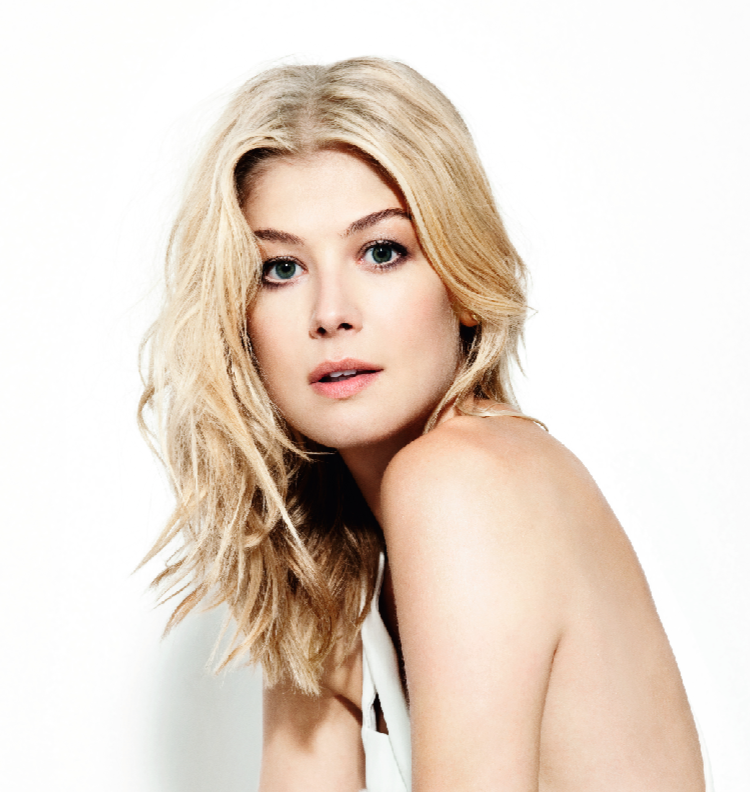 CC: And then there's the best-selling book Gone Girl that you did, and I counted over 60 awards for your performance. How does that much focus on one role appeal to you as an actor?
RP: Well, you crave that again. The fact that the adults wanted to go and see that movie in the cinema was the real thrill of it for me. On opening night, people were queuing to get tickets and it was an event and it wasn't a superhero movie, it wasn't a tent-pole franchise movie. It was an adult thriller drama that the adults had to see and wanted to be part of the conversation. It was incredibly exciting. Also, David Fincher is a masterful director, and I would like to have that experience again too.
CC: How has being a mother changed what you look for in a role?
RP: I don't think it's changed what I look for—it's changed what I'm able to do. It's changed what I'm able to convey because I have nothing to hide anymore; once you've given birth and you've had that most wild of human experiences, you feel pretty free to do anything else physically.
CC: What do you fear?
RP: I fear losing my parents, a child being sick. And I fear things for the world. My biggest fear is the escalating plastic problem. You really feel it when you go to the countries I went to in preparation of this role. I went to Lebanon and the plastic waste is everywhere and I find it very upsetting. I fear the damage to our planet.
CC: How do you feel about turning 40 soon?
RP: Oh, I'm cool with that. I played Marie Curie who was 24 and I played Marie Colvin who was 57, so I get to float. I never feel I'm restricted by the number.
CC: What's the strongest takeaway from playing Colvin?
RP: That when you do feel fear, you can go there anyway. I think it's about having fear, looking it in the face, and doing something anyway.