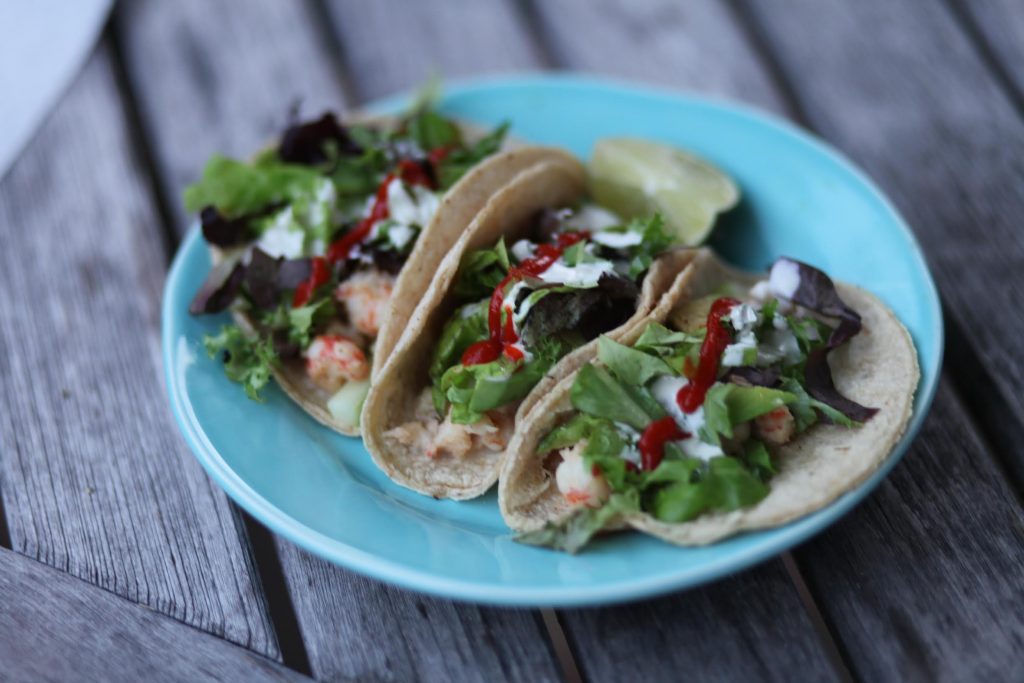 by Tapp Francke
Sometimes the best recipes are born out of a lack of planning. It was the end of the Fourth of July weekend, which means that we had either been at a parade, a pool party, a BBQ, the beach or fireworks for four days straight. In short, we were exhausted. Luckily I had bought some rock shrimp the day before at Citarella's because I make a point to buy them when I see them. They are sweet and succulent, cook up fast and are reliable for a quick and easy recipe. Plus they taste just like lobster without the labor (or the price tag). Usually I do them with a ghee and garlic sauce or toss them into a stir-fry or saute them and mix them into a green salad. But that afternoon, I had tacos on my mind.
On the way home from the last of the pool parties, my husband said, "What's for dinner?" I said, "Rock shrimp tacos." Though I had never made them before, there was a chorus of "Hoorays!" from my 8- and 10-year-old boys in the backseat. So I knew I was onto something good.
But I had not thoroughly thought the meal through, and it was 6pm on the Fourth of July. I did not have any tortillas. Thankfully the very nice owner of Harbor Market sold me 12 corn tortillas from her stash. Phew! Now I just had to wrangle the rest. I knew I had avocados and cashews for cashew cream. I did not have any cabbage, which I wanted for the crunch factor, but I had a bag of Dale and Bette's greens and a cucumber, so they would have to suffice.
I pictured Iron Chef or Beat Bobby Flay as I searched my cupboards looking for inspiration. I took out some almond flour and added a pinch of chili powder and some salt and mixed that round. It was flavorful without being too spicy. Then I diced garlic and put the ghee in my trusty cast iron skillet. I swear I don't know how I would cook without this pan. It weighs a ton and needs to be seasoned every six months, which is a pain, but the even cooking, plus the iron it adds to food (I have always been slightly anemic) make it worth it.
The key to rock shrimp is to get the pan really hot before you cook them. That way they get cooked through while keeping the inside nice and moist. They cook really quickly, so I made sure I have everything prepped and ready to go. The cucumbers were julienned, the avocados sliced, the greens chopped, the cashew cream made and the tortillas wrapped in tinfoil and in the oven to warm up.
When I was ready to cook the shrimp, I tossed them in the almond flour mixture before I put the ghee and the garlic in the skillet. When the ghee was nice and hot and the garlic was aromatic, I added the shrimp, tossing them around until they were cooked through (about 5 minutes). Make sure not to overcook them because these tasty little guys can dry up on you.
When the shrimp were done, I took out the warm tortillas and layered them with the cucumber, shrimp, avocado and lettuce. Then I finished them with a drizzle of cashew cream. I am a lover of spice but my littlest is not, so I took it easy on the chili powder, knowing I could add Sriracha to mine.
The tacos looked really pretty and colorful on the plate. My oldest, who is a connoisseur of food, was particularly excited. My instant recipe turned out really well; why, I asked myself, hadn't I made this before? Suffice it to say, everyone was a member of the clean plate club that night.
Rock Shrimp Tacos
Serves 4
Prep time: 10 minutes
Cooking time: 5 minutes
Ingredients:
12 small soft corn tortillas
½ cucumber, julienned
1 cup greens, chopped
1 avocado, sliced
¼ cup of cashew cream
4 cloves of garlic, diced
1 cup almond flour
¼ teaspoon chili powder (or more if you prefer it spicier)
½ teaspoon salt
2 lbs. rock shrimp
1 tablespoon ghee
Sriracha to taste – optional
Instructions:
1. Warm the tortillas in a 350 degree oven for about 10 minutes. Wrap them in foil so they don't lose their moisture.
2. Julienne the cucumbers, chop the greens and slice the avocado. Set aside.
3. Make the cashew cream.
4. Chop the garlic.
5. Mix the almond flour, chili powder and salt together in a large mixing bowl.
6. Toss the shrimp in the almond-flour mixture, a handful at a time. Remove the coated shrimp and put them in a separate bowl before adding the next handful.
7. Warm the ghee and the garlic in the skillet.
8. When the ghee is hot and the garlic is aromatic, toss in the almond-flour-coated shrimp. The flour will mix with the ghee and make a creamy combination. Toss well to make sure the shrimp gets completely coated. It should take about 5 minutes.
9. Assemble tacos and serve.
Bon appétit!