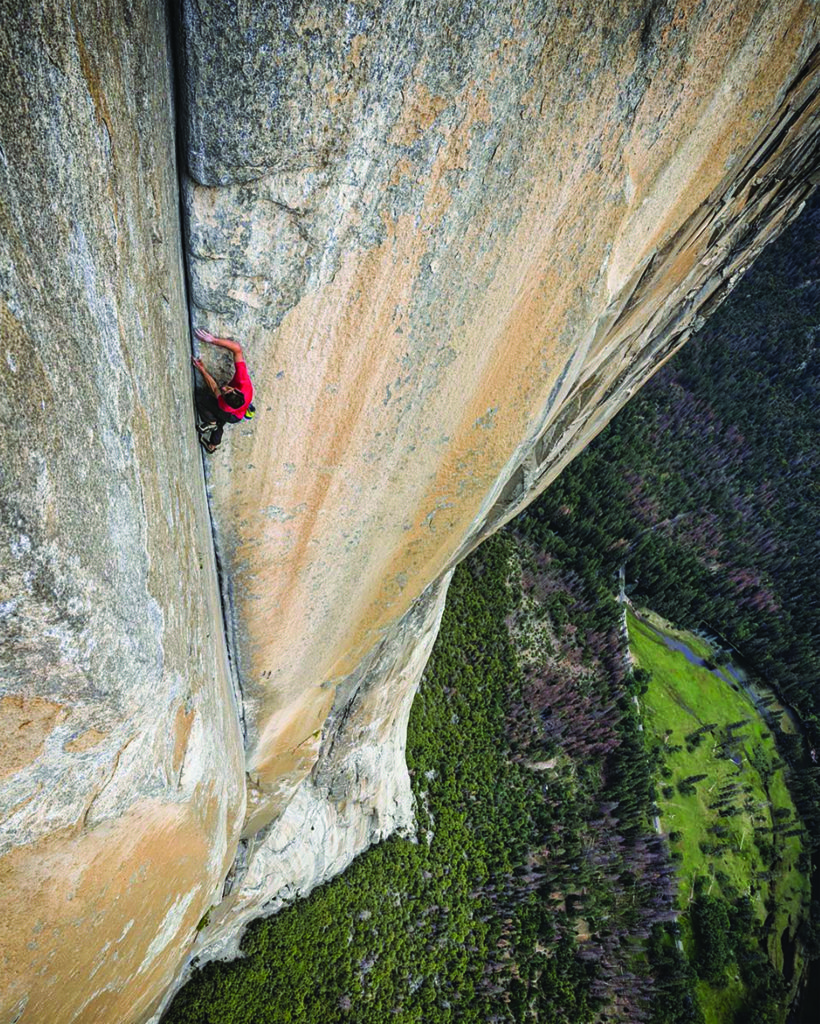 by Charlotte DeFazio
For those who have yet to see Jimmy Chin's documentary film—which, by the way, leaves one with anxiety and sweaty hands—Free Solo is about pro rock climber Alex Honnold's 900-meter ascent up El Capitan in Yosemite National Park. Honnold has inspired steady climbers and first-timers alike around the globe as a surge in climbing on rocks to obscene heights has hit every city. Even the Olympics has jumped on the boulder bandwagon: Sport climbing has been added to the 2020 Summer Olympics.
Indoor climbing is not just a great physical workout; it's a mental workout, too. Like a puzzle or mind game, it requires strategy to figure out how to perfectly move your body up the wall, relying solely on foot and hand grips in a multitude of sizes and names. Grabbing a crimp—a minuscule ledge where you literally crimp your fingers to hold on—is quite the feat for beginners (that kind of finger strength takes training).
Avid climber and Brooklyn Boulders manager Carina Finn says that many first-climber trials consist of "muscling through everything using upper-body strength alone" and holding on for dear life, but "climbing is just as much about core strength, flexibility and body positioning as it is about pulling hard." Take a lesson at any of the following gyms (depending on your location) and you'll get a grip on all the tricks. The shifting of your body weight into foreign angles will suddenly seem OK—or in this case, necessary.
If you're in beautiful Aspen, surrounded by scenic, mountainous trails, you're likely to be active. Hit up one of the local rec centers for a taste of an indoor climb—the Red Brick Recreation Center (aspenrecreation.com) is the largest, with more climbing surface, and the Aspen Recreation Center (aspenrecreation.com) has a 32-foot climbing tower with four auto belays (you don't need a person holding your ropes below). If you're in the Snowmass Village area, you can try their center's bouldering cave or climbing wall (snowmassrecreation.com).
Farther west, Angelenos will find the most fun at one of these LA joints: Rockreation, which offers cross-training and physical therapy for serious climbers (rockreation-la.com); LA Boulders, with bouldering only, no ropes or harnesses (touchstoneclimbing.com/la-boulders); and Sender One, where Honnold has trained (senderoneclimbing.com/lax).
Flying south to Miami, there's no shortage of gyms for a quick adrenaline rush. X-treme Rock Climbing has more than 14,000 square feet of climbing (x-tremerock.com); Coral Cliffs in Fort Lauderdale (about a 30-minute drive from Miami) has a ton of routes to try that change on a weekly basis (coralcliffs.com); and the Ninja Lounge, in North Miami, claims to be the only Florida location with more than 200 feet of bouldering wall for sideways climbing (ninjalounge.com).
It's almost shocking how many opportunities there are in NYC—legitimate indoor climbing gyms, not scaling skyscrapers. The Cliffs in Long Island City are arguably the most lauded if you're keen to travel there, though their new Harlem spot is expected to open any day now pending permits (thecliffsclimbing.com). Central Rock Gym (centralrockgym.com) offers mostly bouldering, as does Steep Rock Bouldering (srbnyc.com) on the Upper East and West Sides. Brooklyn Boulders is a mecca offering everything from bouldering upside down and auto belaying to personal strength-training (brooklynboulders.com).
Regardless of where you go, most gyms are kid-friendly, have finger boards to strengthen your crimp grips and other training facilities to really master the sport. As Finn says, "Expect a lot of falling and get comfortable with it. Climbing is 90 percent failure, which makes that 10 percent success rate that much sweeter." On belay!