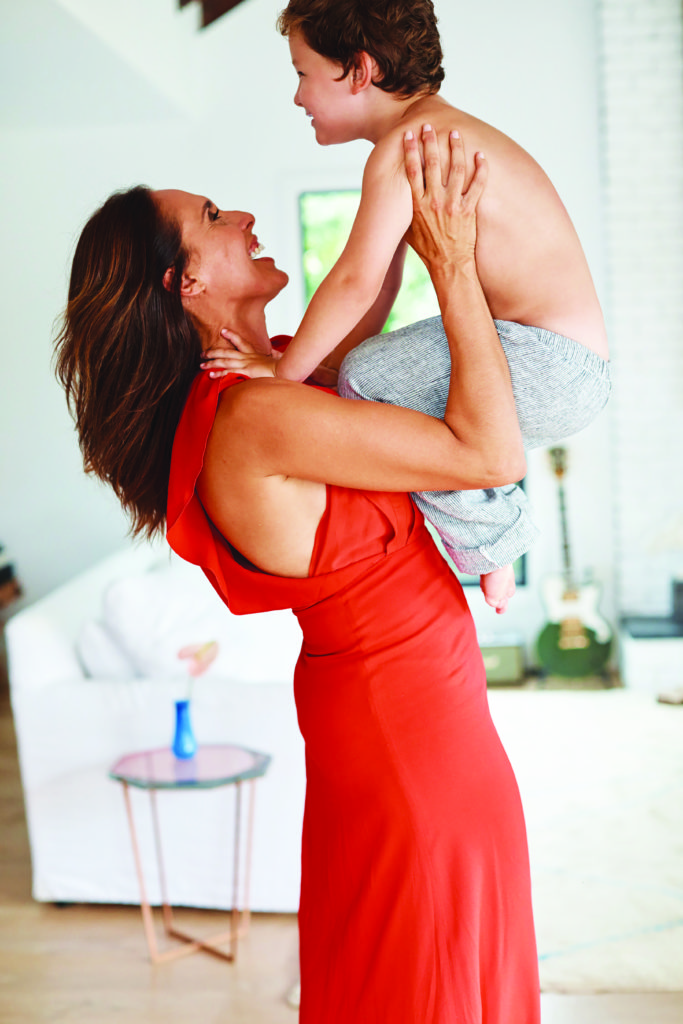 by Ray Rogers
Ray Rogers: You've long been a queen of the nightlife. How did your interest in wellness take root over the past several years?
Jayma Cardoso: I've always been interested in creating amazing experiences for family, friends and guests. Wellness was just a natural transition, as it's how people are interested in coming together now. For me, it's such a positive way for people to connect and grow.
RR: Your son John Jr. is 5 years old now. In what ways did having a child impact how you take care of yourself, and your overall commitment to health and wellness?
JC: Having my baby was the most important moment in my life. When a milestone like that happens, it causes you to reevaluate and re-prioritize. Wellness and mindfulness were at the top of the list. I'm Brazilian, so previously my emphasis was on whatever health trend made me look great on the beach. [Laughs] But, for my son, wellness took on more significant meaning as it involves me becoming a more complete person for his growth and mine. It's a shared journey now.
RR: You sold your Ditch Plains cottage this year, and are renting a more kid-friendly house in Montauk. Why was the timing right to transition to a new house?
JC: I love Ditch Plains; like all the neighborhoods in Montauk, it has a personality, and it's a village that loves the beach. I gut-renovated my cottage there specifically to be a place for rest and entertaining family and friends. But a home needs to reflect a family, and now that I'm blessed with a baby in my life, it's time for a new home to incorporate more than my personal dreams.
RR: How has becoming a mother impacted your work life, or changed how you work?
JC: Motherhood teaches you to prioritize and manage time. Every second becomes precious because you want to spend as much time as possible with your children. In many ways, having a baby has made me better at my work; I've become more thoughtful and more organized with my daily work routine.
RR: You co-parent with John Jr.'s father, John J. Zidziunas. How has that process been?
JC: John is an amazing father and person; I couldn't be happier that we get to share the gift that is our son. John is so thoughtful, patient and understanding as a father, it not only makes his son better, in many ways it make me stronger as well.
RR: You have a very demanding job. Yet even on the busiest weekends of the season, John Jr. is your top priority. How do you carve out time for him—do you have any set things you like to do together?
JC: It really comes down to prioritizing and time management. I used to have to be involved in everything at work, but now it's more about providing clear direction and relying on the great team I've assembled. My baby is great and I love creating new rituals; during the summer our most important ritual is getting to the beach.
RR: Tell us about your approach to parenting, and how you instill healthy habits in your child at an early age.
JC: I'm a big believer in leading by example, whether it's at work or at home. Your children don't miss a thing, they are so observant of everything we do, so I put an emphasis on practicing what I preach.
RR: You've been striving to make The Surf Lodge more child-friendly, more family-centric in recent years. The events have moved earlier, before and during sunset rather than late night. Beyond the sound curfew, what accounts for this?
JC: You know, we've always had families at The Surf Lodge since day one. It's one of the things I'm most proud of. Now, we've been around for so long, some of our longest standing guests have evolved so that they now have children and families. So in many ways, if there is a noticeable uptick in families, I guess it's because our guests have grown into another stage of life.
RR: I know you have a very close-knit Brazilian family, many of whom are nearby in NYC and out here in Montauk during the season. How does having your sister, mother, nieces and nephews around during the summer impact your life?
JC: For me, family is the most important thing; the fact that I have such a big piece of my family in Montauk makes it so much more special. My baby has an army of cousins to play with. For me, my mother and sisters make me feel whole—and this is why Montauk really feels like my home.
RR: What's your idea of the perfect Montauk summer day?
JC: A day at the beach, bike ride into town for ice cream, having family or friends over for dinner, watching the sunset, reading my baby to bed, looking at the stars on my back deck.
IT'S ON!
Mark your calendars:
The Surf Lodge readies for another summer of music and artful happenings under the Montauk sun. Here, a few preliminary highlights:
Music Lineup
June 1: Bob Moses, the Grammy-winning duo, bring their electro-pop sounds for
the fourth year in a row.
August 11: Ride the groove with surfer and rock-n-roller Donavon Frankenreiter.
September 2: Lukas Nelson, Willie's son, brings the country-rock swagger.
Art Happenings
•The vibrant, Brooklyn-based artist Morgan Blair, who works with Kaws, is painting a large-scale mural, to be completed by Memorial Day.
•Live mural painting by Incubus' lead singer, Brandon Boyd, happens over the July 4 weekend.