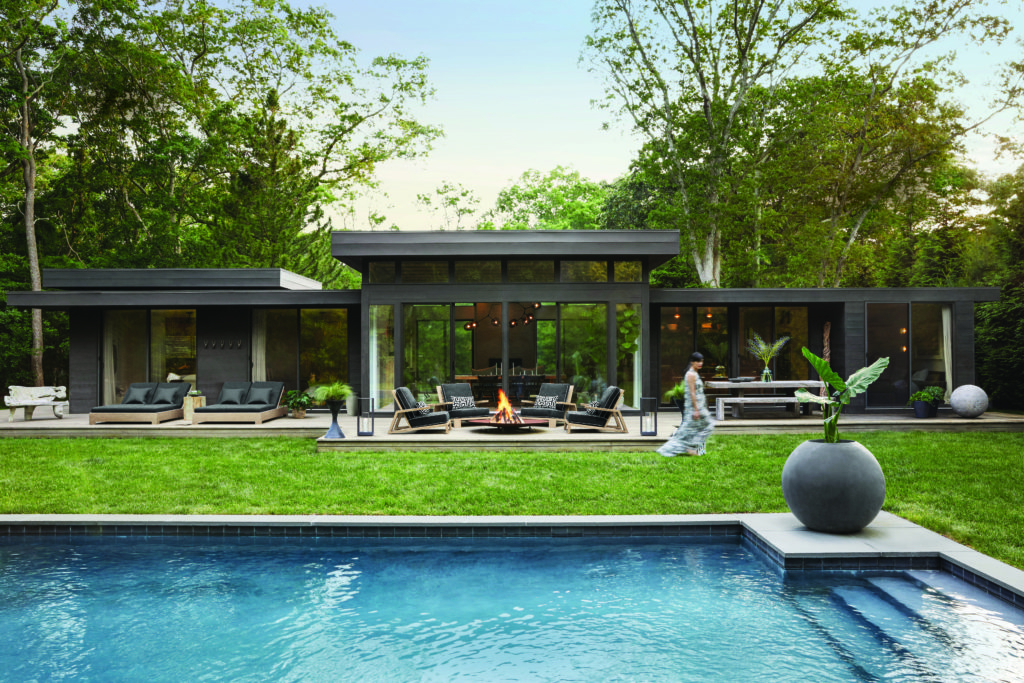 by Donna Bulseco
In Greek mythology, Athena is the goddess of wisdom and war, with the head of Medusa (who, even after death, could turn her enemies to stone) on her shield. And while Athena Calderone more than lives up to that strong-woman legacy, the interior designer and food pro behind the chic site EyeSwoon stuns her many followers in a different, gentler way: The lifestyle goddess has collaborated with the interior design team at RH, Restoration Hardware to create an outdoor living space at her mid-century modern house in Amagansett that celebrates the joys of entertaining.
"Your senses come alive here," says Calderone, when asked what she likes most about spending time at her woodsy, secluded place in Barnes Landing, a charming community close to the bay that's right on the border of Amagansett and The Springs in East Hampton. "Just to be still enough to hear the crickets at night or watch the swaying leaves in the trees, you become attuned to the Earth and to nature." The Cook Beautiful author, along with her music-producer and DJ husband, Victor, often invites friends over to unwind, welcoming the ease of making dinners on the grill. "My summers are not about efficiency or formality," says Calderone.
To enhance that easygoing vibe, Calderone kitted out the deck using furniture with clean architectural lines. Pairs of modernist RH lounge chairs designed by David Sutherland have been placed near the circular corten-steel fire pit, a central focus in the evening when the grown-ups join the kids roasting marshmallows for s'mores. In another lounge-y space, RH double chaises—made out of sustainably harvested, premium Grade-A weathered teak—await guests. "I like materials that age gracefully over time and feel lived-in, not austere," says Calderone, who kept the palette crisp and classic in dark tailored cushions with light contrast piping.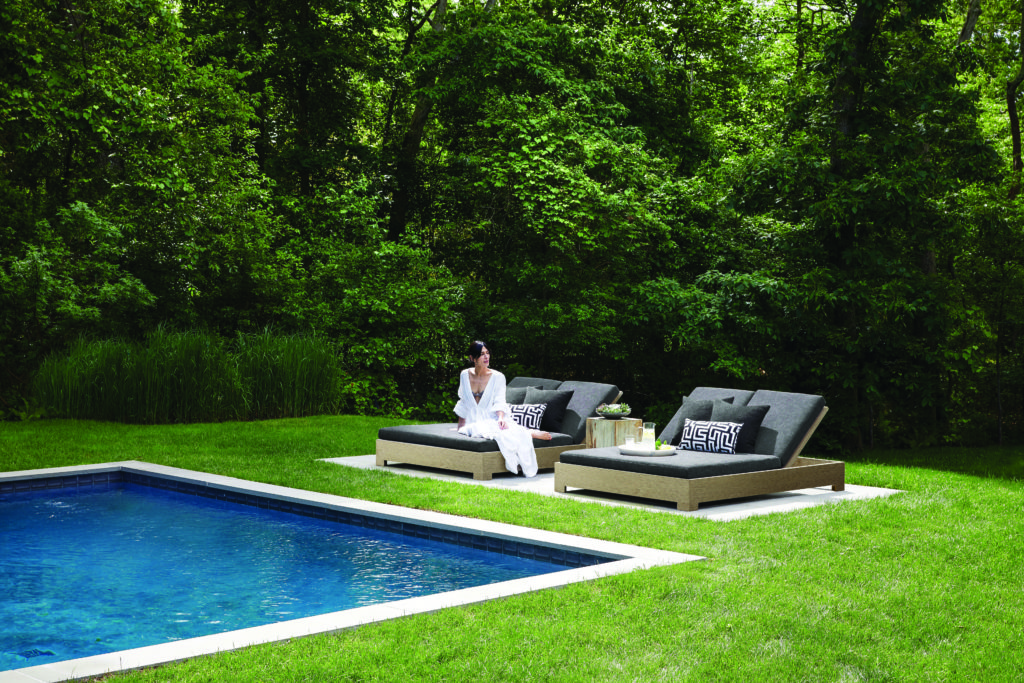 Making these upgrades has made her love the Barnes Landing abode even more. "So much of my life changed when we bought it," she says. "The home brought our family close together—taking walks at sunset, riding bikes. My son got into surfing." She bonds with the local farmers and fishmongers, going to Balsam Farms, Amber Waves and Vicki's Veggies for fresh produce, or over to a neighbor who has an old Igloo cooler in his front yard with a sign that says, "Eggs for sale on the honor system, $5; please return the carton."
That sense of community pleases her. "You taste the vibrancy and know where your food is coming from," she says. "Plus, you're supporting the people in your community. It's one I feel so fortunate to live in."