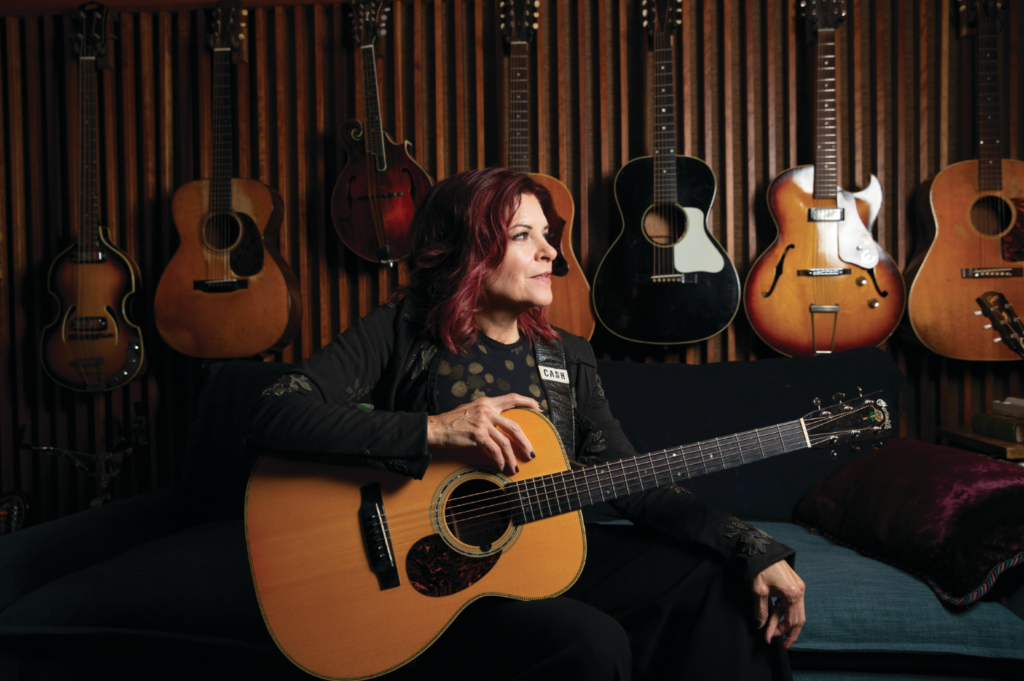 By Ray Rogers
RAY ROGERS: What does the art of songwriting do for your mental well-being, for your understanding of the world and your place in it?
ROSANNE CASH: I cannot separate songwriting from my mental well-be-ing—it is central to my identity, my efforts to understand the world and myself, and is my most refined means of communication. Those moments in my life that cannot be easily explained or organized are often only explained or organized by writing a song about them.
RR: Thinking about the guitar itself, what did it mean to you to have a custom guitar made in your honor, the Martin 0M-28M Rosanne Cash Acoustic with Madagascar rose-wood, which you designed?
RC: It was one of my proudest moments, when Dick Boak at Martin Guitars called and said they wanted to do a Rosanne Cash signature model. I was so thrilled. I thought about the kind of guitar I wanted to play. My husband, John [Leventhal], who has much better language about the specifics, suggested an OM-28. It's the perfect size and shape. Then, I had just seen Loretta Lynn on an old television show from the '50s, and she was playing a stark white guitar, wearing a miniskirt, and I thought it looked unbelievably cool. I said 'I really want a white guitar.' So John suggested we do the OM-28 in Adirondack spruce on top. The rest of the body is Madagascar rosewood—of course. Then I got very girlie and said I wanted to do a lot of mother of pearl inlay and fancy stuff, and he talked me off the ledge. He said I would get tired of it, and I should keep it simple—just a subtle trim. He was right. I love this guitar so, so much. It looks like a mil-lion bucks, and it sounds even better. The 'white' top has aged into a really pleasing and rich amber color, which I love. I'm so proud of it.
RR: In what ways does playing the guitar enliven you?
RC: The guitar enlivens me because it is an extension of me, and one feels best when one is being her real self.
RR: Can you remember the first time you played a guitar?
RC: I first played guitar when I was 18. I'm a late bloomer. I remember the pain of learning G-C-D and how arduous it was, but I was determined. I still have the same calluses I had when I was 18. [Laughs]
RR: The first time you were aware of the guitar's power?
RC: Preverbal. Hearing and seeing my dad with a guitar. It spoke of love, and family, and power.
RR: "Tennessee Flat-Top Box" is one of the classic songs about the guitar. I love your father's song and your beautiful version of it on King's Record Shop. Could you share a little bit about what this song means to you, and some of the details of your recording of it and how that helped your relationship with your father?
RC: It was [ex-husband] Rodney Crowell's idea for me to do the song on King's Record Shop. I thought it was public domain. There was no Google then, and it was a song I'd known my whole life, so I thought it must have always been around. I didn't realize my dad actually wrote it. When we recorded it, the drummer, Eddie Bayers, got tears in his eyes after the first take, and looked around at the other musicians and said, 'Pay attention, boys. We won't pass this way again.' It was a high. It went to No. 1 and my dad took out a full page ad in Billboard saying how proud he was that I recorded it without knowing he had written it.
RR: Can you recall any memories of your father's guitar playing?
RC: Dad was rudimentary, but confident. He was the best rhythm guitar player he could have had. No barre chords, no single notes, just unmistakably Johnny Cash.
RR: Your husband, John Leventhal, is an incredible guitar player. What is it like collaborating with him?
RC: I became a better rhythm guitar player by playing with John. He's exacting about time, fluidity, listening to each other and building on each other. I had to become better. He's my favorite guitar player in the world. I can be so mad at him, then hear him play, and everything washes away because his essence comes out in his playing, and it is unbearably beautiful.
RR: Are there certain chords or songs that evoke strong memories for you?
RC: Too many to mention, but…every time I hear World Party, I think of falling in love with John.
RR: One of the most iconic phrases about the guitar comes from Woody Guthrie: "This machine kills fascists," which he wrote on his guitar in the 1940s. On that note, I'd love to hear any thoughts from you about the power of the guitar and of songs to raise consciousness, effect change, inspire good, and how relevant that is today in the U.S.
RC: Art and music will save us. Politicians certainly won't. We are the premier service industry for the heart and soul.