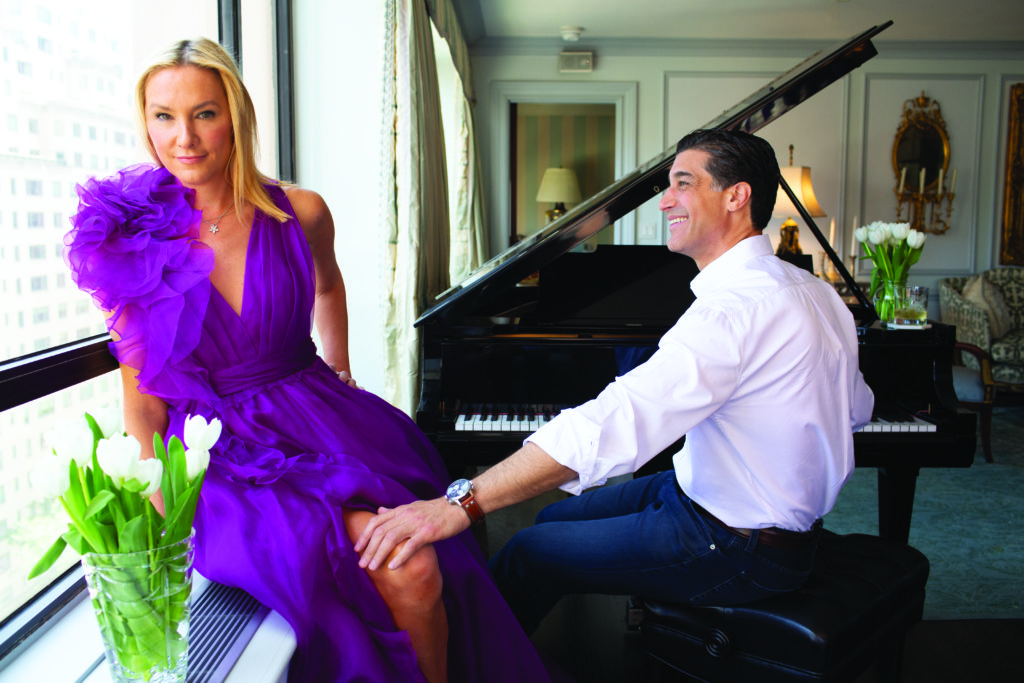 By Julia Szabo
Technology's health hazards are well documented: Excessive hunching over electronic devices causes "tech neck," while unfiltered blue light emitted by smartphones and tablets results in digital eye strain, and can damage retinal cells. But technology can also bring far-reaching health benefits—and the savviest entrepreneurs, recognizing this, are using tech to keep customers on the wellness wagon.
That's the mission of professional and life partners Samer Hamadeh and Alison Harmelin, New Yorkers who co-created the on-demand, in-demand massage app Zeel. Launched in New York City in 2013, Zeel today dispatches licensed massage therapists to homes, offices, hotels and spas all over the country, placing the accent on safety, to the relief of both customers and hands-on healers.
The couple didn't just co-found the app; they're also enthusiastic Zeel users. "I'm a working mom with three kids under age 13," Harmelin says. "Please tell me when I have time to get a taxi, go to a spa, and spend a total of four hours to get a relaxing massage? But what I do have time for is putting my kids to bed at 8—then at 9, a licensed, professional massage therapist shows up at my house, so I don't need a babysitter. It's a total mom hack!" Harmelin deployed her vocal charisma (she's a former broadcast journalist) to air that message in a recent radio ad campaign celebrating Mother's Day.
But on-demand massage isn't just for holidays and special occasions—although February 14, 2019 was, Harmelin notes, "one of our biggest-ever days in the history of this company," with thousands ordering Valentine's Day couples massages. Honoring New Year's self-care resolutions can be tough by July, the midpoint of the calendar, yet Zeel customers report that regular use of the app helps keep them motivated. Evidently, back-rubbing can prevent backsliding.
Massage happens to be many Zeel users' go-to remedy for insomnia. "If you're sleeping better, you're not as hungry during the day," Harmelin points out. "If you're not overeating, you can work out better; if you work out better, you'll definitely sleep better. It's very much a cycle. Babies are put on routines for a reason: It's calming. Zeel helps people make massage a part of their daily and weekly routine, so over time, all those other things fall into place."
For over a year, Zeel has been on a mission to dispatch mindfulness instructors into the not-always-Zen atmosphere of corporate America. "Our yoga and meditation class for corporations is in New York City, and around the country," Hamadeh says. "Already, 1,200 companies nationwide are using Zeel for Wellness Fridays on a regular basis, to help manage employee stress and avoid absenteeism."
Next up: For those seeking more than a relaxing rubdown, Zeel recently started testing assisted stretching. "Let's say you're training for a marathon," Harmelin says. "We have professionals come to your home and help you. Anyone can bend over and touch the ground, but assisted stretch is a whole different level of flexibility, which can be really challenging as we get older."
Earlier this year, Zeel marked the milestone of its millionth massage. "If we were a spa, we'd be the biggest in the country!" Harmelin says. And just last month, Zeel joined forces with a glamorous pair of brand ambassadors: polo champion Nacho Figueras and his wife, Delfina. "Whether I am in Palm Beach, Palm Desert, or the Hamptons, Zeel is there for me after a long match, a long flight, or just a long day," says Figueras. "It gives Delfi and me the chance to relax and recover without missing what is most precious to us, time at home with our four children." zeel.com