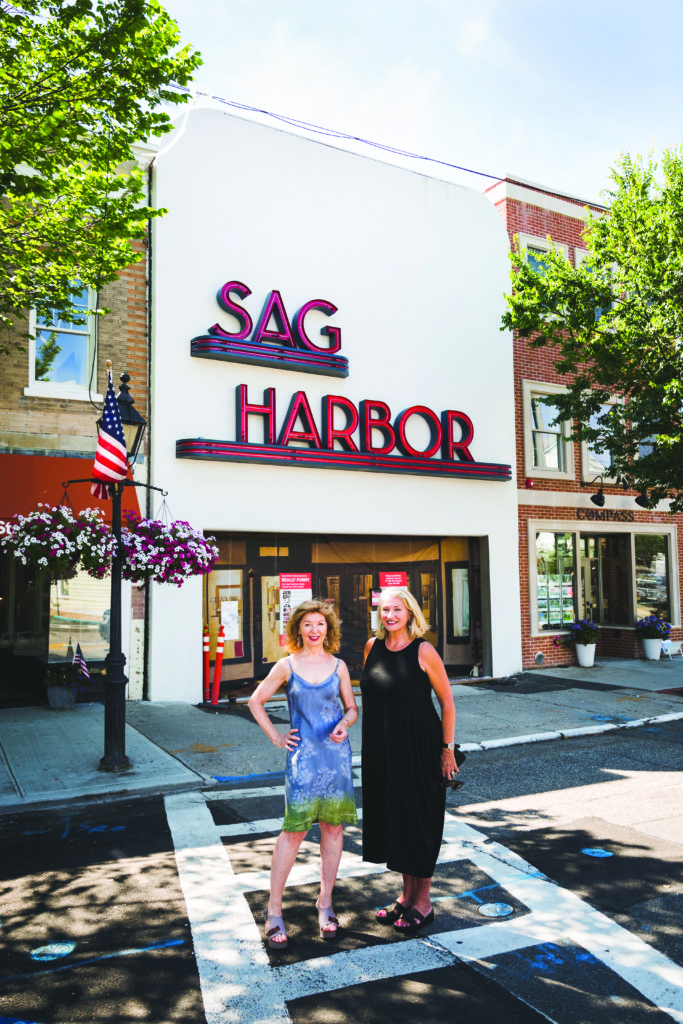 Sag Harbor Cinema
APRIL GORNIK, HEAD OF THE SAG HARBOR CINEMA BOARD, AND GILLIAN GORDON,
EXECUTIVE DIRECTOR OF THE SAG HARBOR CINEMA 
CINEMA PARADISO: The Sag Harbor Cinema Arts Center (SHC), a nonprofit multipurpose venue, opens in December 2019, replacing a fire-ravaged art house cinema. Artist April Gornik heads the board, and film industry veteran Gillian Gordon is the executive director. The theater has been showing movies since 1938.
MISSION
April Gornik: "Education, outreach, positive economic impact on Main Street, and on Sag Harbor as a growing cultural center."
Gillian Gordon: "A proper cultural institution, like Lincoln Center, MoMA or American Film Institute, but on a smaller scale."
FAVORITE FILM AT SAG HARBOR CINEMA
AG: Moonlight, the last film that was playing at the Sag Harbor Cinema before the fire.
2019 HIGHLIGHTS
GG: This summer, director John Landis is curating a comedy series at Pierson High School; upcoming films include Landis' Trading Places, A New Leaf and Soapdish.
VISION FOR THE FUTURE
GG: It's not just a theater, it's a storefront for ideas, with old and first-run films, plus technology, like virtual reality.
FUN FACT
AG A little girl gave us 35 cents at Harborfest last year as a donation, which was both funny and brought us to tears! It was very touching.
BOOSTERS
GG: James Anderson, Julie Andrews, Eric Fischl, Billy Joel, Steven Gambrel and Dorothy Lichtenstein have been incredibly supportive.
AMBITION
GG: I've had a fantasy about buying the SAC since I was about 15 years old.
WELLNESS PERK:
AG: Watching the wild birds and the animals who live around us, like the osprey coming back and raising their young, and seeing them healthy and protected.
GG: In the Hamptons, when you eat something, it has come from the sea or from a field four hours earlier. You feel like a million bucks. Plus, I swim every day in the sea.
WHERE WELLNESS MEETS CREATIVITY
AG: Art and creativity is the fuel of my life, period!
GG:  We don't have to be artists to be creative; film
creates a space for thinking about that.
90 Main St., Sag Harbor, sagharborcinema.org
—R. Couri Hay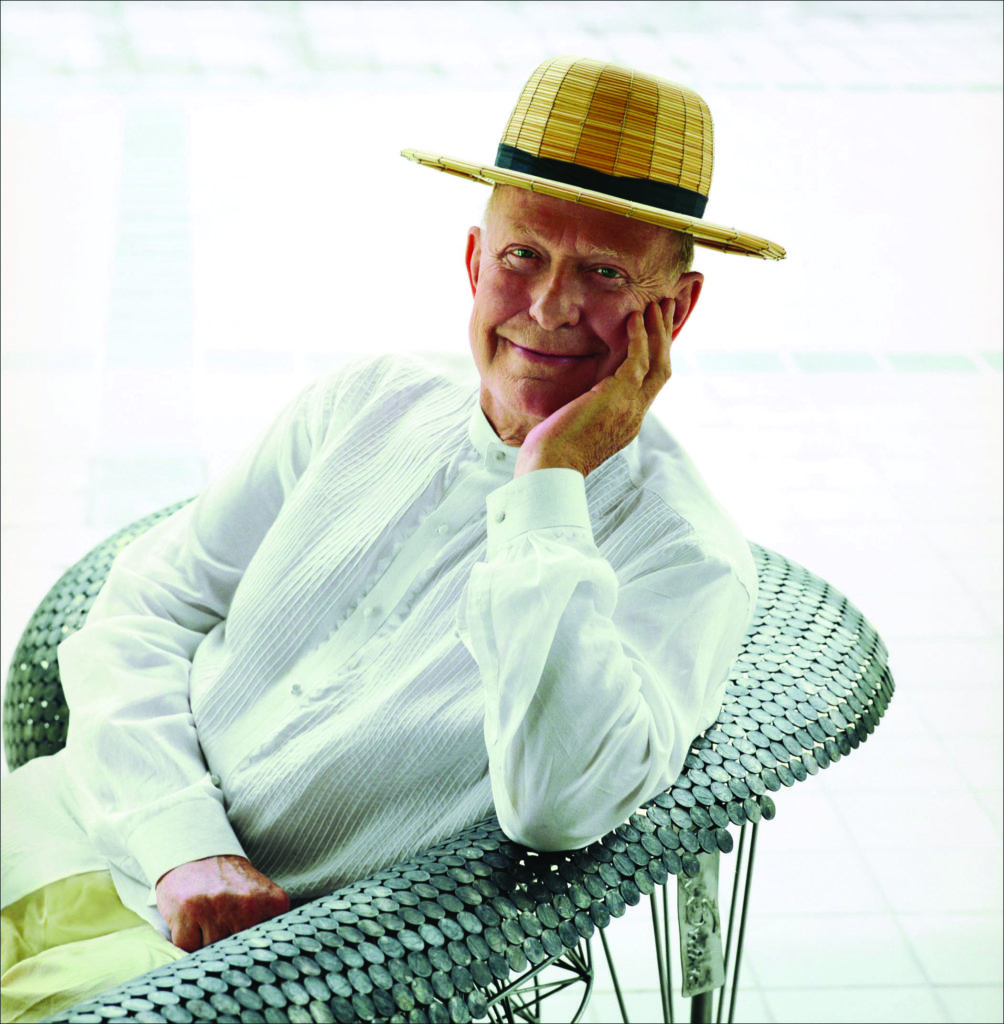 JACK LENOR LARSEN,
FOUNDER, LONGHOUSE RESERVE
FAVORITE QUOTE: "Be an open bowl so some opportunity may fall in."
"That was engraved in the college art museum in Seattle," says Larsen, "and really appealed to me. Why not be an open bowl? That's the story of my life."
MISSION STATEMENT: Located on 16 acres, the 13,000-square-foot LongHouse features 18 spaces on four levels, and was envisioned as a case study to exemplify a creative approach to contemporary living. "I built it for the purpose of public viewing. I was curious to try to show people how you could not conform. Modern houses pretty much looked alike; they were white and boxy. I wanted a sense of space and structure, materials."
MAKER IN CHIEF: The esteemed textile designer—one of only four Americans to ever be honored with an exhibition at the Palais du Louvre—founded his fabrics company in 1952. "My leadership was as a chief maker. Whether it was carpets, furniture, textiles, ceramics, dinnerware, or towels and sheets, anything they'd let me make I tried, including 13 books."
THE NEXT CHAPTER: "I'm writing a book now on famous people I've known—like Frank Lloyd Wright and Marilyn Monroe. When I had a very handsome Fifth Avenue showroom, Marilyn showed up with her new husband, Arthur Miller, and her decorator, and I got to know her."
GARDEN OF DELIGHTS: With over 60 contemporary pieces from a wide swath artists ranging from Yoko Ono to Dale Chihuly, from around the world and closer to home in the Hamptons (Willem de Kooning, Eric Fischl, and, more recently, Helmut Lang), there is surprise and awe around every bend. "Sculpture is best outdoors, viewed with direct shade, shadow and contrasting with softer elements. We move our sculptures so people can see them in different spaces."
SECRET TO A LONG, HAPPY LIFE: "'Don't get a job' is my preaching to students," says Larsen, who just turned 92 this August. "Their teachers and parents want them to get a job. That's a terrible idea! Find a vocation, something you want to give your life to. And retirement is a terrible idea. My [adopted] big brother was Stanley Marcus, who died at 96. But he worked the day before. That's my ambition."
A MAN FOR ALL SEASONS: "Interiors sort of stay the way you put them. But the grounds itself, they go out of bloom, they need cutting, they become too large…it's very dynamic. My favorite seasons are autumn and winter, when I can see the structure of the trees without the leaves. And spring is a miracle. Seeing them blooming, budding, shrubs and trees in full bloom, I enjoy that too."
CREATING AROUND THE CLOCK: "I dream of things in my sleep, then get up and do something about it. And the time I'm doing it, it's the most important thing there is. That process is very enriching."
COMMUNITY OFFERINGS: There is a guided sound meditation on the lawn every Saturday at 8AM throughout the summer season. "It's something we've been doing for 30 years—small group, but they keep coming. We also have 4,500 school students [that visit]. We teach cinematography in first grade, architecture in high school, product design in middle school."
LIFE'S GREATEST JOYS: "Caring. Not the big things—it's the little things that are soft, private, that really matter."
EARLY DAYS: "We opened in '92, and we had full events the day we opened. Before I really moved in we had a big celebration here and several exhibits. And the five years I lived next door, we were over here every summer with our guests showing them what was going on. The Times did a big story on us when we started and the headline was: 'The House Jack Built, and Built, and Built.' It was ambitious. It cost more money than I had and certainly more time, but we got through. Mortgages helped."
VISION FOR THE FUTURE: "The house is already open to the public, and the guest rooms and downstairs will be more galleries. It'll be more like a museum."
PROUDEST ACCOMPLISHMENT: "The trees. The fact that I planted them. They were so little. And I planted them like they were born, and they were small, and now they're not. Handsome, healthy and beautiful, several hundred kinds of trees. They're good friends."
WHAT WOULD SURPRISE PEOPLE TO KNOW ABOUT YOU? "That I'm still at it. People may remember the '60s, when their mother bought Larsen fabrics. I'm doing a new collection, with Sunbrella, that will be out this year. It'll be about the pattern and color. It's more color than you've seen lately. If you look through magazines recently, there are huge white sofas, lots of them—whole rooms full. This is a reaction to that. Fabrics that you'll learn to like again, that are important and personal. Mixing colors happily that are good together is the same as doing a flowerbed. Some of them are vivid, some are subtle."
133 Hands Creek Rd., East Hampton, 631.329.3568, longhouse.org
—Ray Rogers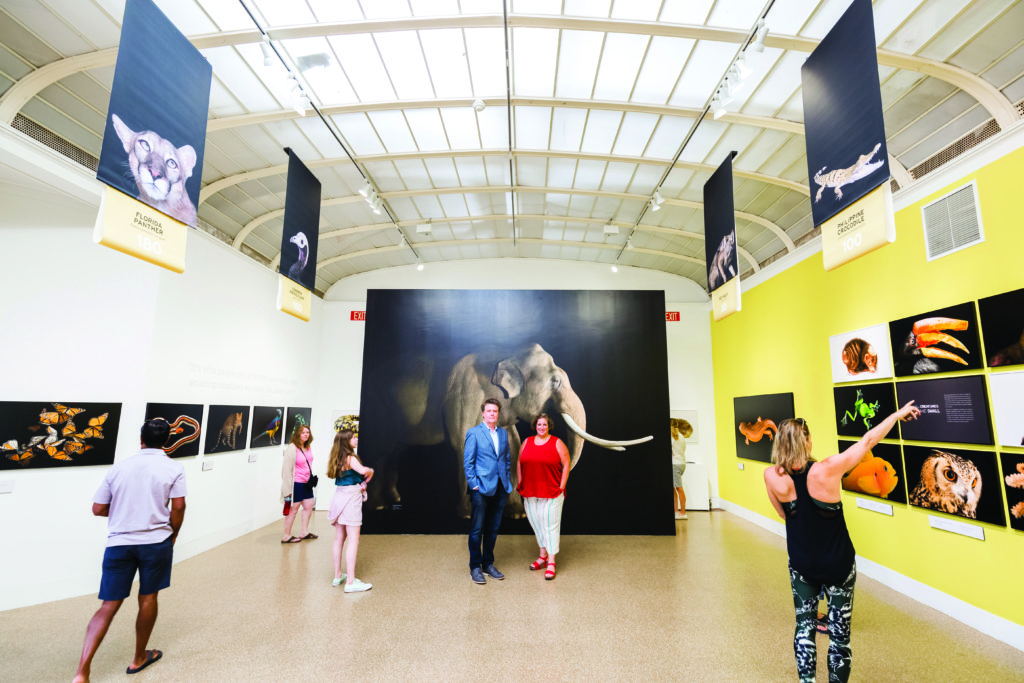 TOM DUNN, EXECUTIVE DIRECTOR, AND AMY KIRWIN, ARTISTIC DIRECTOR,
SOUTHAMPTON ARTS CENTER
MISSION: The arts center's magnificent home base, designed by architecture titan Grosvenor Atterbury, provides inspiration for SAC's unique cultural programming. "SAC's mission is to serve our East End community as a hub for arts and culture, while preserving and animating the iconic building and grounds of 25 Jobs Lane for future generations," says Tom Dunn.
CAN'T MISS: The National Geographic Photo Ark exhibition by Joel Sartore, co-presented by SAC and the International Center of Photography, shines a light on the timely issue of extinction and the conservation movement's positive impact. Focusing on animals from around the world, the show includes images of species specific to Long Island, such as the piping plover.
HOT AUGUST EVENTS: Theatre & Opera Mondays feature performances by early-career professionals and well-established veterans of theater, opera and jazz, plus concert readings of new works. On August 19, SAC presents the first act of composer Dan Mertzlufft's never-before-seen new musical based on Jodi Picoult's novel, House Rules, followed by a panel discussion.
ART THERAPY: "Wellness is a whole genre of programming that we dedicate ourselves to," Dunn says. "I think the entirety of this arts and culture center is about wellness as a whole, but we do certainly make an effort to program specifically in the wellness lane, with things like meditation and yoga and other mind-body exercises. We view wellness as being as important as film, theater, or any of the other genres that we support."
WELLNESS PERK: "Floating in the ocean, for me, is the most therapeutic thing," says Amy Kirwin. "Our Immersive Sound Meditation in the Galleries penetrates your body with the vibrations of crystal bowls, gongs, Tibetan and Himalayan bells, rain sticks, and more. It's a lot like floating, where you feel the current—it's a sensation beyond words or sound."
FUTURE PERFECT: "When we piloted a storytelling evening, an older patron shared with me that her mother used to give piano lessons in our theater," recalls Dunn. "It was very special to hear that story. SAC has a 99-year lease—our landlord is the Village of Southampton—so this organization is going to be here for generations to come."
25 Jobs Lane, Southampton, southamptonartscenter.org
—Julia Szabo