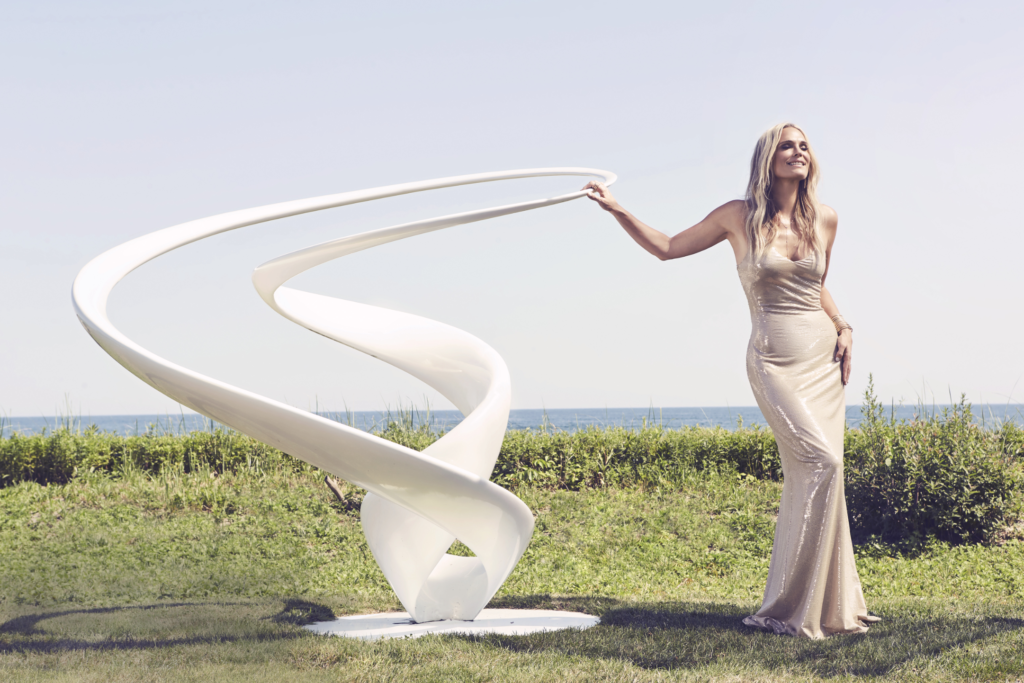 By Cristina Cuomo
Photography by Mary Ellen Matthews
Cristina Cuomo: I thought we'd start with fitness: how you got back into it recently, since becoming a mother.
Molly Sims: There's a big difference between being skinny and healthy. Once you have children, that verbiage really changes. It's not how much I weigh, it's not my clothes size, it's more about, how do I feel? I want to be as healthy as I can, and live as long as I can.
CC: To keep up with them.
MS: To keep up with them. Because they're crazy! I ended up doing a lot of circuits for many years. I woke up and one day, about six months before my 45th birthday, and the tricks I'd done, the diets, all the things I could rely on, that I could do to drop 2 pounds, drop 5 pounds—everything just went out the window.
CC: So you changed it up.
MS: I stopped eating a lot of meat. I'm O-, I love protein, but for some reason I flipped everything on its head, and now I'm eating a lot of fish and vegetables, a lot more salads and a lot more whole foods. The first couple of months were a little bit hard. I started eating more fats; I see a really great nutritionist in LA, Kelly Leveque, who told me fat is not gonna hurt you. It'll sustain you longer. It'll make you feel more full. She always said, you need more plant-based protein. It was the same with working out. I was the girl at SoulCycle who would never lift the 2-pound weights. Stacey Griffith would spot me and I would say, "I can't, Stacey! I can't lift the weights!" I was so worried about it. To say to a model, "You're going to be lifting weights" is such the antithesis. Long, leaner. Those are the words I'm used to hearing. Not "Hey, let's lift." So for me, now that I'm lifting like 10 or 15 pounds and doing these exercises, it has really made a huge difference in my energy. I'm not struggling to work out for an hour-and-a-half. I'm in and out in almost 45 minutes. As a mom of three, it's hard to find that time.
CC: How old are the babies?
MS: They are 2, 4 and 7. It's a commitment that makes me feel good. We play a lot of team sports; it's really important for children. My little tribe and I have to be on the same team. We all have to work together.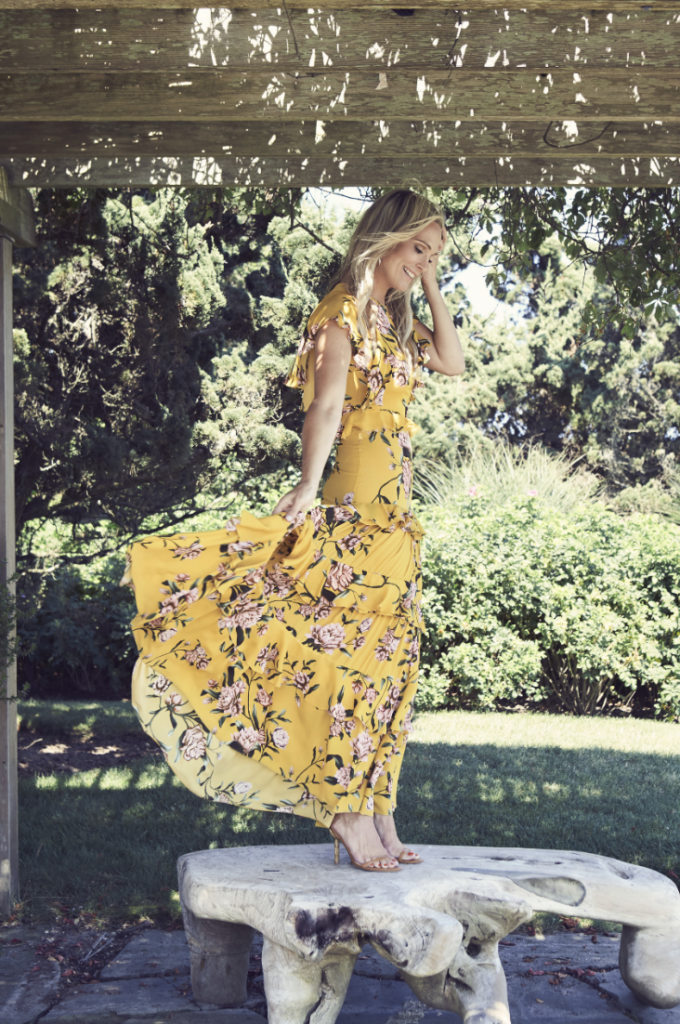 CC: You grew up in Kentucky.
MS: That made it hard; that was the first change, you know? Being from Kentucky, the high-fat foods, the fried chicken, biscuits, bacon and gravy. I kind of mastered my diet through modeling, whether it be the South Beach diet, the grapefruit diet, the not-eating, the eating. The intermittent fasting.
CC: You've tried everything.
MS: I've tried everything! And then it kind of went upside down again when I got pregnant, and I had a thyroid issue. Everything that I did that had worked just stopped working. I don't know if it's because my hormones changed, my body changed.
CC: So you discovered DanceBody?
MS: Katia's amazing. What I love about her is you've got the dance, but you've also got that high-intensity interval training. She's so fun, she's so positive. I look at her ass and I'm like, "You give me hope of one day having half your tushie."
CC: You literally changed your body within a year.
MS: I lost 16 pounds in six months.
CC: All from healthier eating, better food choices.
MS: And circuit training, and high-intensity training with dancing. It feels good. I'm a goal-setter. I was the little girl with the highlighter and the flash cards. I went to Vanderbilt—I wanted to be a lawyer. So it goes back to doing something and wanting to see results. That was hard with modeling. It's always just gonna be like, Your nose is crooked, your calves are too big. With modeling, or being in the entertainment business, it's just constant…are you ever enough? Do you look good enough? That pressure.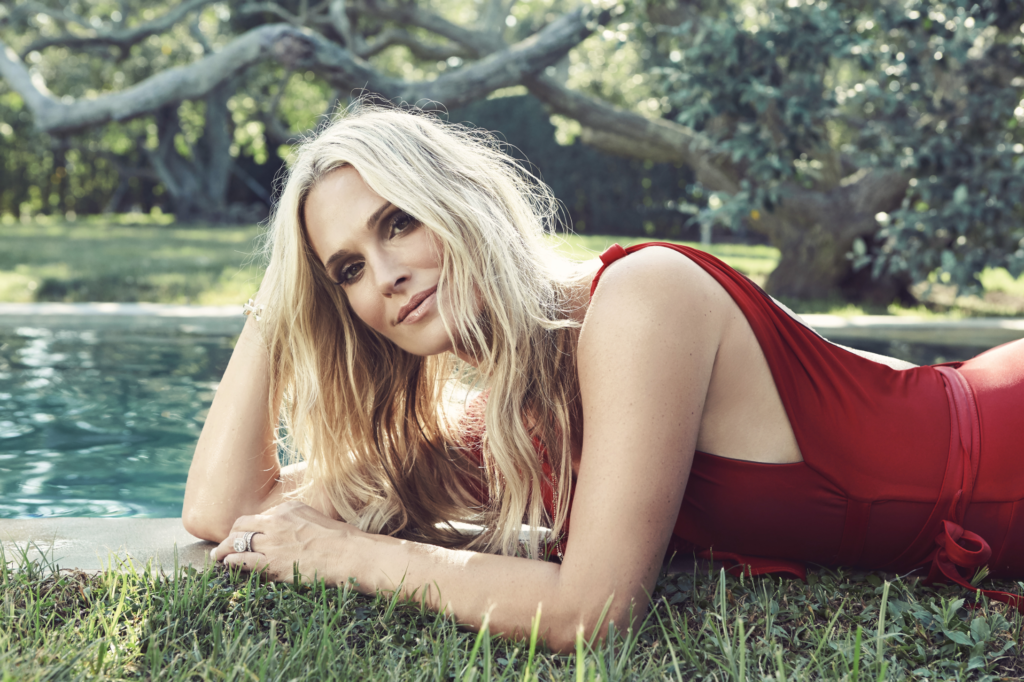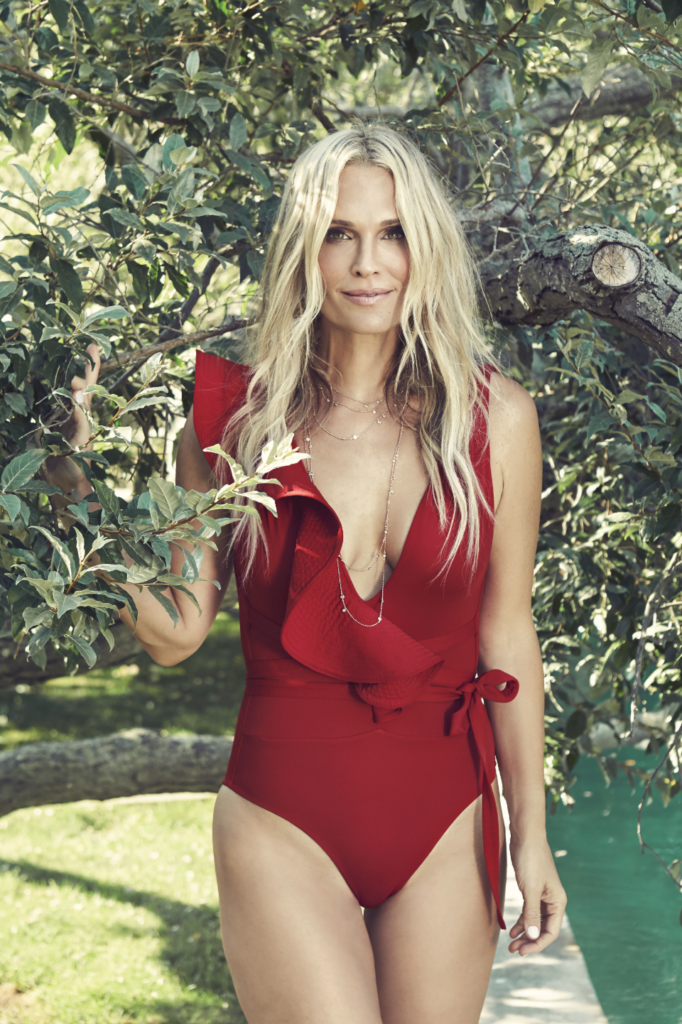 CC: Life philosophy?
MS: It's definitely evolved. Even now, I'm a very old mother, in the sense that so many of my friends had their kids when they were younger; mine are 2, 4 and 7, and theirs are 8, 12 and 17.
CC: You were waiting for Mr. Right.
MS: I met Mr. Right, I met my little prince…well, my big prince, my 6-foot-5 prince [film producer Scott Stuber], later in life. I'm almost happy because I'm not the girl who feels, I missed that party, I wish I could've gone to that. I don't have that FOMO; I've never been that girl.
CC: What about mindfulness? Do you do things to keep yourself balanced?
MS: Mindfulness is really important. I think self-care is probably the most important thing when it comes to being a good partner, a good mom, a good friend, a good sister. I love giving back. I work really hard for a charity called Baby2Baby. We help give diapers to over 200,000 children. We work with so many different charities and amazing people all over the United States. This is our seventh year. In terms of mindfulness, I think being grateful and being grounded are really important. Because when that day sucks, because it sucks sometimes, it's also just about changing 'I have to go get the kids' to 'I get to go get the kids.' or 'I have to go to work' to ''I get to go to work.' You know? 'I have to work out' to 'I get to work out.' Just kind of changing that, and being mindful of how your thoughts can really have power. Get grateful. That'll help mindfulness a whole lot.
CC: That's perfect, that's a great answer. More personal types of questions. Worst job you've ever had?
MS: I was a waitress at Quigley's in DC, between my freshman and sophomore years at Vanderbilt. I made awesome tips, but I was terrible.
CC: Why didn't you pursue law?
MS: I love politics. I follow politics, which is something you wouldn't know about me. And another thing: I eat breakfast for dinner. But between my freshman and sophomore years I thought it was gonna be so different. And then I realized, I don't think this is for me.
CC: So one thing we wouldn't know about you is that you eat breakfast for dinner?
MS: I eat breakfast for dinner. And I'm obsessed with podcasts that have anything to do with like murder, like Dateline and To Live and Die in LA.
CC: Any acting projects coming up?
MS: I just did a movie called The Wrong Missy. It's an Adam Sandler production. We had such a good time, with all the boys back in from The Benchwarmers. It comes out in March.
CC: What is your favorite role?
MS: My favorite role is being a mom. I waited my whole life for my kids. And it's not like I don't love acting and hosting and producing. I love being around people. I'm good with zeitgeist, what's trending, what's microtrending.
CC: What's trending right now?
MS: I'm into NAD—it's part of cellular structure and it starts declining when you're like 29; it oxygenates the body. I love acupuncture. I think acupuncture is amazing for anxiety and stress. One of my Eastern-Western doctors is Dominique Read. She is awesome, if you are ever in LA or ever want to follow her—I love a little bit of both Eastern and Western. I recently invested in a company called Sagely Naturals. The whole CBD movement has really helped my mom with her arthritis and her lower back pain, using the ointments and the lotions and the patches.
CC: That's great. So you're a believer.
MS: I'm a believer! You know, those old hippies were right.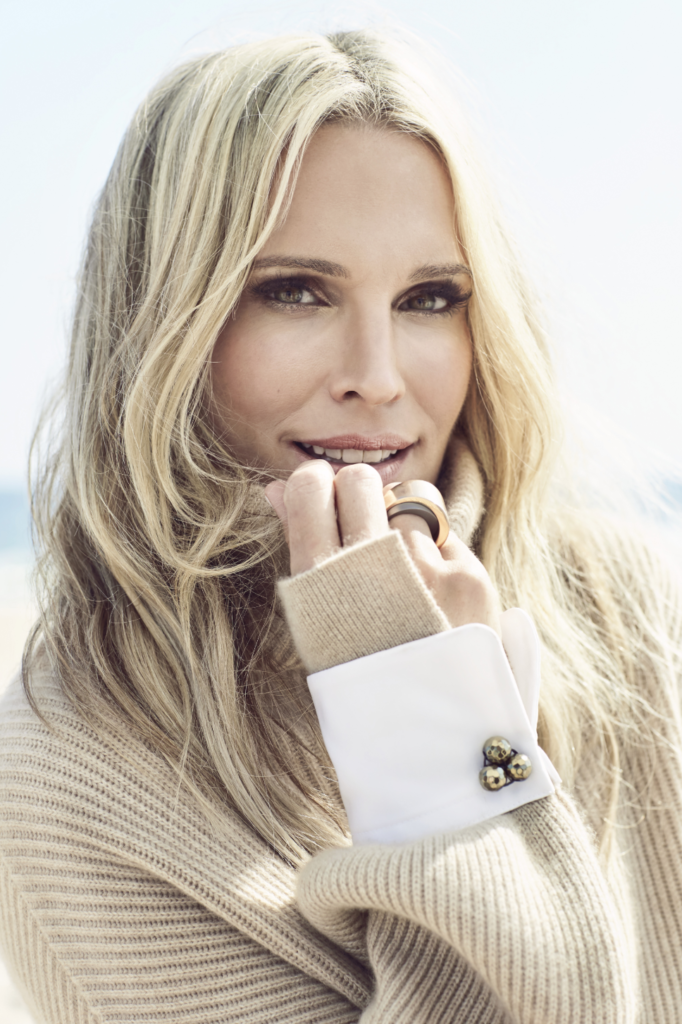 CC: Because you're secretly interested in American politics, what is one thing you'd change about America?
MS: Where we are right now, it just can't be about whether you're a Republican or a Democrat. It's about what is best for our nation. I'm a believer in America, I think we're gonna be good, but I just really feel that the negativity and the bashing…how do I say it…it's just not presidential.
CC: It's so negative.
MS: And I don't want that, I don't want my children to hear it. I don't want to hear it. It's not integrity. I want to live in America. I love America. And I know that we're gonna get there. It's what Michelle Obama said, when they're going low, you've gotta go high.
CC: The best advice anyone has ever given you?
MS: Things are going to ebb and flow. And as much as you don't like it, everything's not always gonna work out. As a little girl, you're like…things work out, do you know what I mean? Then when you get to your 20s you're like…wait a second. I think I've learned the best advice is don't mistake kindness for weakness. Just because I'm Southern and I'm nice, don't take advantage. That's the biggest difference between my 40s and my 20s. I have clear boundaries. I am a mom. Don't make my work/life balance any harder.
CC: Do you plan to do any projects with your husband?
MS: He's head of film at Netflix. We're always collaborating. I back my husband, and he backs me. We're always helping each other. When he took the job at Netflix, it was really difficult, because he'd been with Universal for 21 years. He used to run a part of it, and he'd been a producer for eight years, between The Break-Up, and all the movies he'd done, like Ted and Central Intelligence. So when he left Universal and said, "I think I'm gonna go work for a tech company. I was like, "Let's do it! You know what you're doing, you've got this."
CC: I love the "we." It is a "we."
MS: It is a "we." The same thing with women. I have my tribe, we call it 'morning headquarters.' I'm pitching a pod-cast about it right now. We share beauty, wellness, fitness and superficial things, and then we'll tell each other when we're batshit crazy. I'm a true girl's girl in that way. I love my friends being successful and feeling successful.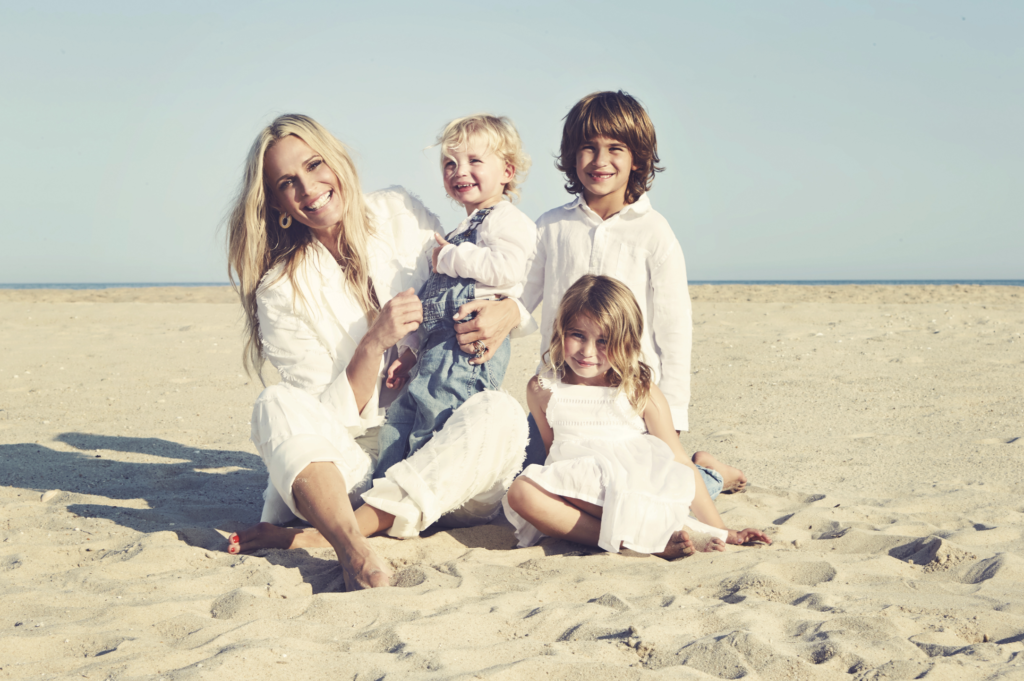 MOLLY SIMS' BEAUTY GUIDE TO WELLNESS:
Clé de Peau foundation: "It's super expensive, but I get it once a year, and I'm so careful with it. It works on me, it gives me a little bit of coverage."
IT Cosmetics CC+ Cream with SPF50+: "It's one of the best cheap things, and it's got an anti-aging collagen serum in it. It's got great coverage and works well as a foundation. All the bloggers are loving it."
Stila Peony lip and cheek cream: "I'm obsessed with it. I wear it across my nose, eyes and lips."
Tom Ford Shade & Illuminate No. 2, highlighting and shading cream: "The palette is amazing."
Patrick Ta: "He makes lip glosses that I love, and he also has a beautiful spray highlighter (Major Glow Highlighting Mist) that is so addicting, and a beautiful shimmer (Major Glow Body Oil) that's really light and smells good."
Bubbsi Whipped Coconut Oil Baby Cream: "It's awesome for my kids' skin—I love it for them, and for me. It's coconut oil whipped with shea butter."

Stylists: beckie+martina, beckieandmartina.com
Hair and Makeup: Naoko Suzuki at Rossano Ferretti Parma using Chanel Beauty