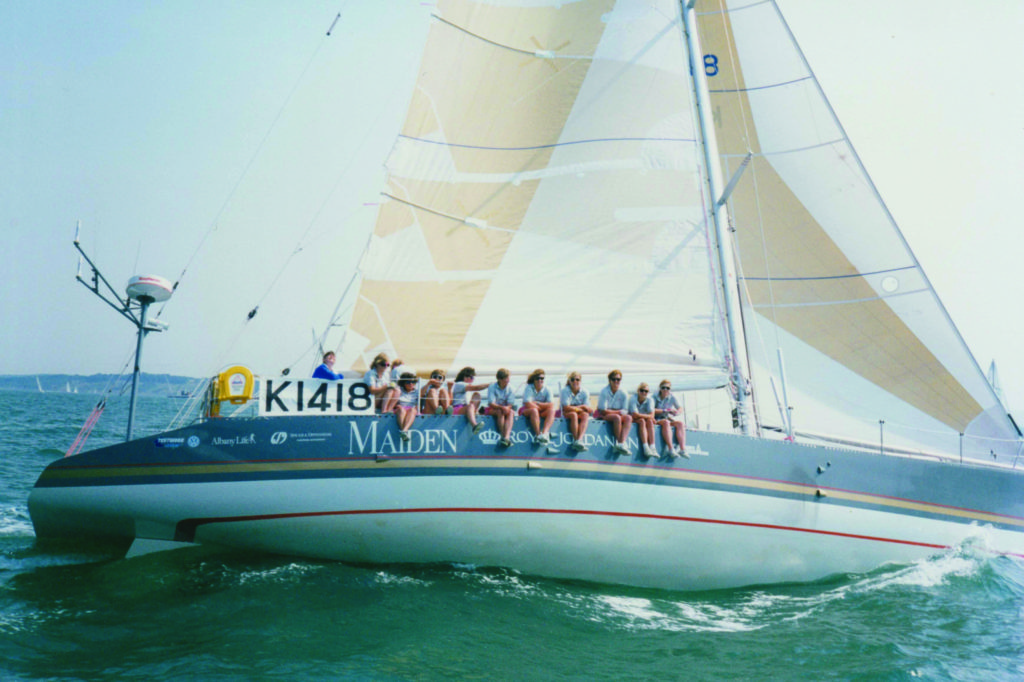 By Ray Rogers
Ray Rogers: What called to you about the sport of sailing?
Tracy Edwards: Freedom. Freedom from everything.
RR: What was the experience of looking back at this historic around-the-world voyage from '89-'90 for you?
TE: Surreal! I find it hard to identify with the young woman on screen. I didn't think I was as articulate as apparently I was!
RR: In what ways was it exhilarating? Frustrating?
TE: Sailing for me is always exhilarating. The frustration was in getting to the start line and also the deep belief by so many that we couldn't do it.
RR: You turned 27 during the Whitbread race, and your teammates were young as well. Where did you find the courage to take on this grueling race in this male-dominated sport?
TE: I don't see it as courage. I see it as youthful optimism and naiveté. We had the luxury of not knowing what failure looked like. We knew what we wanted to achieve and we just went for it.
RR: Back when the Maiden made its voyage, people were skeptical about an all-woman crew—even openly mocking of the crew. How far along have we come culturally in the intervening years—in sports and otherwise?
TE: Not far enough! I am still having the same conversations I was having 30 years ago. The UK is especially bad, as we are steeped in patriarchy. Education is absolutely key.
RR: What work is still to be done?
TE: We must change the deep-set culture around men and women. However, in some areas we are going backward. Education of young people about equality is absolutely key.
RR: Why did it take so long for this story to be told, and why is this vital viewing right now?
TE: We didn't film to make a documentary and the footage was all but lost until Alex [Holmes, the director] found it. The timing could not be better. This is the time of women and equality and we need to remind each other never to become complacent again. We must all come together to enable the next generation of girls. Maiden reminds us what we can do if people have faith in us. Maiden is now.
RR: Tell us about The Maiden Factor and the work that's being done to raise funds for girls' education?
TE: It was started to ensure that the legacy of the Maiden lives on by empowering women and enabling access to education for girls in order to promote positive change and equality. To inspire others to dare to dream and to make those dreams a reality as living proof of what can be achieved if we believe in girls. In 2014 the Maiden was found rotting in the Seychelles, and I knew I had to rescue this iconic piece of British maritime history. We set about raising the funds to buy her, which we achieved in November 2016. In April 2017 the Maiden was shipped home to the UK where, with the help of King Hussein of Jordan's daughter, HRH Princess Haya bint Al Hussein, work began on a complete restoration. This was finally finished in September 2018. On November 7, the Maiden left on a two-year world tour. The decision was made to utilize the inspirational yacht to raise funds and awareness for girls' education, and The Maiden Factor foundation was created.
Maiden changed my life and now I want her to help change the lives of others. Maiden is sailing around the world again as we team up with The Women's March, #MeToo, HeForShe and other global equality movements, working with schools across the globe and supporting young people who really want to change our world for the better.
RR: What do you hope your legacy will be?
TE: That I did some good and fought injustice.
Maiden plays on Oct. 14 at 11AM at Bay Street Theater.