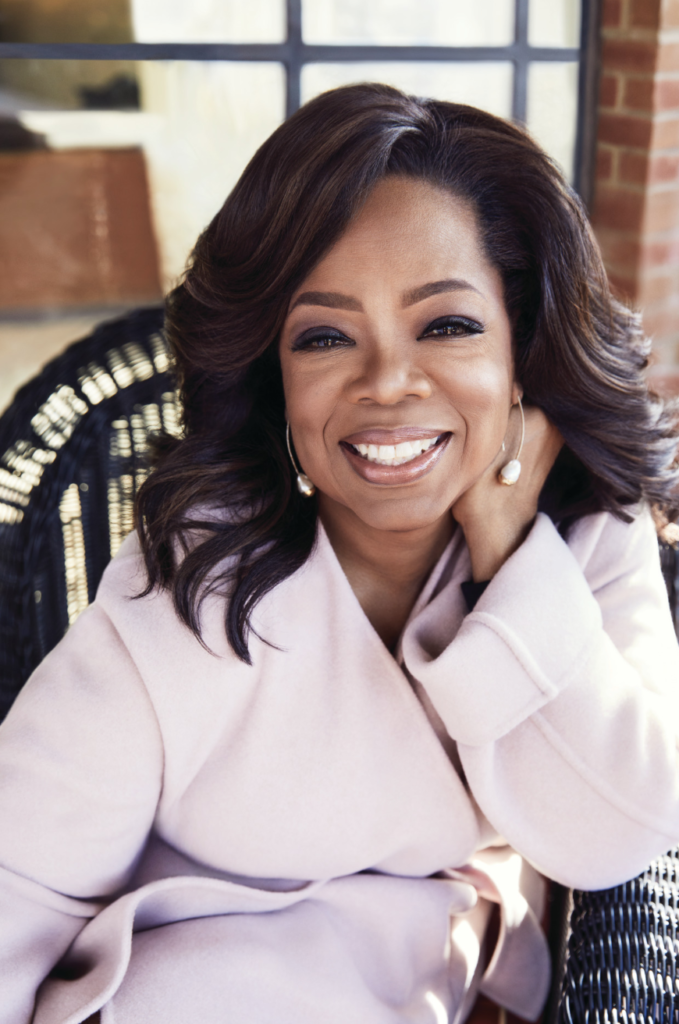 By Dimitri Ehrlich
The sweet scent of Green Zebra and Black Prince tomatoes hangs thick in the air at Oprah Winfrey's spectacular Hawaiian retreat. She has transformed a plot of land on the island of Maui into what she humbly refers to as a garden (most of us would call it an organic farm). At 4,000 feet above sea level—on the side of Haleakal, a dormant volcano—Winfrey has a home where in July 2019, 10 members of WW, formerly known as Weight Watchers, and their guests spent the day hiking, swimming and horseback riding, then joined the entertainment mogul for lunch and dinner. Surrounded by butterflies, Winfrey's guests mingled as majestic horses munched grass nearby. Winfrey led her guests through yards of florals that surround her porch—Queen Anne's Lace, marigolds, zinnias, poppies and purple cosmos. She had invited the guests to help them celebrate their life-changing successes with WW, and to share a glimpse of the way staying close to nature has enhanced her own wellness journey.
"I was raised on a tiny farm in Kosciusko, Mississippi, by my grandmother, and she grew everything," says Winfrey. "Never went to town for food. Other than baking powder, baking soda, and maybe some yeast, we bought nothing. If you needed medical remedies, you'd go out and gather some roots and pinecones. I remember her making me pinecone tea when I had a cold."
One of the things that makes Winfrey so relatable to her fans is that she's always been so open about her own struggles. Weight is one of them. She's made no secret of her years of trying and failing with a succession of diets. A few years ago she gave WW a shot, and discovered that the WW lifestyle approach worked for her.
"I was fed up with my lose-and-gain-again routine," Winfrey says. "I'd had enough of no-carb regimens. Some people can live without bread and pasta, but it just doesn't make sense to me. I wanted a plan for life, and here it was in the form of WW. For me, this is not a diet. It's a whole shift in perspective. So yes, for sure, I'm a bona fide convert."
She was so enthusiastic about her experience with WW that four years ago, Winfrey purchased a 10 percent stake in the company for $43.2 million (which led WW's stock to jump 75 percent that day).
"I love connecting with WW members because while each of their stories is unique, there is also something universal about our shared experience," says Winfrey. "I am constantly inspired by the WW community—to learn from them, to talk openly about our victories and our challenges. I've tried everything, and WW just works for me and my life."
Eating well is only one part of Winfrey's wellness journey. She's also a big fan of joyful daily movement (if not formal exercise) and of course, nurturing the mind and spirit. "Wellness to me means life in balance," says Winfrey. Finding and maintaining equilibrium in a chaotic world is never easy, and it can be especially difficult for someone who wears as many hats as Winfrey does: Actress. Talk-show host. Producer. Philanthropist. CEO. Best-selling author. Winner of 39 Emmy Awards. A self-made woman worth more than $2.7 billion. And these titles, numbers and accomplishments, impressive as they are, still can't begin to encompass the force of nature that is Oprah Winfrey.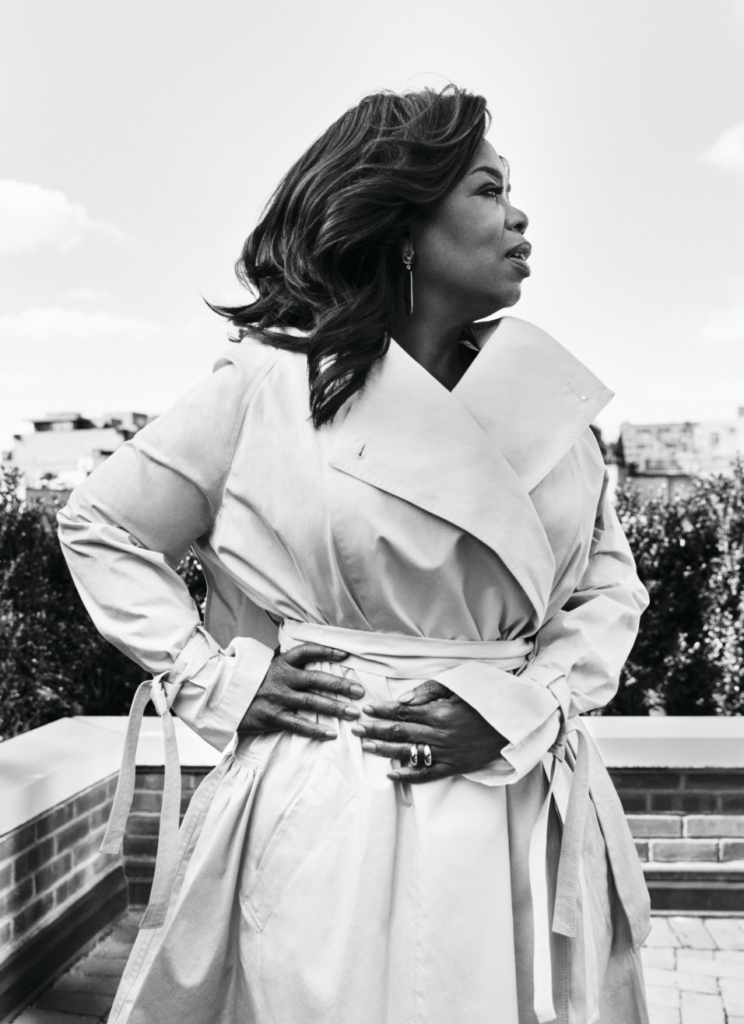 Despite her jaw-dropping list of achievements and all the money in the world, it turns out Winfrey is still human. Like the rest of us, she still struggles with disappointments big and small. She succeeded not because life was easy, but because she's always been able to turn stumbling blocks into stepping stones. This is, after all, a woman who was born in poverty, raised by a single teen mother, became pregnant at 14, and still became North America's first black multibillionaire.
So when in 2019, a health scare brought Winfrey to the emergency room with a diagnosis of pneumonia, forcing the relentlessly driven 65-year-old to cancel work commitments, many things were uncertain. But one thing was not. Pneumonia had picked the wrong person to mess with.
"I came back from overseas and I thought I had a cold, but it wasn't a cold," Winfrey recalls. "I ended up in the emergency room. They said you have pneumonia, and I was on antibiotics and it wasn't working. I went back and they said it's actually worse; you should see a lung specialist. The doctor immediately told me I must cancel everything. I've never cancelled anything in my life. And it changed the way I look at wellness. So now I'm going back on tour to talk about it."
She responded to her illness by launching her Oprah's 2020 Vision: Your Life in Focus tour. Rather than focusing on her own suffering, Winfrey has transformed her health crisis into an opportunity to inspire others. From January through March, the tour will stop in nine cities, offering a full-day wellness event to help encourage audiences across the country to make 2020 the year of renewal. "We can all come together to support a stronger, healthier, more abundant life, focused on what makes us feel energized, connected and empowered," says Winfrey. "As I travel the country, my hope for this experience is to motivate others to let 2020 be the year of transformation and triumph—beginning first and foremost with what makes us well."
On each stop, Oprah will share the personal ups and downs of her own wellness journey and lead workbook exercises. And in each city a different celebrity—including Lady Gaga, Tina Fey, Amy Schumer, Dwayne Johnson, Michelle Obama, Tracee Ellis Ross, Kate Hudson, Jennifer Lopez and Gayle King—will sit down for a one-on-one interview with Winfrey.
Your Life in Focus isn't all talk. For the body, there's a 45-minute dance-driven workout led by Julianne Hough, followed by clean lunches, provided by WW. But of course, the most powerful element of the tour will be the fact that guests can interact with Winfrey, experiencing her energy, positivity and encouragement in person. The open secret to Winfrey's charisma is that she commands audiences with empathy, and demonstrates emotional intelligence on an epic scale.
Oprah's 2020 Vision will kick off Saturday, January 4 in Fort Lauderdale, Florida, making stops in Saint Paul, Minnesota; Charlotte, North Carolina; Atlanta; Brooklyn, New York; Dallas; San Francisco; and Los Angeles, before wrapping Saturday, March 7 in Denver.
Winfrey is an energetic philanthropist—her charitable organizations have garnered her the Presidential Medal of Freedom, the highest civilian honor in America. And this tour is no exception: Over $1 million from tour proceeds will benefit WW Good, the philanthropic arm of WW that helps bring fresh, healthy food to underserved communities nationwide.
Which brings us back to that party Winfrey hosted for WW members at her home in Maui back in July. It was there that the seeds were planted for her 2020 tour, before her bout with pneumonia intensified her commitment to the project. "I wanted to invite people to my home because it is a wonderful space for me to rejuvenate myself and I thought, What a wonderful reward for people who are excited about changing their body, their mind and their life," she says. "It ended up being so inspiring for me. We had a party on the front porch, and then I decided, what if we could do this for as many people as possible? Obviously, I cannot have everybody on my front porch, but I can come to a city near you!"
This is not Winfrey's first national tour with a focus on wellness. In 2014, she did a tour called The Life You Want, and she's missed having the kind of immediate contact with an audience these live events offer. "I love being able to share stories and invite people to be their best selves," she says. And of course, most of her career has been focused on helping people to more fully be themselves and live more authentic, happy and fulfilling lives. So what will the 2020 tour deliver? "You can expect to come and get yourself inspired, motivated, filled up, knowing that so many other people have been where you are and have learned to live a life of triumph, triumph in wellness and well-being," says Winfrey. "You can expect inspiration, motivation, and the will to move forward to your best possible life."
"This tour is for everybody who wants a better life in 2020," she adds. "If you're just thinking, What can I do, I'm feeling a little stuck, I've been procrastinating, gee, I need to lose a lot of pounds, I need to lose a few pounds, I need to move on from my job, I need to get out of this bad relationship, I just need to move forward—2020 is the year. Let's do this thing! Get well together!"
For tickets to Oprah's 2020 Vision: Your Life in Focus tour, go to ww.com/oprah