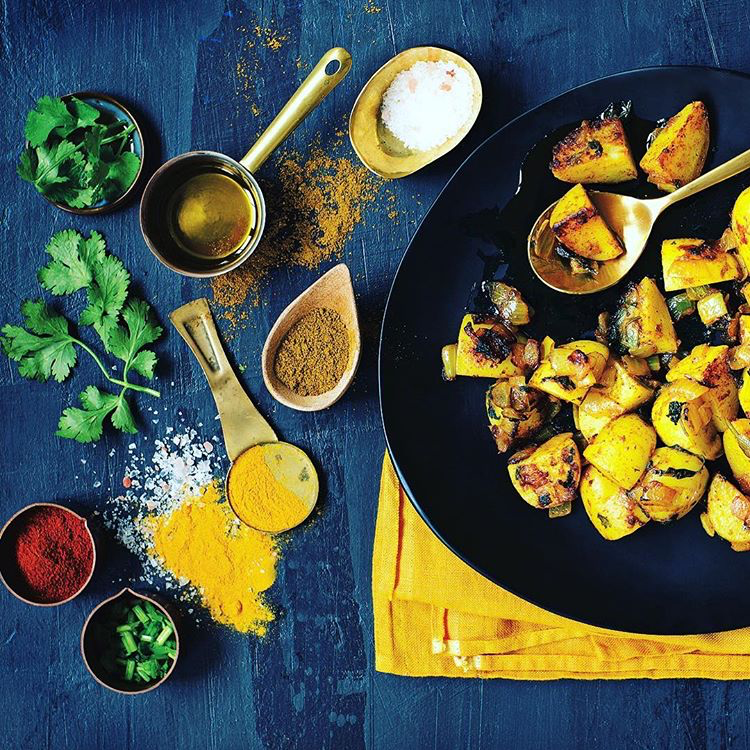 There's no time like the present, when the country is in self-quarantine, to learn to cook for yourself. Chef Adam Kenworthy, who helms the popular @adamkenworthy Instagram account, likes to keep things loose in the kitchen, and now more than ever, that's paramount. This easy-to-make recipe for plant-based tacos calls for sautéed white and sweet potatoes, zucchini and cauliflower, but he notes that whatever veggies you have in the fridge will work just as well.
"I'm kind of anti-recipe," he admits. With his highly stylized and playful Instagram videos—like this one shown here with Purist founder Cristina Cuomo as his sous chef—"the aim is to provide more of an inspiration, rather than being a strict recipe page," he says.
Dishes like these veggie tacos, which get a spicy kick from Frank's RedHot sauce, present "a great way to encourage people to work with what they have. Any kind of vegetables you like will be great in that taco. I made a breakfast taco just this morning with potatoes, shallots, broccoli and egg, working with what I had at home."
Go ahead, play around, have some fun in the kitchen, and savor the delicious rewards of your experimentation.
Chef Adam Kenworthy shares his recipe for vegan tacos with Purist.
Vegan Taco Recipe
Ingredients:
Potato
Sweet potato
Zucchini
Head of purple cauliflower
One lemon
Salt
Head of red cabbage
Sir Kensington's Fabanaise
Frank's Red Hot Sauce
Avocado
Lime
Siete almond flour tortillas (see Note, below)
Cilantro leaves
Directions:
Skin and cut potato and sweet potato into small cubes. Lightly oil a large skillet; heat over medium heat, then add potatoes.
Meanwhile, cut zucchini into small cubes, and chop cauliflower roughly. Add zucchini and cauliflower to pan. When vegetables have begun to soften, squeeze lemon juice over them. Be sure to keep an eye on the veggies, as they will turn from golden brown to burnt quickly. Salt to taste.
To make slaw, cut cabbage into shreds. Mix Sir Kensington's Fabanaise with Frank's RedHot sauce to make the aioli. Toss cabbage with aioli; set aside.
Peel, pit and cut avocado into thin slices; set aside.
Cut lime into wedges; set aside.
Place tortilla in a pan at medium heat until golden brown. Fill tortilla with veggies; top with slaw, avocado and cilantro as desired and serve with lime wedges.
Note: Siete tortillas are gluten free, and soft like traditional flour tortillas. They're available in many stores and online.