By Donna Bulseco
Most imbibers know the word sommelier, but only true connoisseurs of spirits recognize maestra tequilera, a designation awarded Bertha González Nieves, CEO and co-founder of Casa Dragones tequila. As the first woman to be certified as a "Maestra Tequilera" or Master Distiller by the Tequila Regulatory Council (CRT), González Nieves has done much to elevate tequila's stature as a drink to sip and savor, not simply knock back with a lick of salt and squirt of lime.
Her breakout limited edition 2009 Casa Dragones Joven style was praised for its meticulous blend of 100% Blue Agave Silver and extra-aged tequila; in 2015, the company added Casa Dragones Blanco, which goes down easy on the rocks or in a cocktail, especially on a lazy afternoon when, in more sociable times, friends stop by the newly renovated cottage in the Springs that she shares with her partner, Mishele Wells. "Sometimes our parties are very informal—people just show up and come to the pool and enjoy a glass or two of tequila. I love to surprise them with different drinks," says González Nieves, who mixes and serves the concoctions using vintage barware and glasses from Baccarat and others she collects, sometimes adding a tiny edible flower from a nearby farm stand to make each one special.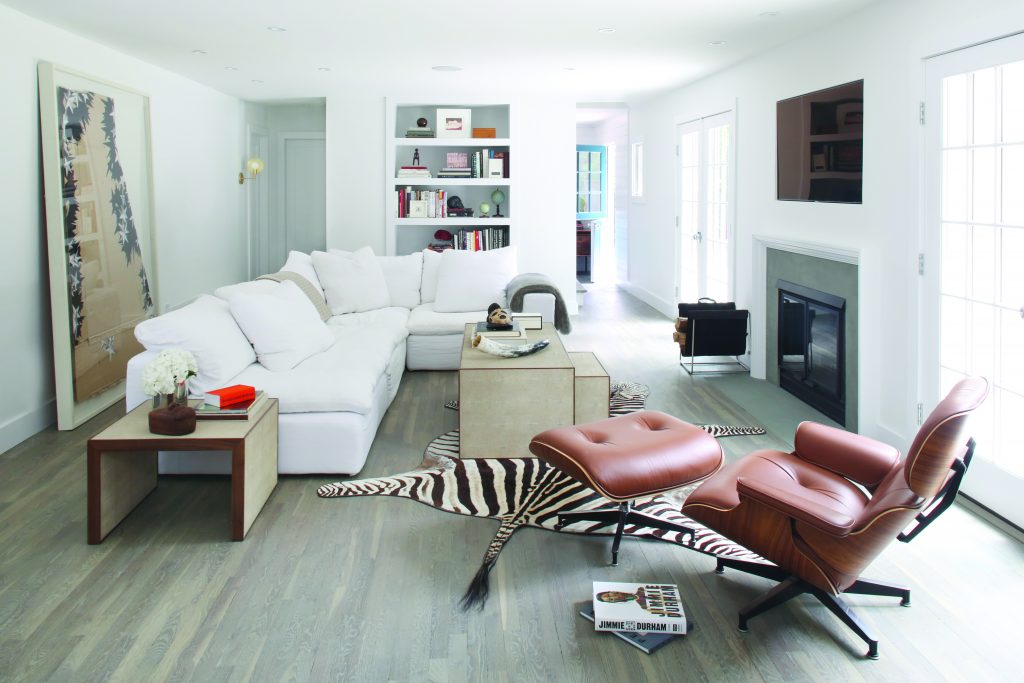 That attention to detail is telling: González Nieves' desire and drive to do something unique also contributed to the originality evident in the renovation of her East Hampton abode. When she bought the traditional New England-style saltbox a few years back, she envisioned opening up the interiors to create a relaxed, easy flow from front to back, with fewer structured rooms and more spaces for entertaining. Specifically, she wanted a bar area that was in the center of it all, rather than set off to the side, so guests felt comfortable to help themselves when she's playing grillmeister. "The grill and the bar are my territories," she says, laughing.
Like many successful entrepreneurs, González Nieves is an ace collaborator, according to David Frazier of NYC's David Frazier Designs (although he began the project while he was at Meyer Davis), who served as architect, interior designer and manager on the project. "Bertha wanted to maintain the beauty of the house but make it 'friendlier,'" he says. That meant immediately knocking down a few walls. "We kept a lot of the traditional elements in the millwork, but there were intentional moves to modernize it, more from a livability standpoint than an aesthetic one," says Frazier. He reconfigured the 2500-square-foot interior, but first added a large deck and arbor on the front lawn as one of the places for guests to gather. More doors were added—French doors that open up and let the sun and a nice breeze in. "There's an ease to designing in the Hamptons; it doesn't have to be so formal and rigid so you can have a little bit more fun. It's about how you live on the weekend, how you entertain and how you host, rather than having to be pragmatic," Frazier says.
So it was no big deal to sacrifice one of the bedrooms in order to create González Nieves' dream bar/dining room. While the house is painted in varying tones of white, giving it a light-filled lift, Frazier devised a backdrop for the tequila bar that showcased the crisp, intense blues used in company's bottles and boxes: a marble bar wrapped in an elegantly textured grasscloth with clear floating shelves that don't detract from what's on them. "We sourced a beautiful white marble with a silver-gray veining and found a silvery grasscloth," says Frazier. "The combination of the two is subtle and lets the graphics shine through."
González Nieves and Wells couldn't be happier with the final result. "We wanted the feeling of it to be homey, a place that looked beautiful and was comfortable," says González Nieves. For fun, the pair like to paddleboard in nearby Accabonac Harbor when the weather is warmer or take long walks with their two miniature Australian shepherds, Figaro and Nola (named after Scarlett Johansson's character in Match Point). "We've started taking hour-long walks with the dogs to Louse Point and back, either mornings or at sunset. It's so serene and stunning, it helps keeps me centered," she says. "I've also become addicted to Peleton workouts every morning. They have really great classes on their app, which I can play on Apple TV." For now, they're content to be homebodies and look forward to being hosts again. "When the doors are open, it feels like an inside-outside house," says the maestra tequilera—in short, a naturally intoxicating place.