Interviews by Ray Rogers Produced by Jenny Landey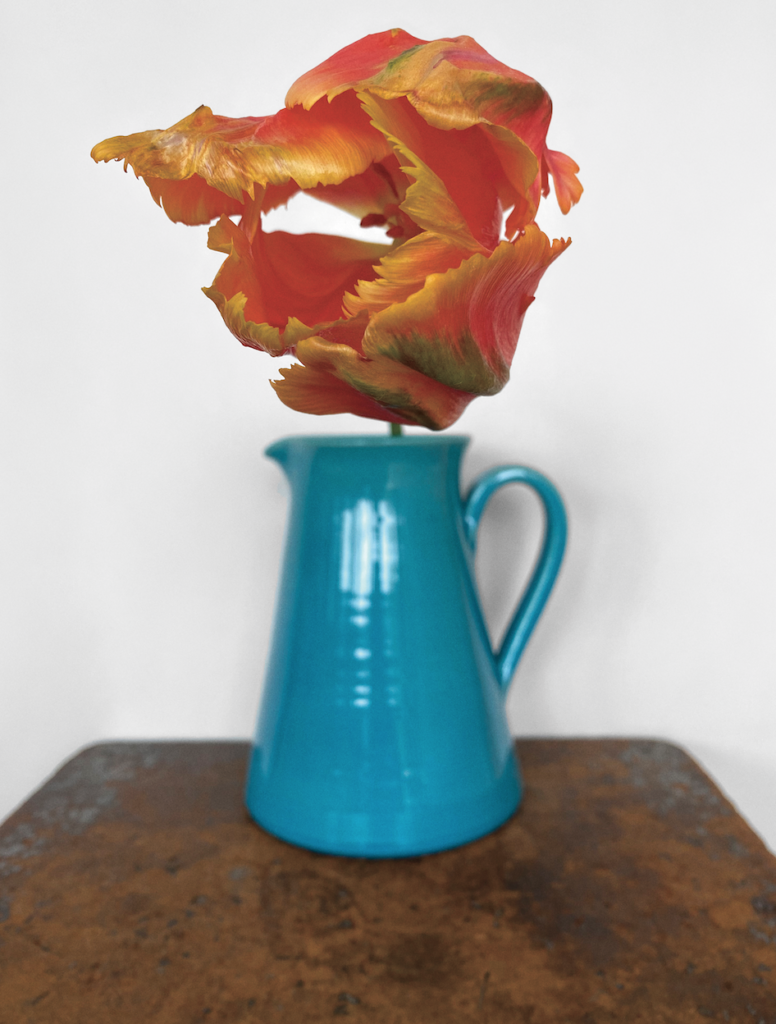 INEZ & VINOODH Water Mill
"Suspended Dutch Tulip". Shot on iPhone, May 1, 2020
"The tulip seems to be hovering above the pitcher, suspended in time but bursting with flaming energy. It's exactly how we feel at this point. It was shot with daylight in our bedroom. We usually make our still lifes in a studio, but the soft painterly feel of the filtered light felt right. The first few weeks in quarantine we were stifled with worry and glued to the TV, hoping for good news. As we slowly surrendered to all the unknowns and started taking life and work one week at a time, creative ideas started coming back."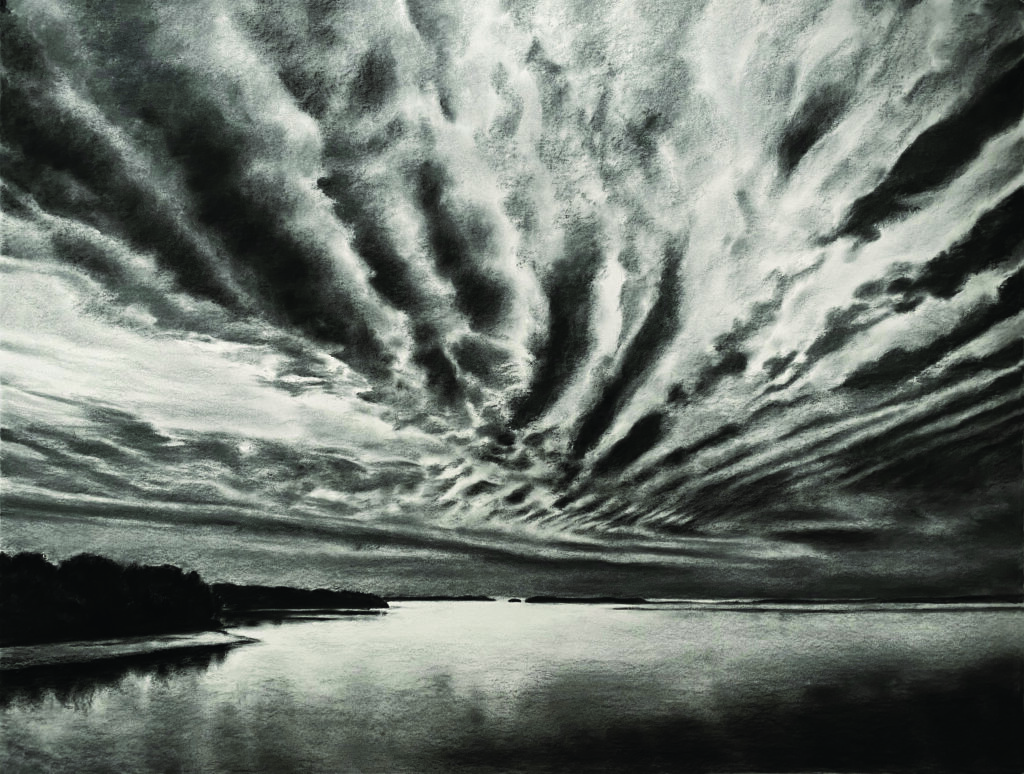 APRIL GORNIK Sag Harbor
No title yet, 38″ x 50″, charcoal on paper, 2020
"As I was finishing this piece, I started to see the clouds as spirits rising. I started to feel the way I felt reading George Saunders' great book Lincoln in the Bardo. I don't know if that's more about death or more about hope.
I've been very distracted and feeling disconnected from my work, frankly. I've been making masks and inventing soups and working in the garden—and when I get in the studio I feel like I'm not sure why I'm there. It is not a good feeling. I know other artists that are super creative, and I feel bad that I'm not, but I know this will go away. I have to trust my intuition. I did this drawing at the beginning of the pandemic—or rather, I should say that I started it then, and after I finished it I flatlined. But I have begun a big painting recently so things are looking up. The other stuff I've been doing is not without its creative satisfactions, though. I like problem-solving, so figuring out the best mask, how to incorporate shielding material, and redoing my whole vegetable garden is not totally unsatisfying."
HELMUT LANG East Hampton
Works in progress in Helmut Lang's studio.
"I am finishing my 'broken hearts and other injuries' (working title) sculptures, which have been sitting around for two years waiting for the final push. Now I'm ready to do so due to the current situation and the urgency I feel about our emotional and physical injuries. In general I have been concerned for years about the times we are heading into. COVID-19 now is just a puzzle piece of a bigger threat to come if we do not respect the Earth. The fallout will be apocalyptic and we are close to achieving it."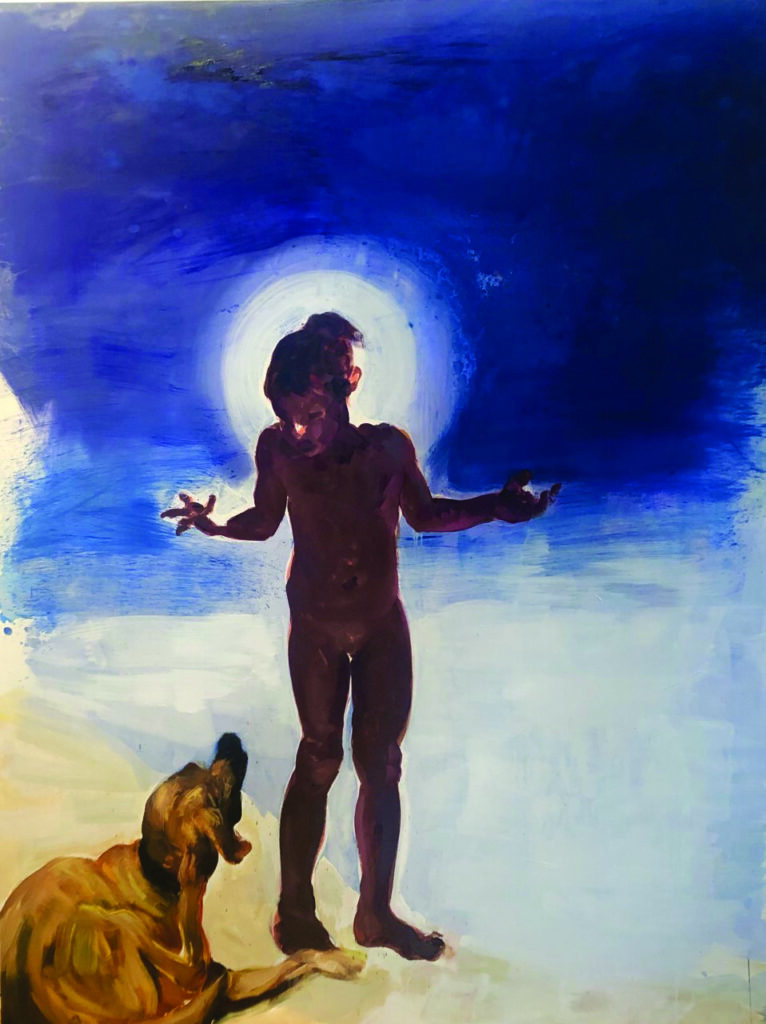 ERIC FISCHL Sag Harbor
"Like Explaining the End of the World to a Dog" oil and acrylic on linen, 2020
"The title purposely overplays the moment but, for me, in its wry absurdity, the painting gets at the frustrations, sense of urgency and deep fears that have been caused by the scale of our present crisis. By having the child (normally the symbol of innocence) be the bearer of apocalyptic predictions to an uncomprehending dog (a symbol of even greater innocence than that of the child) speaks to me about our failure to ensure for our children even the scantest of health for their future and that of our planet. The aura around the head of the child calls up both the imagery of the sacred and also the numbingly terrifying and indelible image of the unstoppable collision course of the approaching planet in Lars von Trier's film Melancholia.
Artists have learned how to break up chaos into small enough pieces that they cease to be overwhelming. Artists then reorganize these bits of chaos into compositions that are balanced and harmonious. It is this illusion of balance that makes the disorder of life appear controllable."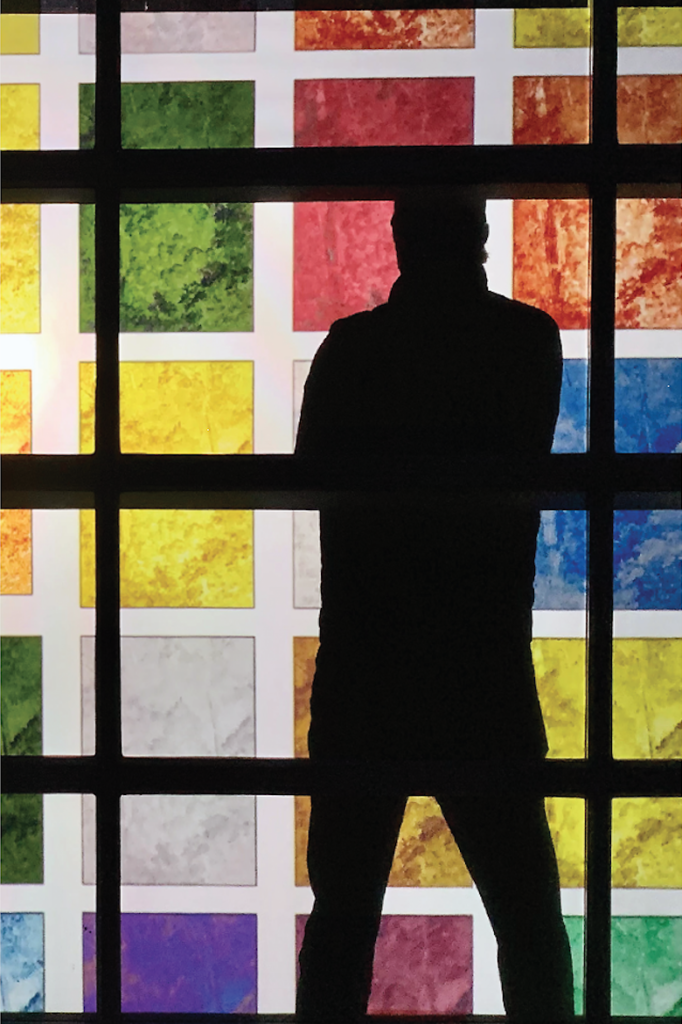 CLIFFORD ROSS Bridgehampton
"Harmonium Mountain – Wainscott Edition," computer-generated video on garage door, May 2020
"Over a few days I edited video materials created as far back as 2010 to make a two-minute nighttime work in my Wainscott studio setting—a repurposed potato barn in an automobile junkyard, with a mile-long view to the Atlantic Ocean. The setting is surreal in its beauty anyway, but add COVID-19 and a colorful video on a garage door at night…. You get the idea. Darkness and Light."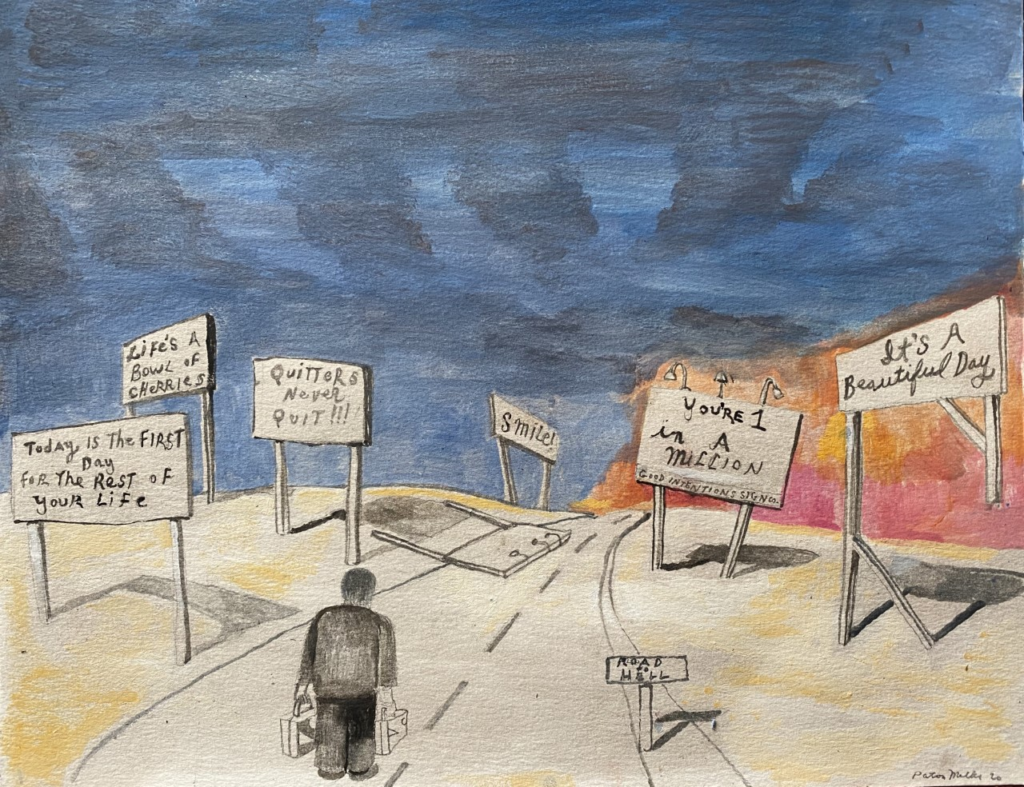 PATON MILLER Southampton
"Road to Hell (is paved with good intentions)" 18″ x22″, gouache and pencil
"I've spent six weeks anchored to my drawing table making about two works per day. I've had too many images to become involved in a painting, so I'm drawing. As a visual artist I have a mental filing cabinet that I open when I sit at my drawing table. One of my scenarios whistles to me and I'm off to the races. Then they pretty much finish themselves. Regarding this piece, certain 'sayings' make me laugh and they are fun to illustrate. They're funny and not funny at the same time. The truth hurts."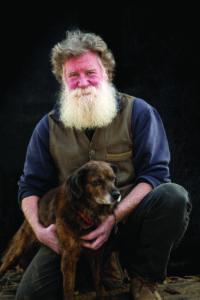 SCOTT CHASKEY Sag Harbor
"A haunting line by my mentor and friend, the poet Milton Kessler, surfaces and resonates in this most unusual time: 'Love, death is everywhere, life just right here.' I read, garden, walk in the woods, feel gratitude for my family, and gratitude for the resilient kernel alive within the human spirit. Here is a poem, "Metamorphosis, Eileen," first imagined in a garden last autumn, after a visitation from a dear friend, then reshaped in late winter 2020. The poet Stanley Kunitz said: 'Art is that chalice into which we pour the wine of transcendence.' Poetry itself is a dear friend in such a time."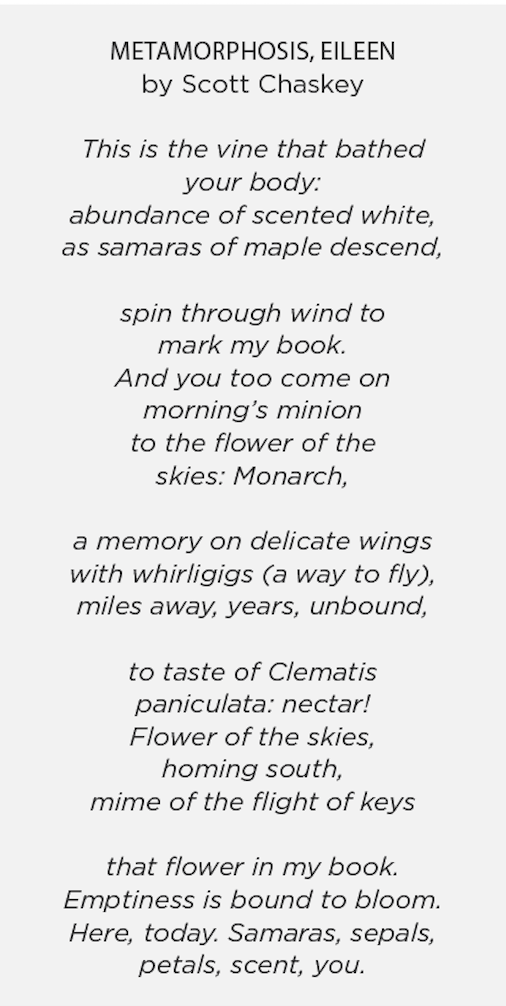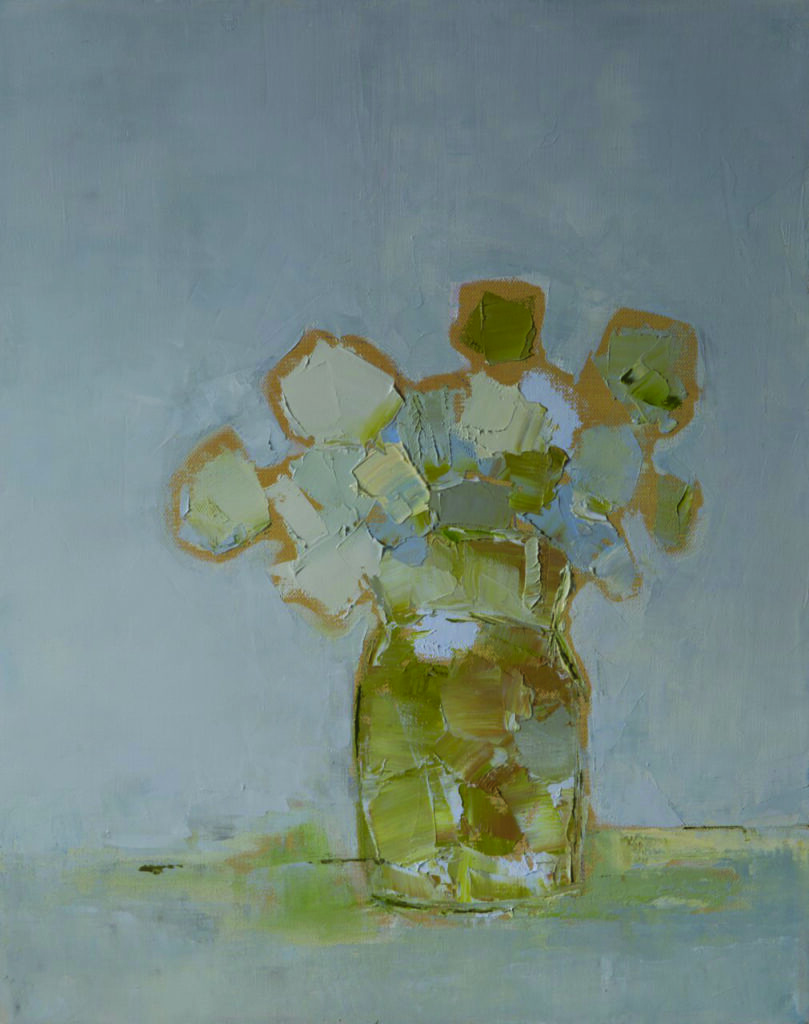 BILL TANSEY Bridgehampton "Spring," 16″ x 20″, oil on canvas
"For the past two months I have been at my home in Bridgehampton, where I also have a painting studio. I did this floral when I was first quarantined, and as you can see it has a very soothing, calm and earthy palette. It's what the environment dictated at that moment, I was introduced to the wonderful walking trails out here that I never knew before. These are the early spring tones that greeted me on my walks. Without all the distractions of life even three months ago, my senses have become much more appreciative and vulnerable to this environment."
ANH DUONG New York City and Connecticut "Fleur de Peau," oil on canvas, April 2020
"Most of my work is based on self-portrait and it was important for me to paint one with a mask, to remember these changing times of the world, and to capture one's inner life in the face of these uncertain times. The mask not only represents the new normal and safety but also the distance between each other, the impossible physical connection. The mask covering the nose and mouth visually intensifies the eyes and the feelings that are expressed through them. The title 'Fleur de Peau' is a French expression which means a state of extreme sensitivity.
I improvised a studio in a garage. I brought with me my favorite colors and brushes. It amazed me how little in fact I need to create art. Making art has been my savior in these challenging times. By painting I can be present, like during meditation: the only time when I am not worrying about the future or regretting the past, forgetting the uncertainty of these times in my creative endeavors."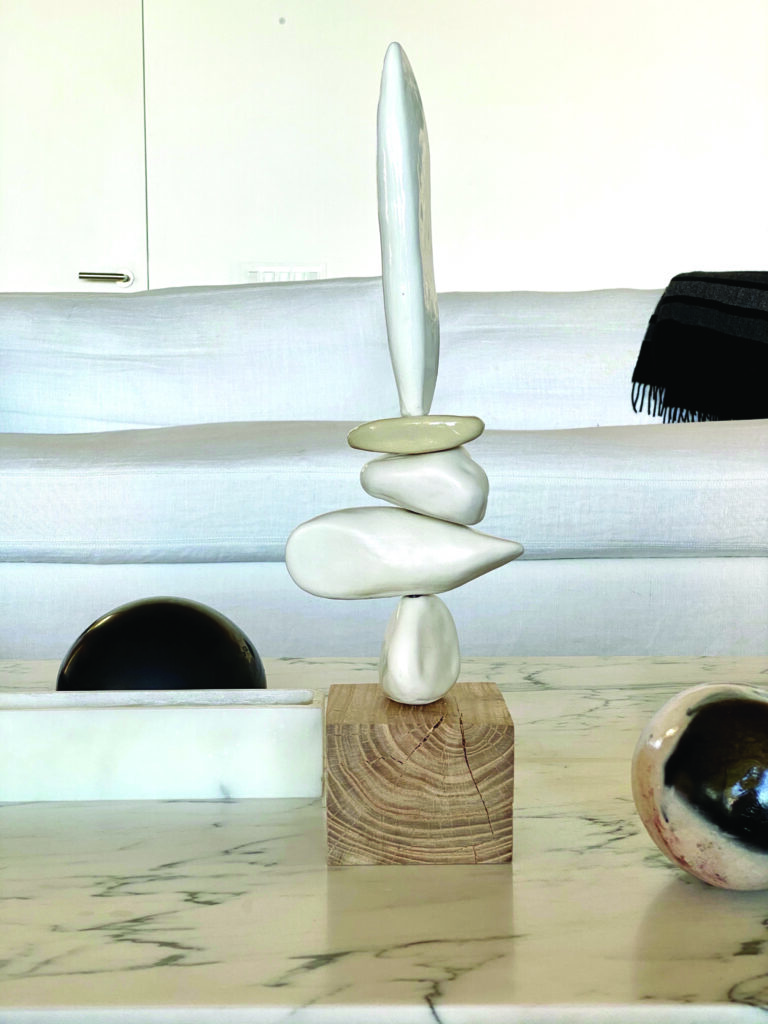 KELLY KLEIN Palm Beach "Isolation Piece"
"Today is my 51st day in quarantine: I barely have left the house. It's been a time of chaos and confusion. About that same time in March, there was an auction of some of Georgia O'Keeffe's beautiful art, and I thought a lot about her and how she lived in isolation in the middle of the desert and she painted, walked, collected bones, stones, and tumbleweed, and made pottery. She thrived in isolation, and that's what we are going to do. I set up the garage, which was my son Lukas' playroom that he was happy to share with us as a ceramic studio, and I started to go to work making pottery from 8AM till 4PM, 7 days a week. I decided to call all the pieces "isolation pieces"—isolation pottery and isolation totem poles. Being creative has saved me. The ceramics were so calming and meditative."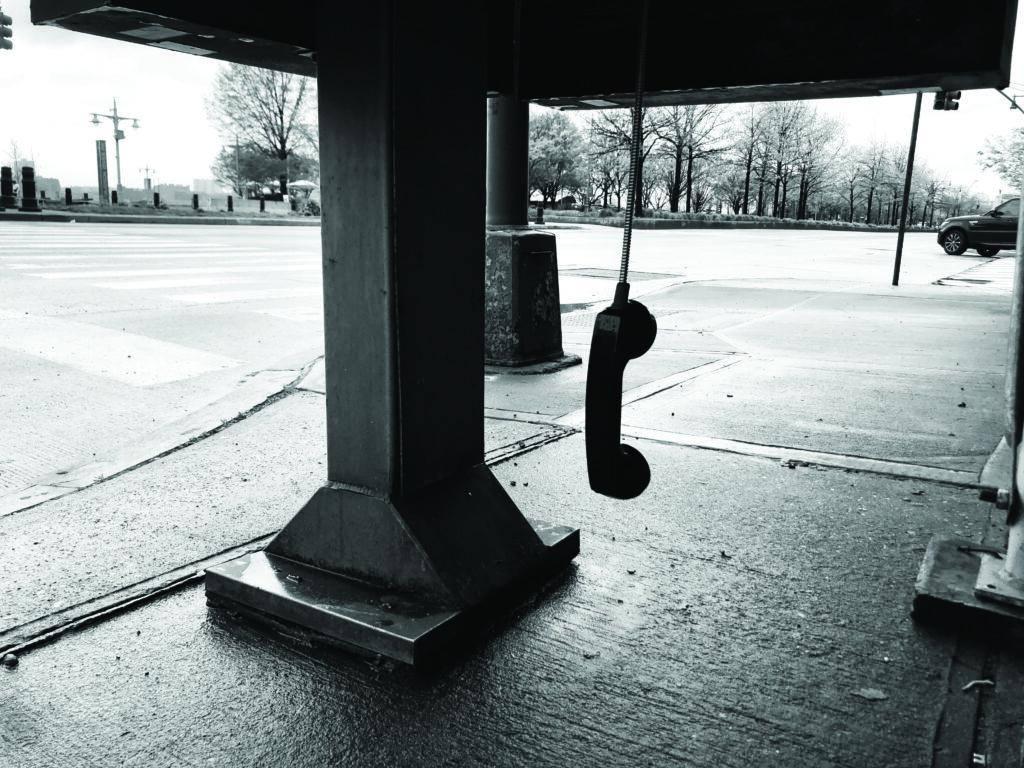 MARY ELLEN MATTHEWS New York City "On Hold"
"I have been busy with Saturday Night Live for the at-home editions, which have been a challenge but a good one—to recreate something that has been in an expected form every week for years. I also wanted to give myself an assignment of sorts. I started to wander around the city and came upon this off-the-hook phone in a phone booth—one of the last few?—along the deserted West Side Highway. 'On Hold' came to mind, as it really does sum up how we all feel right now."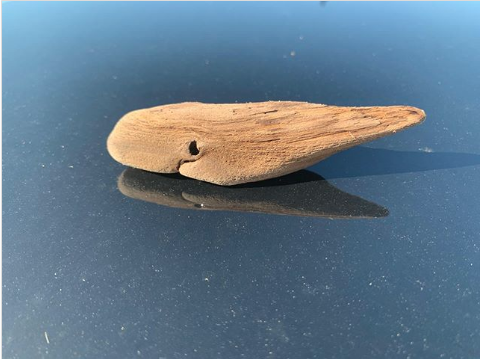 ALEC BALDWIN East Hampton
Actors got creative during quarantine, too. "Interesting things to be found on the beach," reported Alec Baldwin, who shot this pic on the East End and proudly showed off his keen eye on Instagram. His wife, Hilaria, gave him props—and a title—for it: "This photo actually impresses me. Let's call it: drift wood on a car hood."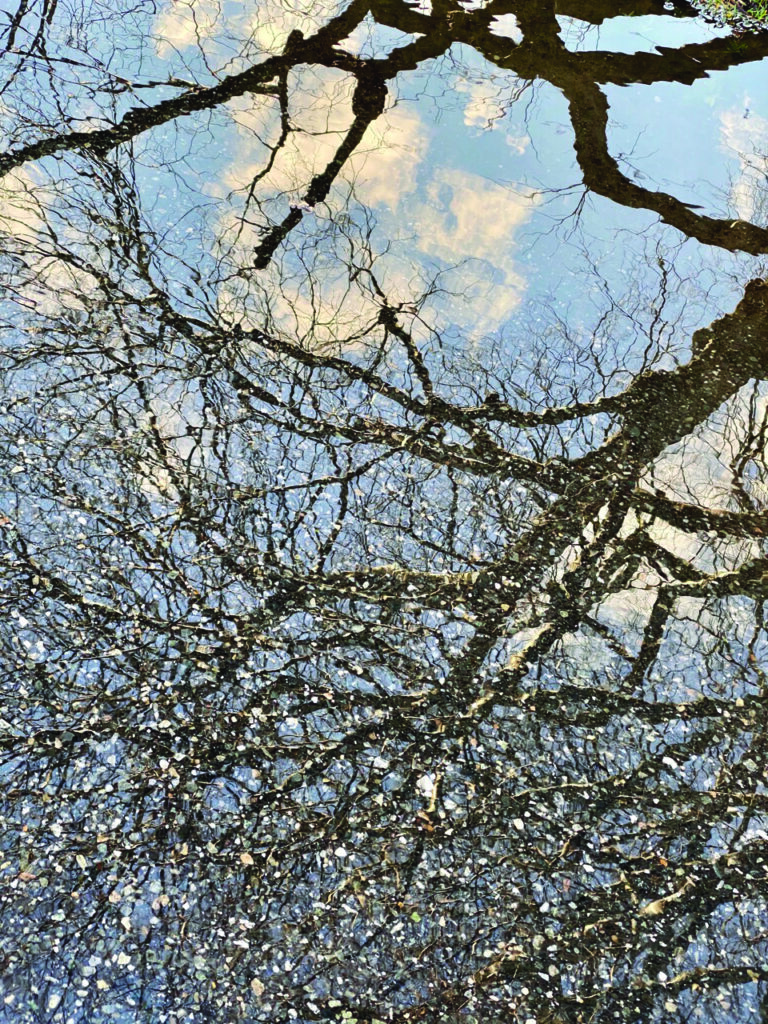 PAMELA HANSON East Hampton Untitled
"This is a photo of water after the rain. I love how painterly it looks and how serene it is. Walking and observing the ocean is meditative, and my power of observation is heightened right now."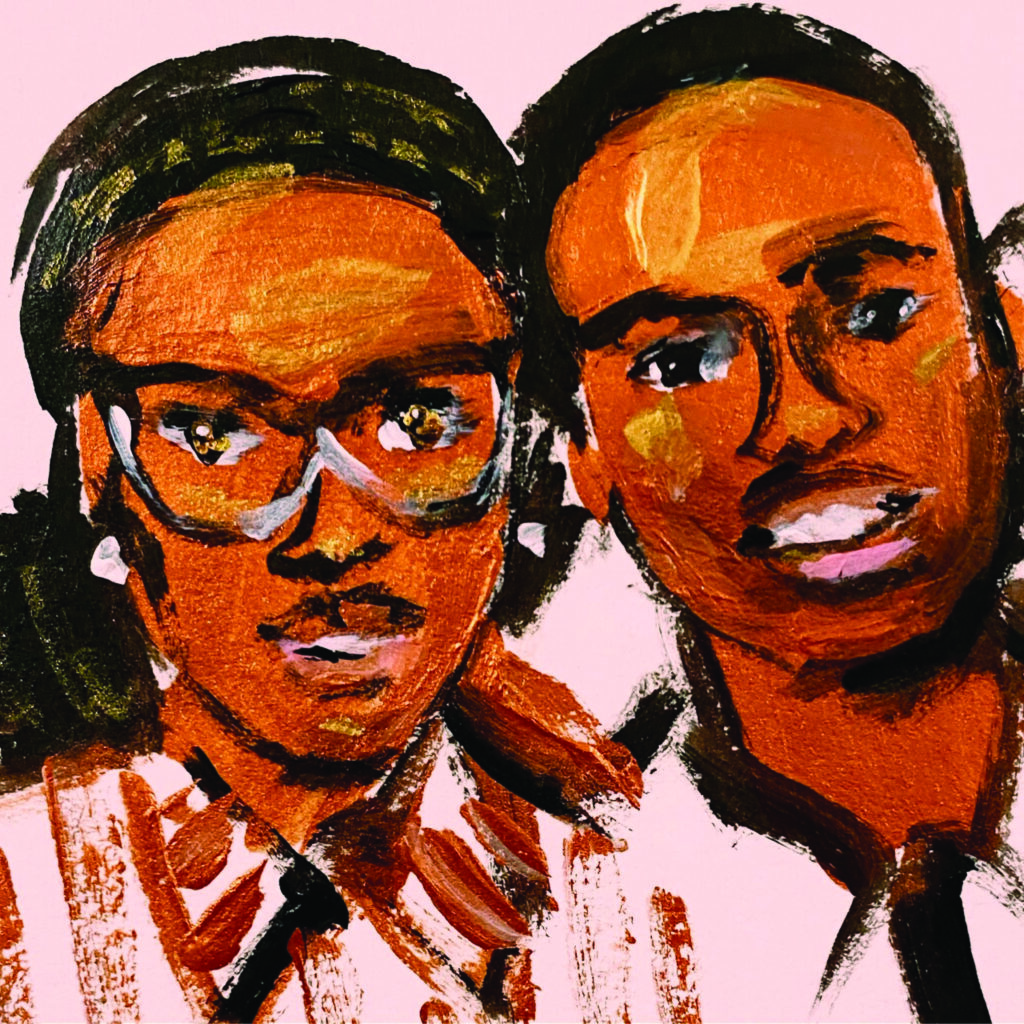 DONALD ROBERTSON Santa Monica Untitled
"This is a portrait I did [of Ahmaud Arbery and his mother, Wanda Cooper Jones] to raise awareness of the #runwithmaud hashtag. I have five kids and I can't imagine what his mother is going through. More than ever, we are all in a tribe, and have to watch out for each other."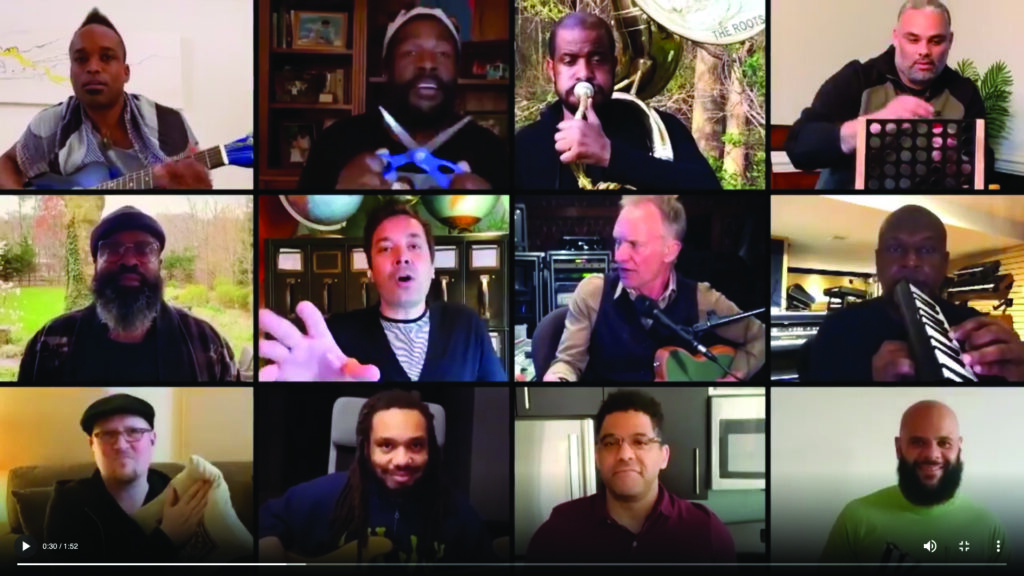 JIMMY FALLON AND THE ROOTS Sagaponack
Jimmy Fallon, a long-time Hamptons resident, teamed up with The Tonight Show's house band, The Roots, and Sting for a socially distanced take on "Don't Stand So Close to Me," the 1980 hit by The Police. The Roots got percussive with household objects ranging from scissors and pillows to a game of Connect 4. Bravo!