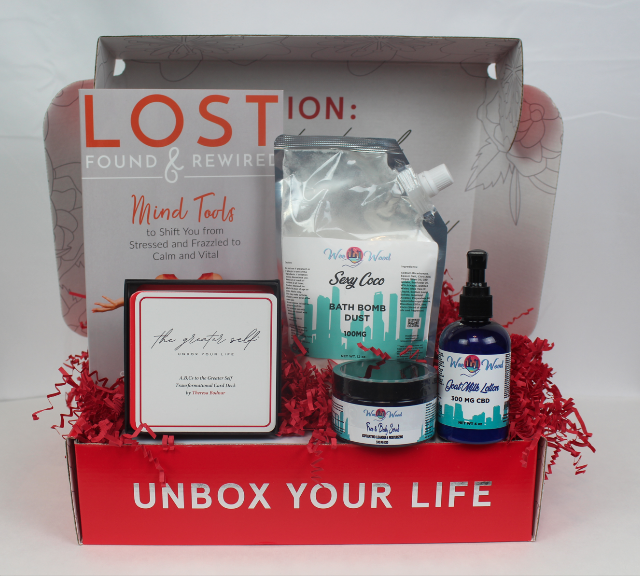 By Cynthia L. Dougherty, PhD
Culling from her history in formulations and nutraceuticals, Cynthia Dougherty, PhD, has curated luxury kits filled with CBD-infused goodness to soothe the body and mind. The Greater Self Box, a bimonthly wellness subscription box, is packed with effective tools for self-care. Here, Dougherty explains why we should incorporate cannabis into our wellness routines:
Finding strength during these uncertain times has created a new set of challenges for us all. We try to steer clear of health hazards to protect ourselves and our loved ones, but this stress can take its toll if we don't maintain balance in our lives.
While we were living in San Diego, our home caught flame during a wildfire. I got through by forcing myself to be mindful, stay present and breathe. Sometimes we need more resiliency tools to cope through crises, which is why I was inspired to create a bimonthly wellness subscription box filled with innovative stress relief solutions.
Cannabidiol molecules promote homeostasis, healing our cells and optimizing the function of our organs. CBD is a nontoxic, nonaddictive, nonpsychoactive chemical produced by the cannabis plant, which is then extracted and formulated into a concentrate. Our bodies have a natural endocannabinoid system (ECS), made of neural pathways, receptors and enzymes that oversee mood regulation and pain signaling to the brain. CBD is known for its calming effects, but it can also help alleviate many physical side effects of stress including inflammation, headaches, insomnia and body aches.
As a Master Mind Performance Coach, I am intimately aware of the effects of stress and anxiety on the body. The COVID-19 crisis has left many of us feeling powerless and scared, which heightens our body's cortisol levels. Stress is actually a sign your body is trying to protect you, but it can also have a profound impact on both your mental health and immune system. Thankfully, there are steps we can take to reduce stress levels, and we don't have to accept these heightened levels of anxiety as our new normal.
If you want to de-stress more intensively with CBD, try incorporating these products into your existing self-care routine:
Hot baths are a great stress buster, and our CBD Bath Dust offers elevated levels of tranquility. The heat causes blood vessels to dilate, relaxes muscles and promotes healthy sleep. Adding CBD Bath Dust to your bathwater helps expedite the CBD absorption process into the skin through the pores. It also reduces inflammation, fights free radicals, detoxifies and moisturizes the skin.
Complete your relaxing bath with our CBD Goat Milk Lotion. This lotion gets absorbed deep into the lower layers of the skin tissues into the capillaries. It's an excellent anti-aging product for inflammation and nourishes and hydrates your entire body. You will feel smooth and silky for hours!
Remember that your brain constantly habituates to what is familiar. Let's choose calm over stress! Prioritize your well-being and give The Greater Self Boxes a try. thegreaterselfboxes.com, @thegreaterselfboxes
Cynthia Dougherty, PhD, is a master wellness and mind performance coach, certified meditation teacher and certified school neuropsychologist. She holds a PhD in human and child development, a master's degree in family therapy and psychology and a certificate in neuropsychology. She is a TEDx speaker, healer and expert in neuroplasticity and CBD.