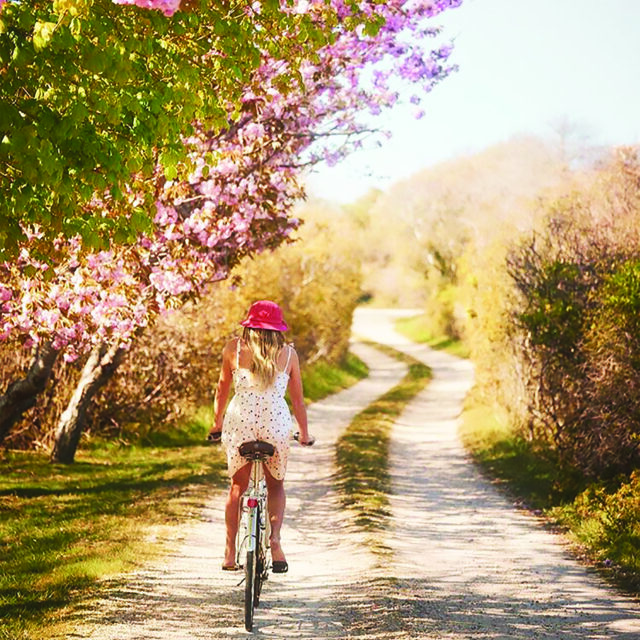 By Michele Shapiro
Whether you're out East for the entire summer or for just a week, one thing you can expect to see a lot more of this year: bicycles. Children's bike sales in March were up 56 percent over March 2019, while adult leisure-bike sales rose 121 percent, according to the NPD Group, which tracks retail sporting-goods sales.
Hamptonites are leading the pack, buying new two-wheelers (or fixing up old ones) and pedaling around rather than putting their foot on the gas pedal. Cycling isn't only eco-friendly; it's the perfect group activity for families looking to spend time outdoors while maintaining their physical health and well-being.
Before you hit the open road, a few things to keep in mind: "Everyone needs to wear a helmet, leave earbuds at home so you can hear what's going on around you, and ride with the traffic," says Raymond Brunsberg, a triathlete who has cycled in the Hamptons for more than 20 years.
If riding with children, he adds, you should scope out the ride ahead of time to be aware of possible dangers. Brunsberg suggests the area south of the highway between Southampton and Amagansett, or everything north of East Hampton over to Sag Harbor. If you feel safer riding off-road with your kids, try one of these paved or dirt trails:
Orient Beach State Park, Orient
Located on Route 25 in Orient, the park features a paved, 2-mile trail for cyclists. The park also offers 45,000 feet of waterfront on Gardiner's Bay, as well as trails for hiking.
Rocky Point Natural Resource Management Area, Rocky Point
This trail, located in the 6,000-acre Rocky Point Management area off 25A, offers several clearly marked bike-trail loops for different skill levels, including the 3-mile Firestone Loop, the 4.8-mile Pine Loop, and the 5.8-mile Outback Loop. Rocky Point Natural Resources Management Area also offers provides loops for advanced riders, including some with uphill climbs.
Hither Hills State Park, Montauk
Located on the eastern end of the South Fork near Montauk, Hither Hills State Park offers a number of bike paths that wind through woodland, ranging from a short half-mile bike ride to a cycling journey 2.5 miles long. Bring along a swimsuit and take a victory dip in the ocean after your ride.
Gear Up
Since your family will rely on you to lead the way, make sure you have the right cycling equipment and accessories to get you there and back in style.
Smith Network helmet, $160
With a clean, modern design, this unisex helmet features ventilated technology in strategic, zonal impact areas to offer coverage where and when it matters most.
Available at Olympia Sports, Bridgehampton, olympiasports.net, or at smithoptics.com
Smith Lowdown 2 CORE eco-conscious sunglasses, $129
Each durable, lightweight frame is made almost entirely from recycled plastic bottles and boasts polarized lenses made from Smith's castor oil-based material for your eco-chic peepers. smithoptics.com
Priority Coast beach cruiser bicycle, $499
Designed, assembled and tested in coastal climates around the globe, this eye-catching cruiser is made to take on salt, sand and water. With its ultralight rustproof frame and fork, you've got the smoothest ride at the beach. prioritybicycles.com
Machines For Freedom The Summerweight long sleeve in Palmera sun protection cycling shirt, $168
This silky shirt provides sun protection in UPF 50, while offering three full-size back pockets and a side-zip moisture-resistant one for your keys and credit cards.
machinesforfreedom.com
Polar Bottle Breakaway insulated cycling bottle, $14/20oz
Hydration is important on any ride, particularly in hot weather. This is the original BPA-free insulated cycling bottle, which keeps fluids colder twice as long through its trilayer insulation. The Surge Valve is also completely removable, so you can clean it to eliminate mildew and mold build-up. olympiasports.net, polarbottle.com –M.S.