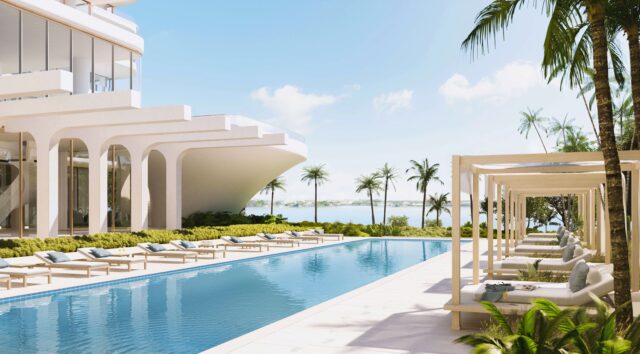 By Gabrielle Echevarrieta
According to renowned architect Siamak Hariri, designer of the award winning masterpiece Bahá'í Temple of South America, "design exists in the fusion of material and emotion." The unmeasurable realm, filled with beauty, love and kindness, is reflected in the measurable, the realm of physicality. When a structure evokes the unmeasurable within someone—a sense of wonder, hope or admiration—it takes on a larger meaning, blurring the line between construction and artistry and results in what Hariri refers to as sacred spaces. Hariri's mindful approach shines through in Hariri's latest creation, LA CLARA Palm Beach, currently under construction on Flagler's waterfront, just south of the Norton Museum and facing the island of Palm Beach,.
As with the Baha'i Temple, Hariri's designed LA CLARA from the inside out. "We started with the idea of creating an unfolding horizon, that will inspire residents to look outward, then inward, to care harmoniously for the self, as well as for the land, the sky, and the sea surrounding them," says Hariri. Hariri invites the beauty of the outdoors to be an extension of each home, finding the perfect balance between privacy and environment. This perception of unfolding horizons is evident throughout all the residences which feature flowing spatial interiors that expand into 9 feet deep corner terraces with unobstructed water views merging with the elegant interior design.
Hariri's holistic approach is carried through the wellness services and amenities offered to residents. In addition to an on-site Lifestyle Director to manage resident's needs, from personal travels and housekeeping, to party planning and personal errands, award-winning Canadian real estate developer of LA CLARA, Great Gulf, engaged three Palm Beach favorites to complement the concierge program. Tammy Fender, LA CLARA preferred skin care concierge, will be offering a range of services including custom holistic facials and reflexology in the spa's treatment room. ONBLONDE PET SPA + BOUTIQUE has been invited to be LA CLARA's preferred pet concierge, offering resident's pups on-site bathing services at LA CLARA's pet spa. Internationally renowned Master Sommelier Virginia Philip and her team will be available to residents for wine consultation as well as customized wine tastings and pairings in LA CLARA's designated wine cellar and tasting room. In addition to the wine cellar, spa, treatment rooms and pet spa, other amenities include a spa, fitness center, lap pool with pool attendant, lounge with dining area, meditation garden, conference room and business center.
With homeowners leaving urban areas in droves in search of a more tranquil way of life, LA CLARA's 83 one to three bedroom residences, will offer residents the privacy of a home with the services of a 5-star resort. laclarapalmbeach.com. LA CLARA will have 83 1-3 bedroom corner waterfront residences.