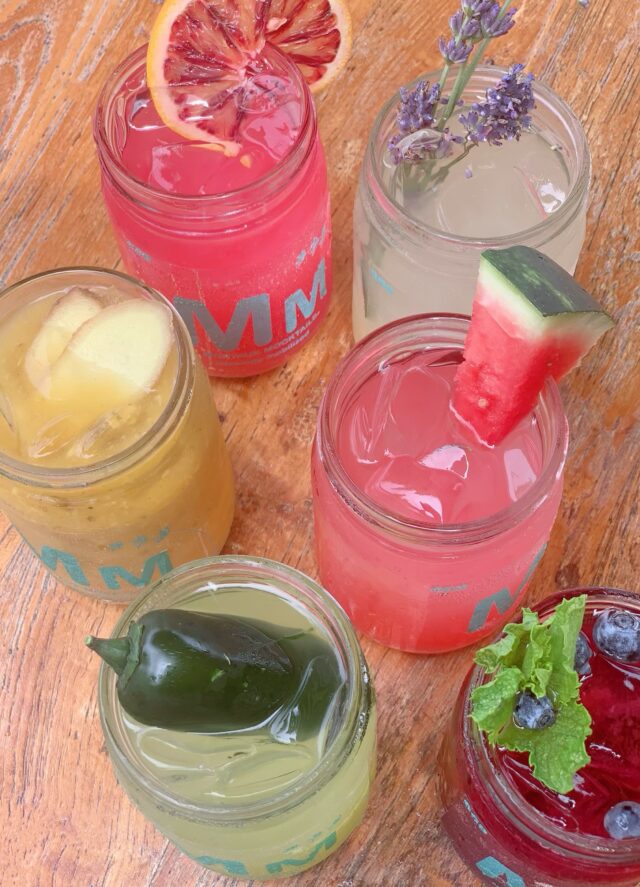 By Ray Rogers
Bartending at breakneck pace during the past nine summer seasons at The Surf Lodge taught Thea Dukas a thing or two about revelers' tastes for the perfect drink—and demand for immediate satisfaction. This year, while the bar scene is on hiatus due to the pandemic, she put her mixology skills to good use and launched Montauk Mocktails, an all-natural, small-batch bottled beverage with distilled botanicals (like rose water and lavender water) to help quench people's thirst wherever they may be, with or without booze.
"I wanted to create a high-end mocktail/cocktail experience you can take anywhere," says Dukas, who has called Montauk home every summer season since childhood. "Instead of having to go to your local mixology den, I wanted to give people the luxury of specialized drinks at home and on the go."
The inspirational spark for the line came during the early days of the pandemic, when 668 The Gig Shack—Montauk's favorite local joint—offered her the opportunity to create a beverage program for their Gig To-Go menu, long before any restaurants were allowed to reopen for socially distanced dining. Dukas, who managed the Shack in its early days, launched Montauk Mocktails in collaboration with Gig Shack proprietor and family friend, Tracey Gardell.
A summer of health, she notes, fits the bill for the current times. "Quarantine has forced many people to change their lifestyles and habits. Even before COVID, there has been a big spike in alcohol alternatives such as CBD and other natural mood enhancers. It has been my experience that a lot of people are moving away from alcoholic beverages in the quest for a healthier lifestyle. Montauk Mocktails enables people to get the cocktail taste, look and feel without the need for alcohol. 668's sober season could not have happened at a better time."
The idea behind Montauk Mocktails is simple and direct: No hidden ingredients, no unknown words and no gimmicks. "While other mixers on the market are full of sugar and overly processed ingredients, Montauk Mocktails is dedicated to using only natural ingredients, made in small batches with natural sweeteners," says Dukas.
Fresh-pressed fruit juices provide the base, and house-distilled botanicals give the beverages their distinctive, rich flavor profiles. The names of the six varieties reference natural elements, and each is reminiscent of classic cocktails. The Aqua, for instance, uses fresh watermelon juice as a base, in a nod to a watermelon martini. "In the past 10 years, cocktails that include watermelon have become a summer staple. It looks good, tastes great, and makes you feel like you are drinking a glass of summer," she says. "Incorporating rosewater into the drink was an instant hit for me—it plays more to your sense of smell than anything, something that watermelon tends to lack." The Ignis (Latin for "fire"), meanwhile, is a take on the spicy margarita craze. "Adding ginger into the mix was a no-brainer—it's trendy and health-forward, and it supplies heat without being overbearingly spicy." And best of all, they're each delightfully hangover-free.
Available at 668thegigshack.com; @montaukmocktails on Instagram.