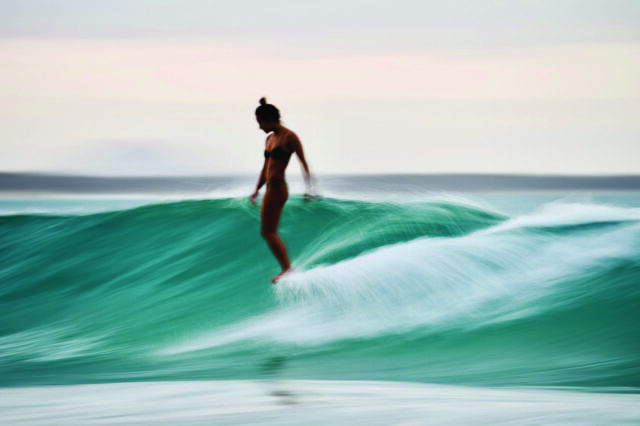 HAPPINESS COMES IN WAVES
By Abby Tegnelia
The beaches in East Hampton and Montauk are the perfect place for healing body and mind right now. "There's been so much anxiety in our lives this year that it's important to get outside and move," says Dr. Heather Madigan, an avid paddleboarder and surfer. Madigan, a New York physician with internal medicine training, studied the mind/body connection while completing her residency. "What surfing offers that is different than, say, biking, is an element of danger. You have to be present at all times," Madigan says. "That, along with the connection to nature, helps us get out of our heads."
Between treating COVID patients at the hospital and returning to her family, Madigan finds time to take to the water almost every day, a routine she credits nature with preventing her from bringing any suffering home.
"Most people respond to ocean waves," she says. "There's something about being out there and the solitude; you're a different person when you paddle in than you were when you paddled out. The ocean feels so big that it helps us with perspective, and is very calming."
The Dalai Lama once said that "a calm mind brings inner strength"—something we all need a dose of now. The health perks that come from hanging ten range from core strength and anti-aging to balance and agility. "From a physical standing point, it's an amazing ab, back and upper-extremity workout, concurrent with gaining agility and core balance," Madigan says. "You have to be one with the board. If you're too rigid, you'll fall off. So surfing helps with posture, mindfulness and center of gravity, which in turn helps you with any other sports and workouts you do."
Four Surf Spots To Try:
Georgica Beach (East Hampton) The consistent surf, and mix of right- and left-handers for short-boarders, make up for the crowds that are often found at this celebrity-laden beach jetty.
Ditch Plains (Montauk) Grab your longboard for this elite surf spot. The decadently long waves and rocky bottom are recommended for experienced surfers only.
Turtle Cove (Montauk) Down the beach from the Ditch, on the tip of Montauk, some enviable swells can be found at Turtle Cove.
Flies (Southampton) Great for beginners, this average surf spot picks up with northwest winds and has a solid long right-hander on the eastern jetty. Its biggest allure? The beach break is steadfastly locals-only.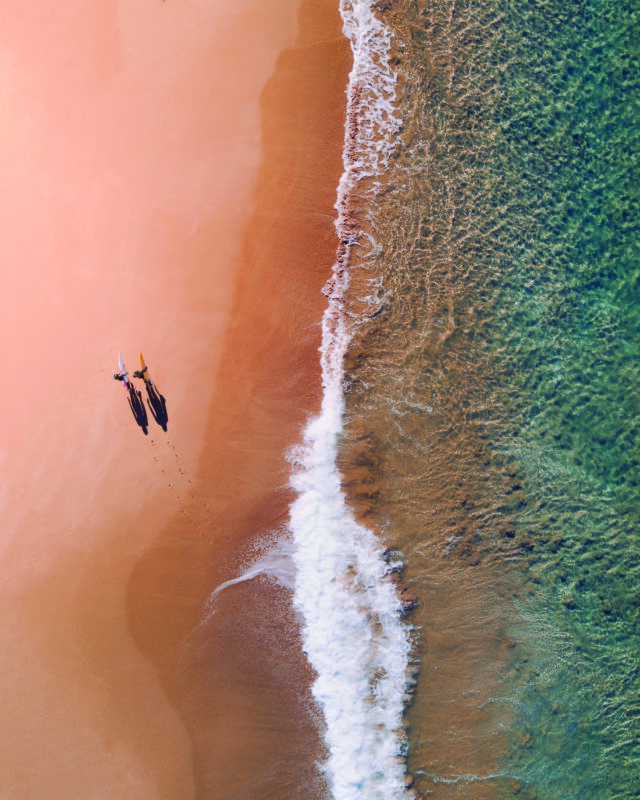 WALK THIS WAY
By Michele Shapiro
With most gyms and boutique fitness studios shuttered for the season, you've likely taken to working out with your favorite instructors on Zoom or Instagram Live. But who wants to be indoors when the weather is divine and you're surrounded by natural beauty? It's time to shut that laptop, lace up your shoes and head outdoors for a long stroll. "Walking outside in nature not only helps oxygenate the lungs and tissues, it can also have a meditative effect," says Jamie Logie, a certified personal trainer, health and wellness coach, and author of Taking Back Your Health.
Yes, you can walk on a treadmill at home if you so choose. But walking outdoors has added rewards: "Your mind becomes more alert, and it has to process the ever-changing environment," says Logie. "Not to mention the fresh air you're getting."
The health benefits of walking have been well-documented. "They include improved memory, lowered blood pressure and overall improved mortality," says Jane Bedell, MD, a retired internist and public health physician who now volunteers with the NYC Department of Health & Mental Hygiene. Dr. Bedell, who's also a cancer survivor, tried to walk a little each day when she was in treatment. Now that she has recovered, she continues to walk two to three times a week for about 2 miles at a stretch. One thing she makes sure to do during those walks is switch off her phone. "There's accumulating evidence that our brains need a rest from the pressures that our phones and other devices bring to us throughout the day," Bedell says. "Having the time to allow our minds to wander can improve mood and our ability to focus later."
An added plus in the time of COVID may be the exposure to nourishing, direct sunlight. "Vitamin D is a notable immune system booster," says Logie, "and research suggests a lot of individuals with COVID-19 have decreased vitamin D levels."
Perhaps the best thing about walking outdoors is that it can be a solitary experience, but it doesn't have to be. "Unlike some other types of exercise, like swimming, walking can provide a chance to be sociable," says Bedell. "You can use the time to catch up with your partner or a friend." If you want to dedicate a few hours to getting your cardio fix while exploring nature, the Hamptons has many walkable trails worth exploring, including the following:
Red Creek Park (Hampton Bays) While strolling this 3.8-mile loop, be on the lookout for red-tailed hawks, blue herons and monarch butterflies flitting among the oak and maple trees.
Sammy's Beach (East Hampton) On this 2-mile trek, take in views of Three Mile Harbor and Gardiners Bay. The first half of the walk is on a marsh where you're likely to spot ospreys and egrets. You'll return along a beach rife with terns and plovers.
Shadmoor State Park (Montauk) This 4-mile bluff walk overlooking the Atlantic eventually leads to the surfer hangout Ditch Plains. On the way back, you'll spot the "Seven Sisters" homes—shingle-style residences designed by Stanford White that are now considered a part of architectural history.
STEPPING OUT
How much do you need to walk every week to reap the mind-body benefits? The Centers for Disease Control and Prevention (CDC) recommends at least 150 hours a week of moderate exercise. Here's how to break your walkathon into manageable time increments:
• 22 minutes, 7 days a week
• 30 minutes, 5 days a week
• 40 minutes 4 days a week
• 50 minutes, 3 days a week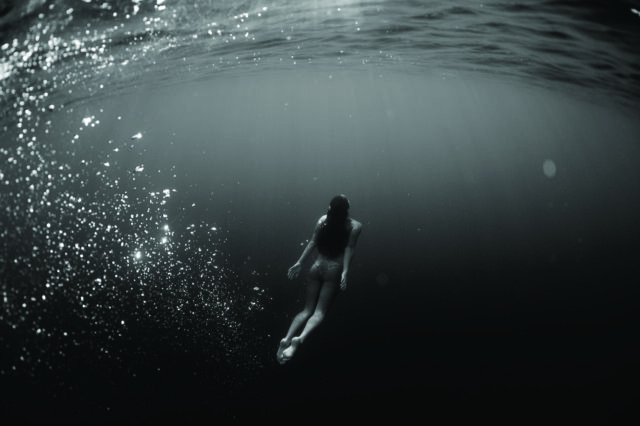 IN THE SWIM
By Nancy Kane
The coronavirus' primary form of transmission is through airborne particles, so now is an especially good time to go underwater. "There is no evidence that suggests that the coronavirus can spread through swimming pool water," says ENT and Allergy Associates' Jason Abramowitz, MD. "That, plus the salt concentration of a swimming pool makes transmission of the virus unlikely in the water—this is supported by current data."
An aerobic exercise that tones muscle and improves flexibility, swimming places minimal stress on the joints. This lifesaving skill helps with mental health—especially depression and anxiety—and has been known to improve asthma and other bronchial conditions. "Salt water can absolutely have a positive impact on your sinuses," says Abramowitz. "Our body's natural fluid has some salt in it, and saline is often used to rinse the nose and throat. The salt concentration in swimming pools and the ocean is typically higher than that of the body. While this concentration of salt water can help decrease swelling in the nose, as it pulls fluid from the lining, be aware that very high salt concentrations in the nose can dry or irritate it."
Breath control and meditative calming are among swimming's considerable benefits. "Because of its repetitive nature, swimming can have a great impact on the mind. Some swimmers find that focusing on the rhythm of their stroke helps them clear their head and relieve stress," says Gilda Dobrica, a private swim instructor and founder of PROSWIM NYC, which offers private classes in swimming to children in New York City and the Hamptons.
"Babies as young as 6 months old are ready to begin learning to swim," says Dobrica. "Every time young children reach a milestone in learning to swim—like putting their face in the water, or overcoming their fear of jumping in—they gain a sense of accomplishment. Children who start learning to swim as babies have a much smoother, faster and fun experience"
Whether you religiously swim laps or just go in for a dip, water is good therapy. "Even five minutes of swimming," says Dobrica, "will give you a boost of energy and help you forget about life's problems for a little while."
Some great local spots to test the waters:
Montauk Downs State Park: A public pool with three lap lanes and a wading pool for children, adjacent to the golf course. With showers and restroom facilities for après-swim. 50 South Fairview Ave., Montauk
Big Fresh Pond: One of the largest freshwater lakes on Long Island offers 150 feet of waterfront, where many locals have learned to swim. Protected by the Nature Conservancy, this is an ideal spot for swimming and fishing. Enter at Emma Rose Elliston Memorial Park, 40 Millstone Brook Rd., Southampton
In Amagansett, both Indian Wells Beach and Atlantic Avenue Beach have concession stands (and Indian Wells also has a volleyball area).
Ditch Plains Beach: At this surfer's paradise, lifeguards are on duty, and there's a hiking trail to explore. Montauk Peninsula, Montauk
Coopers Beach: With chairs and umbrellas for rent, and Henri, a concession stand (think vegan quinoa bowls and lobster rolls), Coopers, often voted one of the most beautiful beaches in the country, hosts drive-in movies and clambakes. 268 Meadow Lane, Southampton.