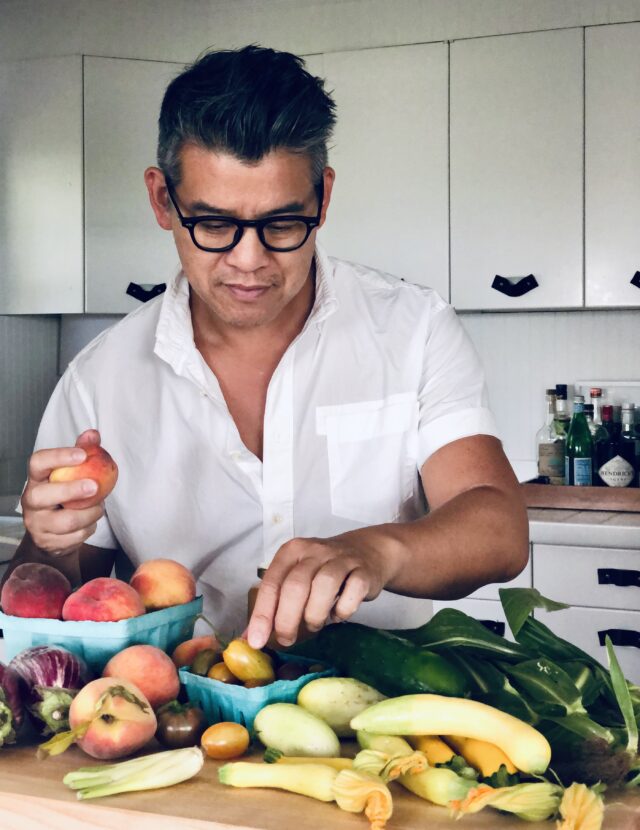 By Ray Rogers
"What makes clothing fashion, and what makes food cuisine?" asks Peter Som, whose elegant dresses have graced everyone from Michelle Obama to Scarlett Johansson. "It's that extra attention to care and detail and a little bit of a dream, you know?"
The boyishly handsome designer, who has a slate of consulting projects in the fashion and lifestyle space coming up, is getting creative in the kitchen, whipping up an array of fantasy meals this summer. "I really found that cooking married my love of food, creativity and design in a great way—and I love how it brings people together."
This season, more than ever, has been one for nesting—a natural fit for this self-described homebody and his boyfriend, interior designer Timothy Brown. The pair likes to entertain small groups of friends for socially distant home-cooked dinners at Brown's Sag Harbor home. The massive picture windows looking out over Noyack Bay provide nightly entertainment with spectacular sunsets ("only the birds don't love it—we had one do a bonk the other day, and fly away").
"This is sort of Timothy's lab—it changes a lot and things come in and out," notes Som, who's shared the home with Brown for the three years the couple has been together. The eclectic mix in the living and dining areas includes iconic mid-century modern pieces like Bertoia side chairs, vintage Danish furnishings and "a funny pretend wicker chair" Som found, but, he notes, "the overall feeling here is total relaxation—put your feet up."
The day he invited Purist to dinner, he prepared a seasonal three-course spread, with local ingredients foraged from nearby farm stands and Hamptons favorites. Atop his Wölffer Estate rosé-macerated Pike Farms' peaches, for instance, drips some luscious vanilla gelato from Carissa's The Bakery—"because why mess with perfection?"—and a homemade five-spice honey sauce (using local Bees' Needs honey) that's a nod to his Asian heritage. "During the peak of the pandemic I didn't realize the thing I missed the most was Chinese food. I was like, oh my god, I've gotta figure out how I'm going to get some," says Som, clad in an Alex Mill cotton button-down and Uniqlo shorts. "There's been plenty of time to experiment and play around with the flavors I grew up with, and soy and tofu and all that kind of stuff."
Baking pies is what initially got the designer—who has held creative director and consulting roles at brands ranging from Bill Blass to Tommy Hilfiger in addition to his namesake line—into the kitchen. "Making a pie was very therapeutic" during high-stress periods of fashion seasons, he recalls. "There was a beginning, middle and end—a rewarding end, hopefully, if you bake it right. And being a designer, I wanted to make the plate look nice." Today, he's serving seared local scallops on elegant tableware from MONC XIII in Sag Harbor ("This is the advantage of having a boyfriend who's an interior designer"), and an appetizer of deconstructed zucchini blossoms from Quail Hill Farm with ricotta, and the peach crumble dessert course, on glazed earthenware Marumitsu dishes with petal-shaped edges from Roman and Williams Guild in SoHo ("I love how they look like classic paper plates, but they're obviously not").
Offsetting a penchant for desserts, Som and his boyfriend have set up a little gym in the basement with weights and rubber workout bands. "I do miss Barry's Bootcamp classes, but we're adapting to a different time. I've also been discovering the joys of jogging," he says with a slight roll of the eyes. The pair jogs or bikes down to the beach, just across the road. "It's right there, so it's really great to take advantage of the water. It's very restorative and calming, which we all need."
Roasted Squash Blossom and Zucchini Salad With Herbed Ricotta
By Peter Som
Serves 4
Roasted squash blossoms (Quail Hill Farm, Amagansett), shaved zucchini (Marilee's Farm Stand, Sagaponack), whipped ricotta with local herbs, Tesuque Hot Sauce (The Hoppy Acre/Springs Fireplace), za'atar
Ingredients:
12-14 zucchini blossoms, divided
Olive oil, kosher salt and freshly ground black pepper (for sprinkling)
2 small zucchini
1½ cups ricotta
2 tbsp. whole milk
3 tbsp. olive oil
½ cup mix of basil, chives, parsley, mint, plus more for garnish
1 tbsp. lemon juice
Tesuque Hot Sauce (optional)
Fleur de sel and za'atar (for finishing)
Instructions:
1. Preheat oven to 375°F.
2. Place 10 to 12 blossoms on a parchment-lined sheet pan (set aside 2 blossoms for garnish) and drizzle with olive oil, salt and pepper. Roast in the center of the oven for 13 to 18 minutes or until flowers have taken a touch of color and squash ends are tender.
3. Using a mandoline or
a very sharp knife, carefully
slice zucchini lengthwise
into very thin ribbons. Cut reserved blossoms lengthwise and set aside.
4. To make the herbed ricotta, in a food processor add ricotta, milk, olive oil, herbs, salt and pepper and process until smooth and combined, adding more milk if mixture is too stiff.
5. To serve, place dollops of herbed ricotta on a serving plate; top with zucchini ribbons and add roasted and raw zucchini flowers. Sprinkle with lemon juice, then dot with hot sauce (if using). Garnish with remaining herbs, fleur de sel and za'atar and serve immediately.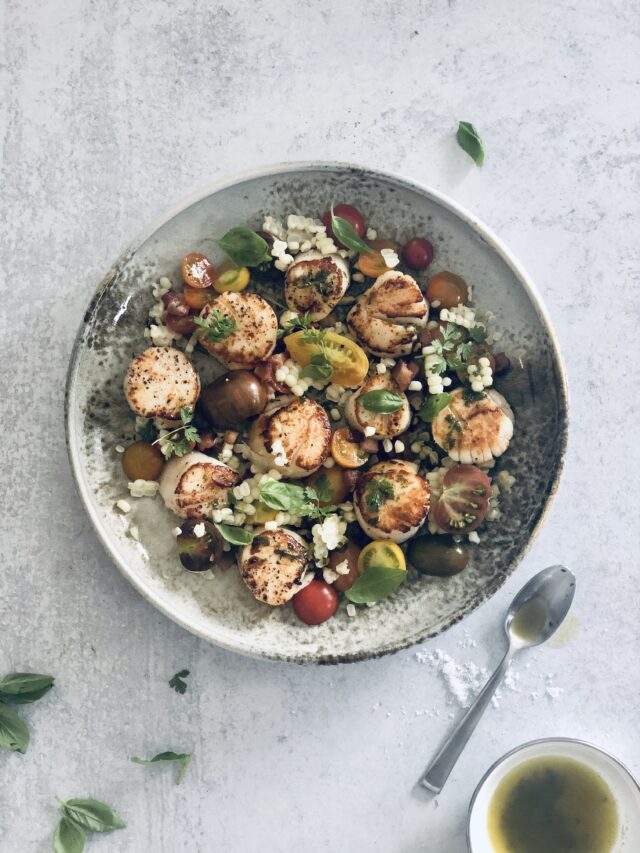 Pan-Seared Scallops With Corn, Tomatoes, Bacon and Basil Coriander Oil
By Peter Som
Serves 4
Local scallops (Serene Green, Sag Harbor), corn (Pike Farms,Sagaponack), tomatoes (Marilee's Farm Stand, Sagaponack), Bacon (Mecox Bay Dairy, Bridgehampton), local basil coriander oil, herbs, sea salt (Amagansett Sea Salt Co.)
Ingredients:
½ cup basil leaves, plus more for garnish
1∕8 tsp. coriander
1 tbsp. lemon juice
Kosher salt and freshly ground black pepper
½ cup olive oil
1 lb. scallops
8 oz. thick-cut bacon, cut into
¼" cubes
Half-pint cherry heirloom tomatoes, cut in half
2 cups cooked corn kernels (approximately 2 ears)
Flat-leaf parsley (for garnish)
Sea salt (for finishing)
Instructions:
1. To make the basil coriander oil, in a food processor, add basil, coriander, lemon juice and pinches of salt and pepper; pulse until basil is chopped. With motor running, slowly stream in olive oil and blend until smooth. Set aside.
2. Pat scallops dry with a paper towel; salt and pepper each side.
3. In a 14" saute pan on medium heat, add bacon and cook until most of the fat has rendered and bacon is crispy, approximately 1 to 2 minutes. Using a slotted spoon, transfer bacon to a paper towel-lined plate to drain, leaving the fat in the pan. Add scallops, leaving space around each, and saute 1½ minutes on each side. Remove from pan and set aside.
4. To serve, arrange tomatoes, corn and bacon on a platter; top with scallops, reserved basil and parsley. Drizzle with basil coriander oil and finish with sea salt.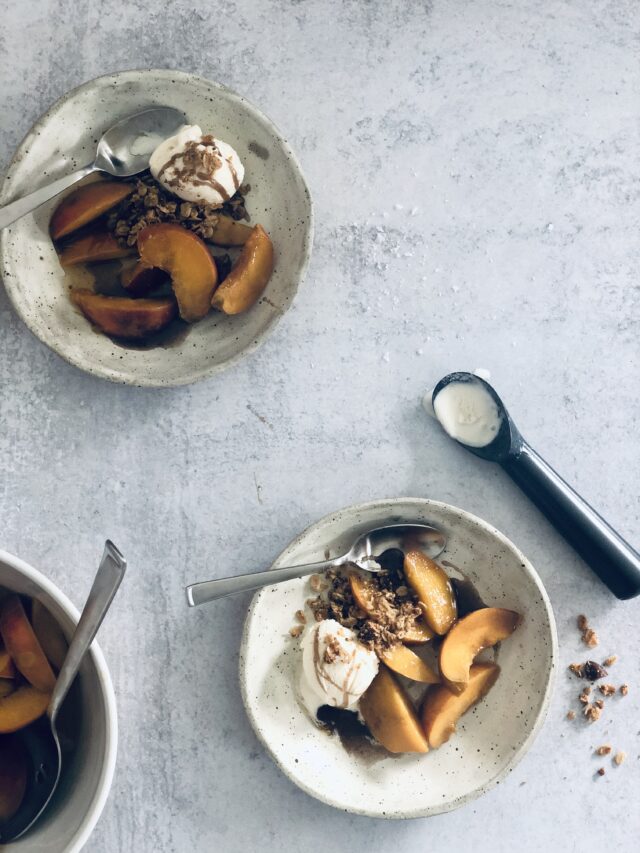 Rosé Peaches With Five-Spice Honey, Brown Butter Almond Oat Crumble and Vanilla Gelato
By Peter Som
Serves 4
Rosé (Wölffer Estate) and turmeric macerated peaches (Pike Farms, Sagaponack), brown butter almond oat crumble, honey (Bees' Needs, Sag Harbor) with five-spice seasoning, vanilla gelato (Carissa's The Bakery, East Hampton)
Ingredients:
For the crumble:
7 tbsp. unsalted butter
1 cup old-fashioned oats
½ cup almond flour
½ cup rough-chopped almonds
1∕3 cup coconut
sugar
¼ tsp. kosher salt
¼ cup honey
1 tsp. five-spice powder
Fleur de sel (for finishing)
Vanilla gelato
Instructions:
1. In a medium bowl or container with lid, add peach slices, coconut sugar, turmeric and rosé. Cover bowl or container and let sit for 2 to 3 hours or overnight in the refrigerator.
2. Preheat oven to 350°F.
3. In a small pot over medium-high heat, melt butter, stirring until color has turned a dark nutty brown, approximately 2 to 3 minutes. Set aside and let cool.
4. In a medium bowl, combine oats, almond flour, almonds, coconut sugar, cooled brown butter and salt and mix until thoroughly combined and moist. Pour mixture onto a parchment-lined sheet pan and pat into an approximately ½" thick layer. Bake for 35 to 40 minutes or until deep golden brown. Remove from oven and let cool. Crumble into large pieces.
5. In a small bowl, combine honey and five-spice powder; stir to combine.
6. To serve, add peaches with some of the liquid to a serving bowl; add scoops of gelato. Drizzle with five-spice honey and top with crumble. Sprinkle with fleur de sel and serve immediately.