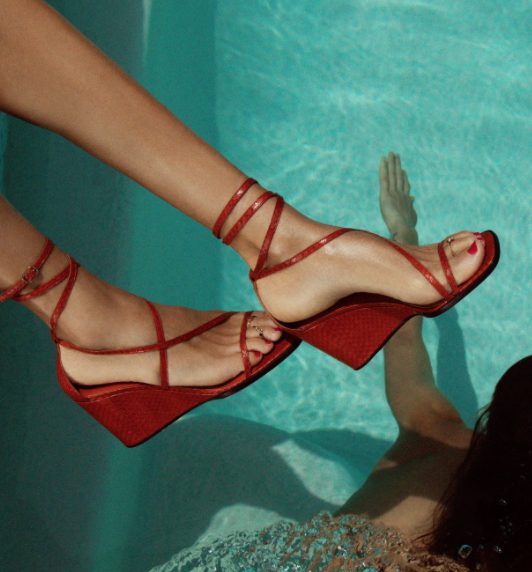 By Julia Szabo
The latest variant on the Cinderella story finds beloved footwear designer Tamara Mellon playing fairy godmother, on a mission to bring exquisite shoes to all who crave them.
Although she hasn't left her California home since March, Mellon is sending her shoes on a grand tour of America, in a vehicle even more magical than Cinderella's upcycled pumpkin carriage: the Mobile Closet, a retrofitted, snow-white Freightliner truck with stunning glass panels that afford a clear view of killer heels, sandals, flats and boots.
"I try to cover every aspect of a woman's life," the designer says. Forget Zappos: Here's a truly innovative footwear-delivery system that enables the designer to connect directly—if remotely—with her clientele, gathering valuable customer feedback. As well-traveled as it is well-heeled, the Mobile Closet made stops last year in Arizona, Georgia, Massachusetts, North Carolina, Tennessee, Texas, and Virginia, as well as California and New York. "We'll be launching more," Mellon promises. "By the end of September, we expect to have three Mobile Closets on the road. We wanted to do something to delight our customers, to bring a little piece of joy into their lives—to lift their mood and take them out of their daily routine."
Famed for putting Jimmy Choo on the style map, Mellon knows what women want in a shoe-shopping experience, and says the inspiration for this project was her personal footwear closet. "Over the years, the biggest request I've always had from magazines and papers was, Could we shoot your closet? Look at the hashtag #shoecloset on Instagram—you'll see so many. They're like candy stores for adults." The Mobile Closet delivers all that and a shoe box. Its next stop: the East End, where Mellon, who has a home in Bridgehampton ("To be honest, it's my favorite house"), reckons her fellow Hamptons habitues will delight in the new selection of wedges: "Cool and really comfortable, with a not-very-high pitch, they're amazing, with a fun edge to them."
In response to the pandemic, the truck has undergone a few modifications: "We've amended it so that the sides are all windows," Mellon says. "We've removed two windows on each side, so there's fresh air flow through the truck, to be really safe. Normally, we can get quite a few people inside, but for everyone's safety now, we're limiting it to one person at a time. You can book a 15-minute appointment so you have your own personal time. We also welcome walk-ins, if there are no previous appointments."
The therapeutic benefits of fancy footwear may be purely anecdotal, yet compelling: "Shoes are mood-altering—putting on a good pair makes me feel good, and empowered," believes the proud owner of 3,000+ pairs.
To make an appointment, visit tamaramellon.com/pages/mobilecloset