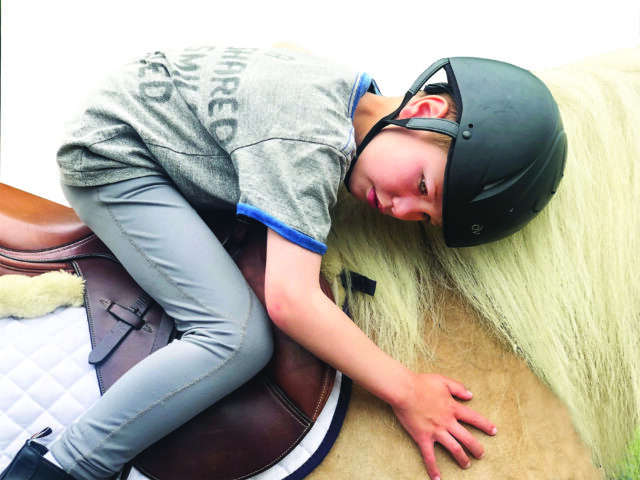 By Ray Rogers
For the past 10 years, The Center for Therapeutic Riding of the East End (CTREE) has provided all kinds of emotional, cognitive and physical health benefits to a range of communities, from disabled and autistic children to elderly Alzheimer's patients, in the Hamptons and nearby towns. This year, they've moved from a dedicated spot at Wölffer Estate Stables to their very own location in Sagaponack, and instituted a new free-of-charge program, Horses Heal, to assuage the stress of the pandemic on medical personnel, front-line workers, essential workers and military families.
"One of our volunteers is a trauma nurse from Islip, the hardest-hit town in Suffolk County. They had over 300 people die in their hospital alone," says CTREE's managing director, Karen Bocksel. "I sent her an email and said, 'I know we're closed, but if you need to come, you let me know.' And I got a text message one night and she said, 'Can I come tomorrow morning and just sit with the horses. I won't go near anybody, because I've been in the hospital.'" She came and sat in the paddock with a rescue pony named Pumpkin, her favorite of the four horses in the CTREE stables, and just watched him graze. "She said, 'Just watching him eat—it's normal, what he always does—it gives you hope that things will go back to normal someday.'"
The success stories are many, and moving. Take, for instance, the family whose matriarch suffers from Alzheimer's. Earlier in life, the woman was a rider, and once she laid eyes on the majestic beauties at CTREE, her children could sense her coming back to herself. "I have a mom with dementia, so I know that most of them are in their own world," notes Bocksel. "And you don't really know if they see you or hear you, or anything. But when this woman came to CTREE, it took her a little while but she'd see the horse and go, 'Hi beauty, you're beautiful.' And her whole family would say: 'She's here, Mom's here!' We were all crying. It was the most emotional thing."
At-risk youth get valuable life lessons from working with a handsome brown-and-white fellow named Mosely, who is known as being a bit of a bully. Kids see how their actions and reactions are met, and learn how to navigate better, notes Bocksel, who says the programs are "emotionally beneficial. Horses don't judge you. They don't judge if you were bad at school today or if you had a hard time doing your math today."
The new space, now outfitted with handicap-accessible entranceways and ramps, is solely dedicated to CTREE's use, which means the organization can add more horses to its stables, and offer more robust programs to more people. CTREE is excited to launch camp experiences, once it is safe to do so. "One of our goals is to have an inclusionary camp, so a person with a disability can come and have a horse-camp experience here," says Bocksel. "If you think about it, people with disabilities are totally segregated for the most part, in schools. And camps are not necessarily mainstream for them. That's a huge advantage to being here."
Not everybody involved is totally thrilled with the move to the idyllic new Sagaponack location—Pumpkin, a six-year veteran of the program affectionately dubbed "Plumpkin," is clearly missing the grass paddocks he enjoyed so much at CTREE's previous location. But even he is reaping benefits at the new locale's sand-floor riding arena: "His sides are a little flatter," says Bocksel. "When you look at him head on, his belly doesn't look pregnant anymore." Good job, Pumpkin.
CTREE's Horses Heal benefit takes place on August 20. info@ctreeny.org; 631.779.2835