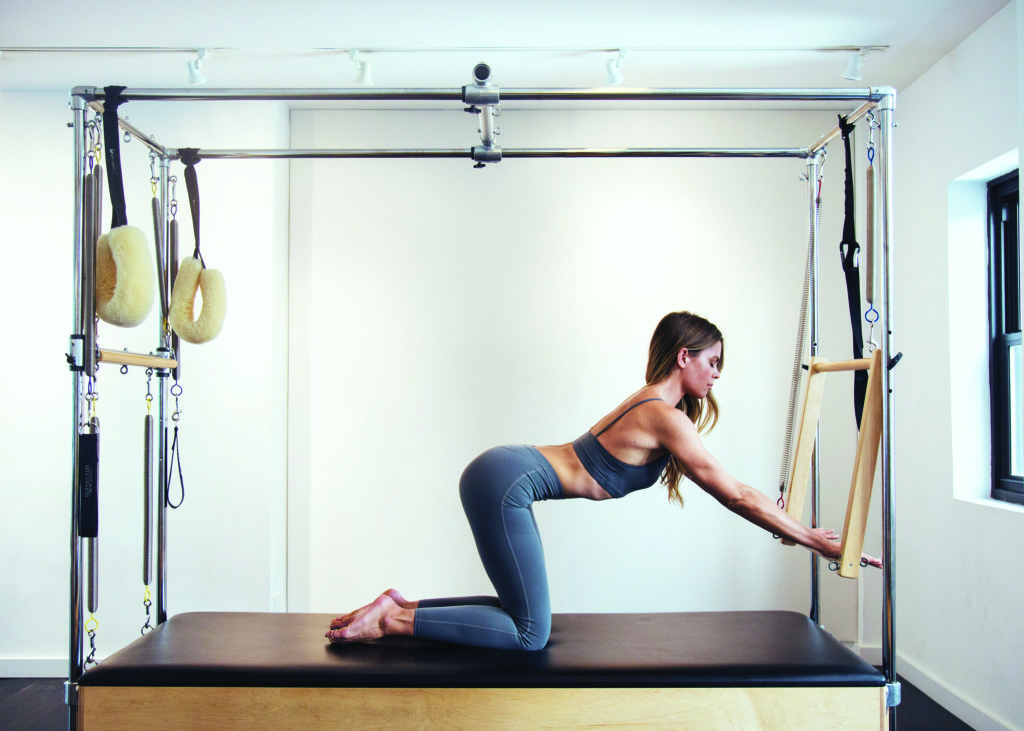 by Erika Bloom
Without question, I've found Pilates to be the best form of exercise for me. I've practiced the body-aligning method throughout all phases of my life, as a teenage dancer, and afterward through injury, postpartum, and now while aging. The magic of Pilates is that it can be the perfect exercise for anyone, at any level, ability or transition.
It can be personalized for every practitioner by either adding challenge or increasing support to help the person achieve the movement. It is designed to meet you where you are, and strengthen you physically.
Pilates teaches all the muscles of the body to engage, most notably the intrinsic muscles that support our joints, creating healthy alignment and therefore true inner strength. It works every fiber of every muscle, not just part of the muscle, and asks muscles to be strong at every length, including eccentrically and concentrically, through all ranges of motion. Each pose embodies steadiness and ease, as it teaches you to find opposition inside your body in order to gain greater control.
If you're well-aligned and muscularly balanced, you're not only stronger, you move more efficiently—the way you're supposed to, with ideal mechanics. Because Pilates lets us move more freely, we can find our full physical capability and remain healthy and injury-free.
The end goal of Pilates is to create more space and more length in the body. I think it feels incredible to move gracefully through full body movements. Since you're constantly refining the move, it remains interesting and is forever challenging.
Pilates also addresses my mental wellness as much as it does my physical fitness.
This mindful form of movement connects breath to body and body to breath. Breath provides vital energy; proper breath mechanics are known to have wide-ranging benefits, including improved immunity, better digestion, healthier organs, glowing skin and improved metabolism. It also helps lower stress levels by regulating the nervous system.
When the physical demands of Pilates are combined with steady breathing and mindfulness, the nervous system responds with calmness as its baseline. This response lets us face our day-to-day stress with clarity instead of feeling overwhelmed. We bring this centered breath out of the studio and into the world with us.
My clients always tell me that their Pilates practice has made them love themselves and understand themselves more. The method isn't about perfection, it's about nonjudgment. It is a practice of self-compassion and self-awareness—not just for an hour, but for a lifetime.
Erika Bloom Pilates, 760 Montauk Hwy., 2D, Water Mill; 66 Newtown Lane, Suite 7, East Hampton. (Other locations are in New York City; Greenwich, Connecticut; Los Angeles; and Turks and Caicos.)