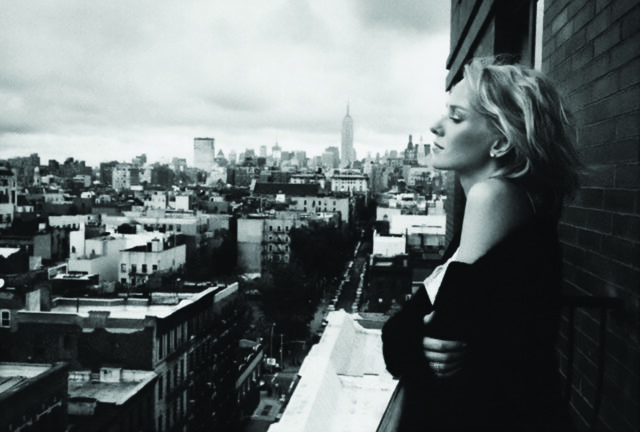 by Naomi Watts
There are those of us who run with what little we can scrounge up and carry on our backs. We know what we're running from, but we don't know what we're running toward, and yet, we feel its frenzied calling. Its chaos steadies us. And if you can calibrate yourself to its rhythm, you get to be a part of its unrivaled wave.
I've known the country life—it's a part of who I am—but it would never have allowed me to grow into who I am and who I am still becoming. I'd always dreamt of it—an unreal city, an unattainable palace of love and charm filled with rats and dirt.
I saved up, and off I went, straight to Hotel 17. I couldn't afford the Chelsea Hotel, but the 17 was pretty close. If we were late coming home, we had to scale a wall to climb through the window, which set the tone for the adventures ahead.
The constant exploration: Save the Robots, subway rides, monuments and architecture, 80 blocks of solid walking, candied nuts, buskers, fashionistas, the hustle and bustle, bagels and pickles, Broadway, outdoor dinners and Times Square lights.
You have to earn your stripes to belong. Not just by getting cut in line at a taxi stand or getting yelled at on the subway, but by breathing through it, savoring its repellent magnetism. It takes grit to earn the title. The taxi pinchers, coffee bumpers, filthy rats and dirty looks didn't scare me. They fed me with the dose of reality that the Big Apple always promised.
Every block fills me with wild and wonderful thoughts. My nervous system might be near a failing point, but the city's beauty and pulse are restorative.
It might chew you up, but it doesn't spit you out. It grounds you and grows you. It's had its peaks and valleys, but it always recovers. Just like the changing of seasons, there's a new iteration and evolution to look forward to; it evolves and morphs, following the heartbeat of its citizens. Never static.
I've made great new friends here. Reconnected with old friends and built a community and passion that's weathered a storm. ONDA [the clean-beauty emporium Watts is a partner in] was a spark of an idea…and it began here, as so many brilliant ideas have.
We can say "We are Strong" because we are still here. We tough it out. We are New Yorkers.