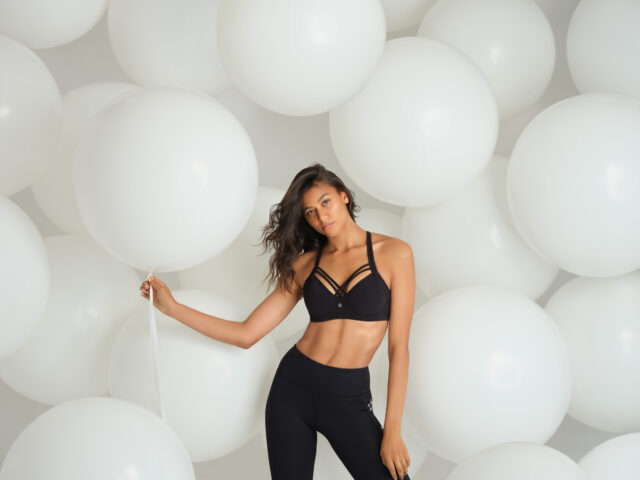 Staying active is a cornerstone of wellness, and Red Daisy's activewear supports the health of all women. Fusing athletic and streetwear aesthetics, each Red Daisy sports bra is made to follow the natural contours of a woman's body for a superb fit. Utilizing high-quality materials from the world's leading intimate apparel suppliers, each versatile sports bra features adjustable hooks and straps, accommodating women of all body types. Here, the brand's founder, Phylise Sands, speaks on the familial bonds that inspire Red Daisy's sleek sportswear collection.
In 2005, my life changed forever. On my birthday 15 years ago, my mother, Myra, and my sister Jackie were both diagnosed with breast cancer. While I could conceptualize my mother's diagnosis, Jackie's was a different story. Her cancer was much more advanced, and I had arrived at a point in life that I'd never thought possible. My sister was a powerful woman; her head always held high, her love for her two children always shining through, and her smile gleaming from ear to ear. It felt impossible to think of her as a cancer patient.
For Jackie, the years of fighting this battle sadly came to an end in 2014. While I remember her every day, I consider my ability to help those in need on a daily basis a gift. I have found that donating, lending a hand, presenting a flower, or just smiling at patients while volunteering at Einstein Hospital in the Bronx, makes me feel better. But where does this leave me?
I have learned to harness my energy and perceive life in a different way. Having watched Jackie's constant struggle to live inspired me to appreciate and be grateful for every waking moment. I want to live every day and face every challenge with the strength Jackie did.
We are consistently presented with opportunities, and Jackie's determination served as a spark for me to execute a vision I had long dreamed of. As an avid runner, biker and athlete, I have always complained about the lack of high-quality, aesthetically pleasing sports bras available. Either the fit was faulty, the support not sufficient, or the appearance just not as beautiful as it should be. I was determined to make beautiful sports bras that blend form with function. This vision, inspired by my late sister, is what gave birth to Red Daisy.
It started with custom-made bras for my friends and family, but it eventually turned into hiring engineers, product managers and designers. I also assembled a dedicated team to help raise awareness for breast cancer. Red Daisy has decided to always remember our roots and agreed to donate a percentage of all sales to the Breast Cancer Research Foundation. Starting a business with no prior experience is tough, but, if Jackie could face her fears, I could do the same.
After years of development and testing, I am proud to say I designed four sports bras that have brought my vision to life. Seeing prototype sketches evolve into reality is truly a blessing, and I feel proud to inspire other women to do the same.
With a desire to follow in my footsteps, my first-born daughter, Lily, expressed a desire to come on board, and has since become a driving force behind Red Daisy. Working with her has been the biggest blessing a mother could have asked for.
With Jackie always in our hearts, we take pride in what makes you feel and look good.
Use code THEPURISTS15 for 15 percent off at checkout. red-daisy.com