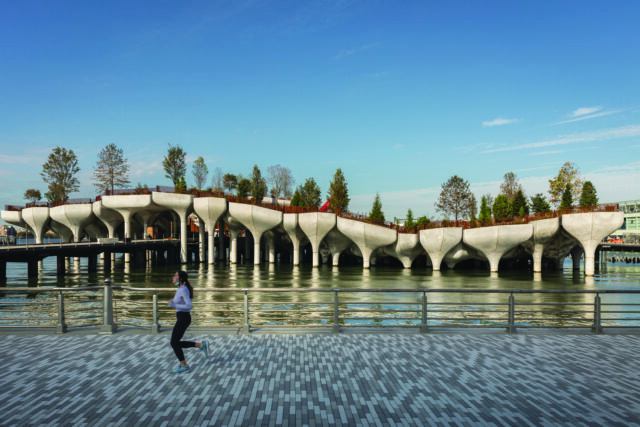 By Julia Szabo
LITTLE ISLAND: Urban Oasis
In 2013, Barry Diller partnered with the Hudson River Park Trust to conceive a solution for the reimagining of Pier 54, which had started to collapse, and was closed two years earlier. Diller envisioned the project as an instant smile at a time when that was sorely needed, little knowing how vital such a happy place would become by the year 2020. "What was in my mind was to build something for the people of New York and for anyone who visits—a space that, on first sight, is dazzling, and upon use made people happy," he said. Today, the realization of that vision is Little Island, a 2.4-acre public park that's the charmingly futuristic new destination on the Hudson, at West 13th Street.
The "Little Island" moniker might be a little misleading: it's more like a mini-archipelago, each link in its biomorphic chain rising from the water on an elegant white support reminiscent of Eero Saarinen's iconic tulip chair—a far cry from what used to occupy this stretch of water: the weathered wooden poles that were the last remnants of the damaged pier.
Little Island is the inspired collaboration between the master builders of London's Heatherwick Studio and New York's MNLA. Both firms reveal a heightened sensitivity to the city dweller's dilemma: anchored in concrete canyons while nursing a deep desire for access to green and blue spaces. It's a concern that has only become more all-consuming in the COVID era. "While our studio certainly didn't foresee the pandemic when we designed the concept," says Mat Cash, group leader and partner at Heatherwick Studio, "the completion of Little Island is timely in a period when many city dwellers have craved outdoor green space." Signe Nielsen of MNLA concurs: "Little Island will instill both psychological and physical separation from the city," she says. "Once on the pier, the paths and stairs offer exercise of all types with dramatic and intimate views of the river and lush plantings. There are a multitude of places to be alone with one's thoughts or gather with friends and neighbors on lawns or chairs. It will truly embody the ancient adage of sound mind and sound body."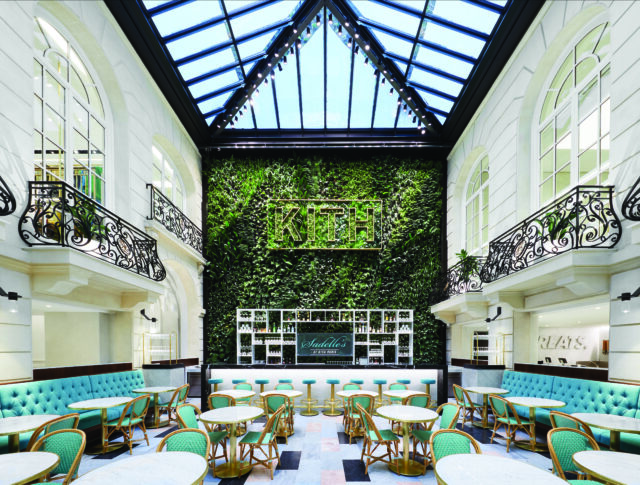 KITH PARIS: Retail Green
Eclectic lifestyle brand Kith raises casual wear to high fashion, and its new Paris flagship, a project of the New York-based firm Snarkitecture, like its other stores across the globe, artfully blurs the lines between architecture and landscape design. Occupying the Pershing Hall building at 49 Rue Pierre Charron, off the Champs-Elysées, it's a mixed-use marvel with the aerobic panache of a wear-anywhere Kith cropped sweatshirt. The ground floor is home to the Accessories "Living Room" and Kith Treats, as well as a suspended plaster cast installation. A double-height courtyard—home to Sadelle's at Kith Paris restaurant—is flooded with natural light, the better to appreciate one of the space's critical features, as Alexander Buckeridge, an associate at Snarkitecture who oversaw the design and construction, calls the floor-to-ceiling vertical vegetation wall containing 31 species.
"What was important to us was playing with light from the airy courtyard, and letting it bounce throughout the building, to bring calmness into the project," Buckeridge explains. Just off the central courtyard, the intimate, wood-accented living room can be found. "It has a different vibe: domestic and comforting," Buckeridge says. "It's a place to sit, rest, take a few moments to pause and reflect."
All areas of the Paris Kith flagship allow visitors to benefit from nature's calming effects, whether they gravitate to the vibrantly verdant courtyard space or the muted, indoorsy one. "The project has a zen-like quality through the use of natural elements and materials," Buckeridge says. "As we move forward, nature and these kinds of spaces will become more vital to the urban fabric. How we as architects can shape an environment for mental and physical health will be critical for our societies."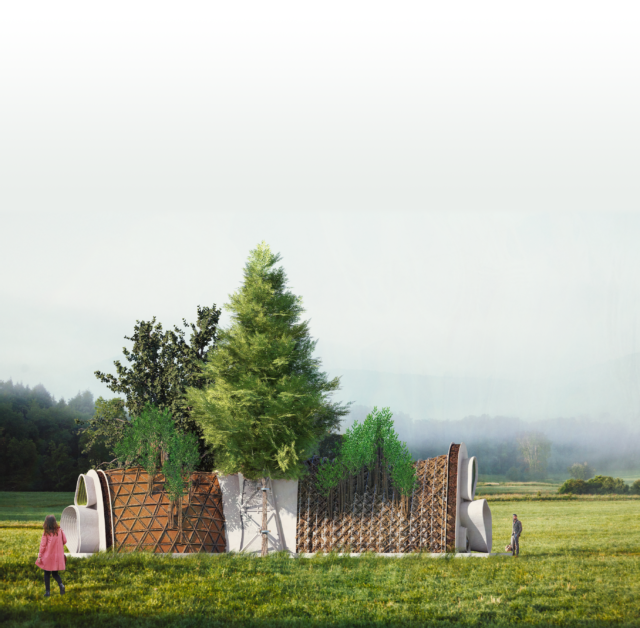 HOME ALIVE: Structural Vegetation
A think tank of master builders intent on "repairing the atmosphere of our world by fostering designs that reform the current pollution causing global trends," Terreform ONE is the brainchild of architects and Harvard alums Mitchell Joachim and Maria Aiolova. Its name combines the words "terre" (Earth, soil) and "reform" (rebuild, reconstruct, recreate) and its mission is "to reform the Earth in place"—and repurposing the natural world without tearing it down. Outspoken proponents of living architecture, the Terreform ONE team is intent on finding new ways to build, striving for a paradigm shift in construction. Instead of using dead lumber to make homes, they harness the beauty and power of engineered living material.
Home Alive is Terreform ONE's 15-plus year research initiative focused on controlling plant growth by computer; specifically, clusters of willow trees whose growth is directed by technology to form columns, arches and other structural features.
"The land was ours before we were the land's," goes the wistful line by poet Robert Frost. As if in reply, Terreform ONE does more than create Earth-friendly projects that do no harm. The group's ingenious schemes prioritize the Earth and its flora and fauna by promoting a way of collaborating with the land, becoming one with it for the good of all.
Where can one see a Terreform ONE structure? For now, strictly in the realm of ideas. The group is acquiring land in the Hudson Valley, where it would be both creator and client, targeting the area near Storm King Art Center, between West Point and the Dia:Beacon. "It seems like an easy leap, to see a home made from living materials," Joachim says. When? To be determined. "That's the issue with trying to solve wicked problems: They're not done in a year or so," Joachim says. Whenever the first Terreform ONE project is complete, it's a safe bet it will have been well worth the wait.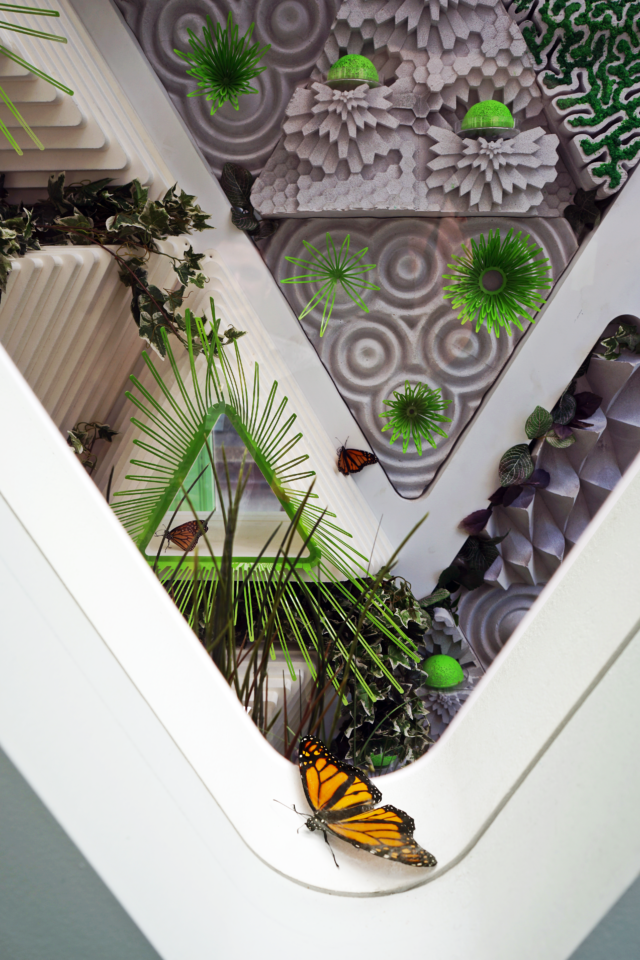 MONARCH BUTTERFLY SANCTUARY: Beauty Habitat
Monarch butterflies are the ultimate New Yorkers: "These creatures are native to New York," says Terreform ONE co-founder, architect Mitchell Joachim. "They have lived for millions of years before humans came along. We have wiped out their habitat pretty much across the entire Northeastern seaboard. They require one plant—milkweed, an invasive species that makes some humans itchy—so we've nearly wiped it off the face of the Earth."
Terreform ONE's Monarch Sanctuary, proposed for a commercial site in Nolita, makes a bold—and decidedly New York—conservation statement, providing shelter for endangered lepidopterans whose numbers have been decimated by agricultural pesticides, while also housing humans in high style. A scale model of the sanctuary was displayed at the Cooper Hewitt Design Triennial, the Smithsonian Design Museum. The proposed 30,000-square-foot glass façade reveals a "vertical meadow" with highly regulated temperature and humidity. The sanctuary will give monarchs a chance to repopulate, and nature lovers a home with a compelling foundation. The structure's butterfly wing is "a modular, fireproof box that fits into the base of a building," Joachim explains. "You can add as many as you'd like, each one a micro habitat for monarchs."
They can also be fitted out for other organisms, Joachim adds. The Terreform team hopes to provide shelter for a variety of species facing extinction: "If we can get the message out with monarchs, hopefully it will spread to other, perhaps less-exciting, fauna, such as a lizard or salamander or obscure beetle—whatever is in danger of disappearing. We have the capacity to save all of them and increase biodiversity in our cities. That's the goal."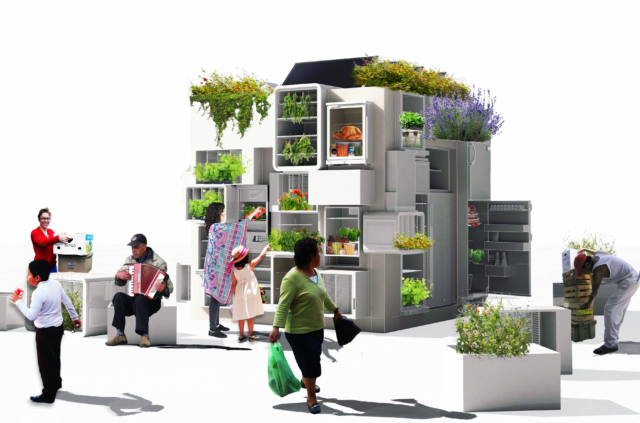 FREE FOOD FRIDGES: Automats for the People
The current climate of contactless everything has many nostalgic for automats—aka automated restaurants serving fast, convenient meals via vending machines. To address the rampant problem of food waste, Terreform ONE proposes updating the automat model with a volunteerist twist and a view to "skipping the layers of bureaucracy" plaguing the pantry process: a fast-tracking system for feeding people facing hunger.
Mitchell Joachim describes yet another ingenious project, this one based on repurposed refrigerators. The aim of Free Food Fridges is to reroute the tons of perfectly edible food destined for the trash by staging repurposed, solar-powered refrigerators as part of a building's structure. In those fridges, New Yorkers are encouraged to leave unwanted meals—say, a box of Chinese or Thai food leftovers. The edibles can keep fresh and be easily accessed by donors and beneficiaries alike. It's an idea whose time is way past its expiration date: "We produce 36,000 tons of trash per day, and more or less half is organic waste," Joachim says. "That's a massive amount—the Statue of Liberty every hour in compacted trash. If I were a space alien looking down at our city, I would think it was designed to make landfills."