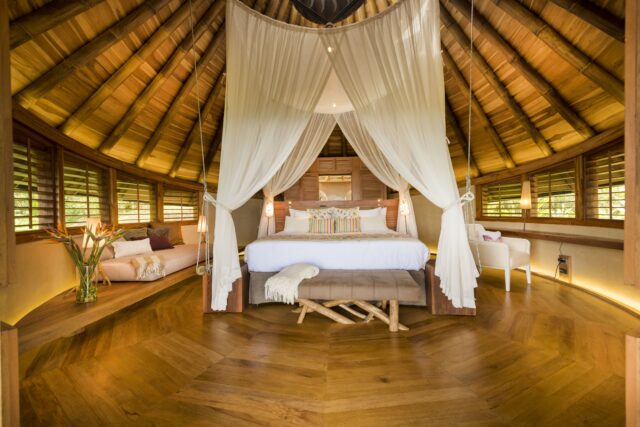 By Ray Rogers
After months and months spent cooped up largely indoors during cautious lockdowns, a trip to Northern Costa Rica to bask in the restorative, fresh mountain air, explore the spectacular rain forest terrain and gently soothe the soul at Origins Lodge felt like a gift from the gods.
Double masked, with a gargle of Halodine for good measure (the iodine-based antiseptic is said to offer extra protection against contracting COVID-19 and other airborne viruses), I cautiously boarded a near-empty flight to Liberia Airport. After a two-hour drive from there, past small towns and verdant green pastures with "pipa fria" (cold coconuts) stands along the roadside, arrival at the lush, 111-acre Origins Lodge felt like the most glorious version of waiting to exhale imaginable. At last, nature! Miles and miles of pure, unspoiled nature as far as the eye can see.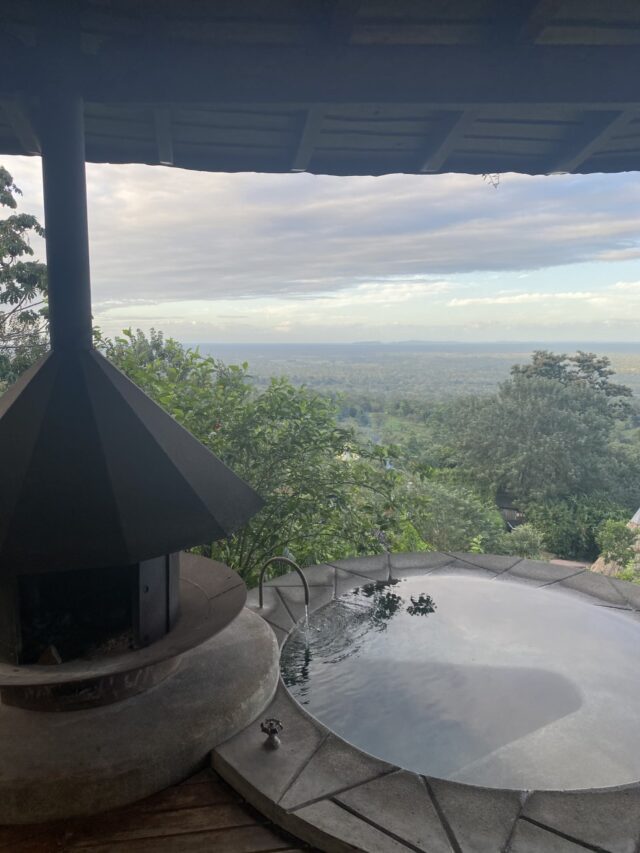 My accommodation, the Mariola bungalow, is named for the small friendly honeybees that live outside its doors. (The 25 on-site colonies of "angel bees," as a staffer referred to them because they don't sting, each produce an annual liter of the most delicious organic honey.) Each of the six round, airy luxury bungalows (and a three-bedroom villa) dotted throughout this romantic mountainside retreat boasts its own firepit-heated hot tub right outside the front door, with panoramic views of the vast countryside out to Lake Nicaragua in the distance. A warm soak, as the skies lit up in magnificent pastel hues when the sun went down or while the vast night sky glistened with stars above, provided the ultimate relaxation after a day of travel or enjoying any of the guided land and sea adventures on offer at Origins.
A good book and the magnificent symphony of singing birds and wildlife outside my door would've been plenty of entertainment to while away the days here at Origins, but after so much downtime during lockdown, I was more than ready to get out and explore. My tour guide for the week, a charming local field expert named Allan Herra, led afternoon hikes to nearby waterfalls at the property's edge (complete with a horseback ride on the way back atop an amiable fellow named Zunga), and gamely joined me for his first stand-up paddleboard trip along the gentle currents of the Rio Frio, the "cold river"—which in truth was more refreshing than chilly when we went overboard to cool down during the two-hour journey. Down the river, we spotted fabulously colored specimens of local wildlife, including blue, green and tiger herons, families of tall, elegant white great egrets, a school of rainbow bass—not to mention an extended clan of howler monkeys making their presence known in the tree branches overhead on the riverbanks.
On the drive back, past fragrant pineapple plantations and lush green fields, we made a detour to the famed Rio Celeste, or "Blue River"—which has the same naturally occurring electric icy azure tones as Iceland's Blue Lagoon—inside Volcán Tenorio national park.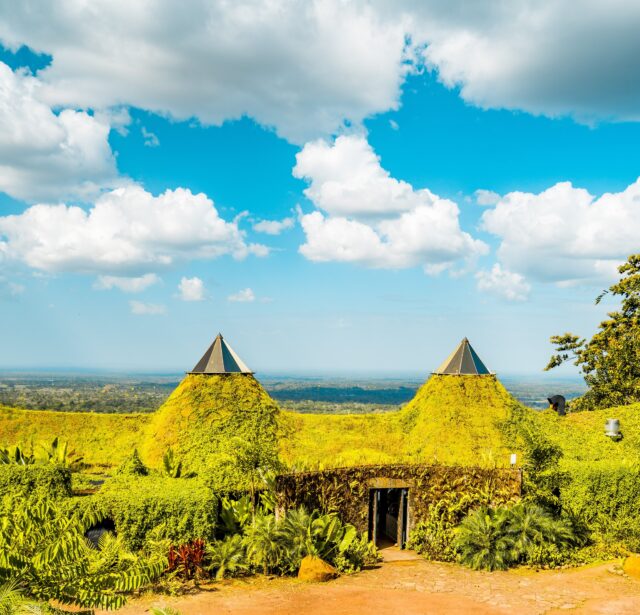 Back on premises at Origins, there is a beautiful sense of being alone with one's thoughts—free to just be, without needing to busy up the day or check the phone—while also feeling connected in a deep and meaningful way to nature and wildlife, at all hours of the day. This took a whimsical turn on a night tour of the property, to explore all manner and size of croaking toads and frogs around the freshwater ponds, and a hunt for the red-eyed tiny tree frogs that cling to bamboo stalks in the gardens. My doggedly professional guide wouldn't stop until we found the ruby-eyed guys—and an elusive sloth overhead in the trees (they only move about six hours a day, so it was my only sighting during my stay).
And during a morning class at the gorgeous yoga pavilion, the sounds of the rain forest waking up (wildlife buzzing and birds chirping and calling out to each other) provided the perfect soundtrack for an enlivening hatha yoga session with an incredibly present and intuitive teacher named Manuel Guevara. The practice ended with eucalyptus aromatherapy and a cranial massage. I felt like I'd been to a spa as I opened my eyes again to the jaw-dropping views of the Costa Rican countryside. (There is a wonderful spa on site too, for those wanting healing massages and facials while here.)
Anyone in need of more than just some fresh air, but an immersive retreat in breath work should consider booking a spot from May 13-17 for a five-day experience to help you connect to your pure nature, while surrounded by pure nature.
Attention to detail and the art of hospitality is also a natural at Origins Lodge. I arrived to hand-written welcome notes from general manager Claudia Silva not just for me, but also for my four-legged travel companion, who was also treated to a hand-stenciled ceramic food dish with his name on it, his own dog bed and an array of squeaky toys.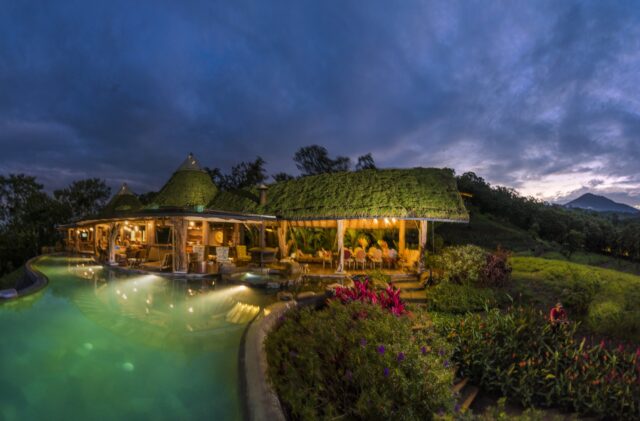 We both enjoyed traipsing over the grounds on walks up and down hibiscus flower-strewn paths to the picture-perfect infinity pool and restaurant with the same stunning views as all of the bungalows. The menus, created by the Michelin-starred French chef Jean-Luc L'Hourre and nurtured by local culinary masters, rely heavily on produce grown from the organic gardens right on premises. Not a chemical is used throughout the property. And eco-sustainable practices are prevalent throughout too—down to the woods and bamboo collected on premises and used in the construction of the elegant structures and furniture here. Even the citronella grasses are utilized for the hotel's own all-natural insect repellent. I brought some back, and just a small spritz now transports me back to this magical land until I can get back in person again—which I was longing to do the moment I departed.