By Gabrielle Echevarrieta
From a stint in Michelin-starred kitchens to a life as an online-grocery entrepreneur, FreshDirect CEO and co-founder David McInerney has seen the full spectrum of the food world. Witnessing the disconnect between the quality of ingredients in world-class restaurants and the supermarket next door, McInerney was inspired to bridge the gap between luxury cooking and everyday eats. Before stepping into the CEO position, McInerney once served as FreshDirect's "chief food adventurer," leaping aboard Argentinian fishing boats, harpooning swordfish, or hunting for local fare in the Hamptons. McInerney's appreciation for fine food and the people who grow it informs FreshDirect's business model, which constantly strives to make nutritious meals accessible to all. Here, Purist joins McInerney at his home in Bellport, Long Island, for a discussion on the FreshDirect experience, agricultural integrity and the culinary bounty available within driving and boating range of his weekend retreat.
PURIST: You worked under chef Bernard Loiseau at his Michelin 3-star restaurant La Côte d'Or, and later became executive chef at One if by Land, Two if by Sea. How does your experience in the fine-dining world lend expertise to your role at FreshDirect?
David McInerney: I attended the Culinary Institute of America, which was great for learning the basics. Then I started out cooking in very high-end restaurants. One was La Côte d'Or in Burgundy, France, under chef Bernard Loiseau. At the time he was probably the best chef in the world. From there, I worked with David Bouley, who had the restaurant Bouley. Then I was a chef at One if by Land, Two if by Sea for a number of years. Later, I became involved in FreshDirect in its infancy stages.
I spent about 10 to 12 years cooking, and when you're cooking in very high-end restaurants you have access to high-quality food, and that's the foundation of a good meal. What it taught me was If you start with really high-quality ingredients the cooking is easy and can be relatively simple. It was less learning about the food and raw ingredients, and more about learning what to do with those ingredients. What was interesting to me was that I had grown through my career with access to high-quality food. Fish that was pristine, carrots that really tasted like carrots, animals raised the right way. This type of food was in the restaurants, then you'd walk out to the supermarket here and it didn't translate. What varieties of fruits and vegetables are you growing, and how are you taking care of them? Who it is farming them, fishing them or raising them really impacts the quality a lot. Then when it comes down to caring for the food, after it comes out of the ground or the water it's a race. The quality rarely improves over time; it generally degrades, so you want to eat it as quickly as possible.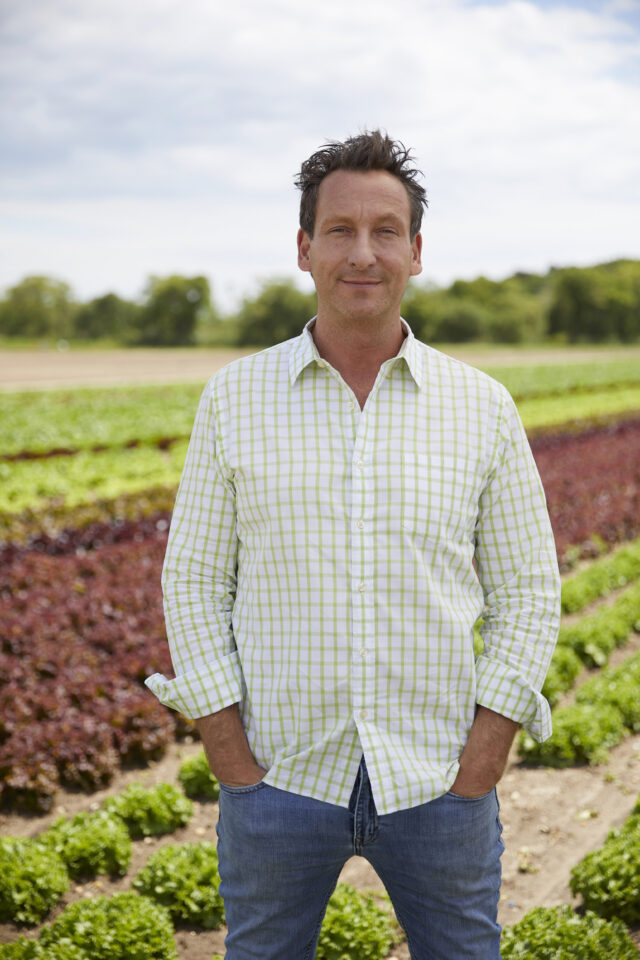 PURIST: How does FreshDirect's food travel from growers to our doorsteps?
DM: Our model is working directly with the farm, ranch or fisherman, and we expedite it to one building as quickly as possible. So it all comes to this one state-of-the-art, Willy Wonka-esque factory here in the Bronx. It'll come out of the farm, out on the truck and directly into our facility where it's refrigerated. It gets put away, repicked, processed, packed and back onto a truck very quickly. An example now as we get into the summer is the corn growers. One happens to be John Altobelli, who's probably the best in the Hudson Valley. He'll deliver a tractor trailer of corn to us every single day, and we'll move through that corn in an entire day. Once it comes off the plant, the sugar starts to change, so you want it to go out as quickly as possible.
We offer on-demand, where you can order something and get it delivered within two to three hours, or same-day, where you can order from a wider selection to get it delivered in the evening if you're in most zones. We also offer next-day, where you order today for delivery tomorrow. This is an operation that runs 24/7, so we've got fish and meat butchers, produce-quality experts and pickers, packers, a full kitchen staff and bakers. When we thought about our business model 18 years ago, we made the decision to focus on quality.
PURIST: FreshDirect develops connections with local and global farmers, ranchers and fishermen. What is the importance of building relationships with those who grow our food?
DM: One of our biggest selling points when we started building relationships with growers was to help build their brand. We sincerely promised them we would respect their food and had a model to get it to customers faster. We approached growers and said, 'We're going to sell only your strawberries.' We're not going to just advertise it on our site as "strawberries"—we're going to say Driscoll's strawberries, or Family Tree Farms blueberries. It's good for the consumers to know it's the David Jackson Family Tree Farm growing their blueberries, but it's also important for the farmers to know we're adding to their world by building a brand for them.
PURIST: Why is it important for people to be educated about healthy food, especially people in the urban areas you serve, like New York and Philadelphia?
DM: Even though everyone should have a right to fresh, healthy food, that's unfortunately not the case. There are many challenges, I think it comes down to access, freshness and quality. There are really great growers out there right now working really hard to win that battle. We're heavily involved in a nonprofit called New York Common Pantry, and I became a member of their board a little over a year ago. Our team has done tremendous work with them, raising close to $3 million in the last year, just from our customer base. They're truly a tremendous organization, and the reason I'm so interested in them is that our models are the same. They allow people to go online and choose what it is they want. And it's very heavily focused on fresh food for that reason. The reality is food insecurity is a really big issue in this country and this city. This past year has made it significantly tougher, with COVID. And we're expecting a really high demand in the pantry this year.
PURIST: You spend a lot of time at your home in Bellport. What are your favorite ways to live well on Long Island?
DM: We're there every weekend year-round. That's where we do the majority of our cooking. We have a big open kitchen and a deck where we do barbecuing when it gets warmer. This weekend I was making langoustine ravioli; I taught my kids to roll out the dough and stuff the ravioli. We migrate from inside eating by the fire when it's cold, to this weekend where we do half and half—cooking outside and eating inside. Once May hits, we're almost entirely outside. I don't even know if we turn on the stove.