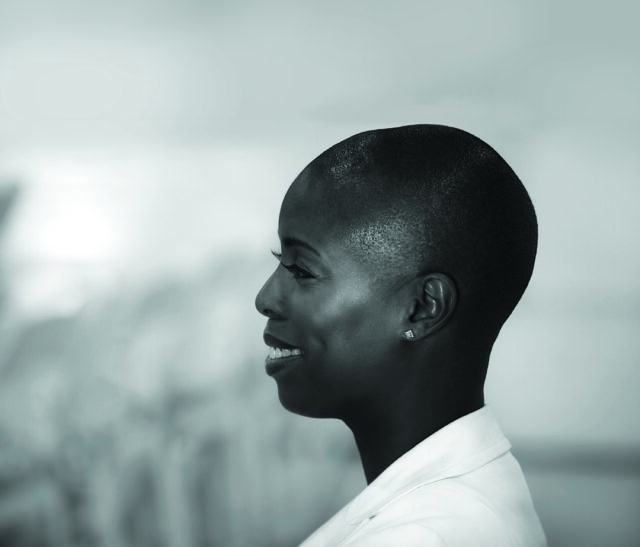 Photography and interview by Cathrine White
CATHRINE WHITE: What has changed for you since the experience we had last summer with the tragic murder of George Floyd?
SIDRA SMITH: It showed me how important it is to stay connected to the people in our communities. People are so much in their own worlds, and when something this traumatic happens it shows me that our support system needs to be closer…. I think about the young woman who recorded the murder, and I wonder who she has to lean on? So call up that friend or that family member or your neighbor and just check on them to see how they're doing and let them know you're there for them.
CW: Congratulations on producing the I Am Speaking… Listen, video-on-demand project for Essence Studios. I listened to a few of the episodes—such incredible content. Tell me all about your role as a producer and what you hope to create with it?
SS: The producer of I Am Speaking…Listen was Barkue Tubman-Zawolo, founder and CEO of MBL International Group and MBL Boss Lady Effect. When she told me she wanted to do this particular conversation between African and African American women, I supported it a thousand percent because bridging the gap between women on the continent and Black women in America has been a passion of mine since I lived in Ghana in 2005. So whenever we can have that conversation, I'm all-hands-on-deck. Now in general, I started Essence Studios and the streaming platform to give women of color globally a voice. I realized that we are the same; more than we are different. So the more we can support getting our voices out there, the more powerful we become globally as Black women standing in solidarity.
CW: What has been something you have been surprised to learn, while having these conversations with the women on your show?
SS: I discovered that it's not true when people say that Black women don't support one another. The love and the sisterhood I've seen has broken down any suggestion of that. I'm witnessing how much Black women do stick together and how much power there is in that. These conversations have provided a safe space for us to be vulnerable with each other, and it's been a wonderful experience.
CW: What has having a twin sister taught you about yourself?
SS: I've learned that we're stronger together. There's so much power in twins, whether they're in the same city or not. Like, sometimes we'll have on the same colors or outfit when we FaceTime—she lives in LA and I'm in New York. There's just a powerful connection that we have and I am grateful to God for making us twice.
CW: What book are you currently reading?
SS: Great Leaders Have No Rules by Kevin Kruse. Women right now, especially Black women, are in such leadership roles, that I feel we have a responsibility to nurture our leadership qualities so that we're setting an example for the women who come after us. We have to develop the Black female leaders of the future.
CW: What do you look forward to the most this summer?
SS: Lying on the beach with a glass of Champagne, toasting to the fact that we got through this pandemic!