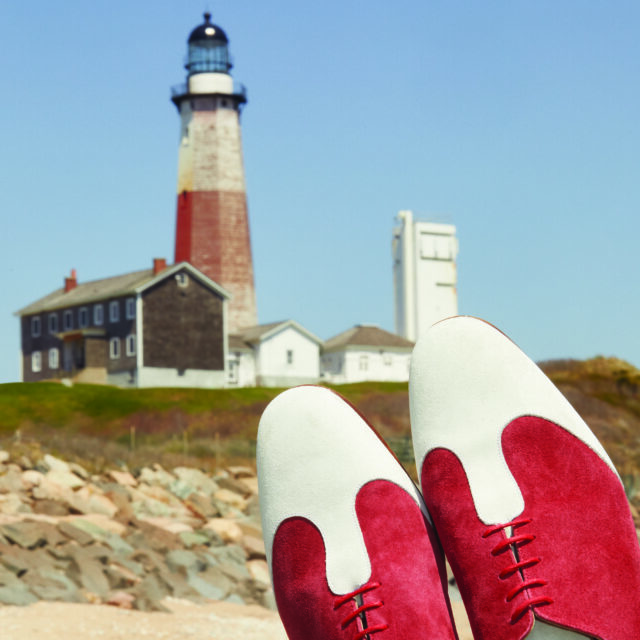 By Gabrielle Echevarrieta
MANOLO BLAHNIK
Manolo Blahnik, a footwear institution with over 22 flagship stores across the globe, has settled into a new home in the heart of East Hampton. With a collection still sketched and conceptualized by the brand's namesake designer, the brand offers a selection of pumps, mules, flats, sandals and boots that are a timeless addition to any casual or formal look. The summer 2021 collection available in the Main Street establishment is flooded with playful floral motifs, with high and low styles offered in bright golden hues, deep blues and delicate pinks. Handbags and clutches also grace the store's shelves, featuring botanical designs matching each elegant shoe. 52 Main St., East Hampton; manoloblahnik.com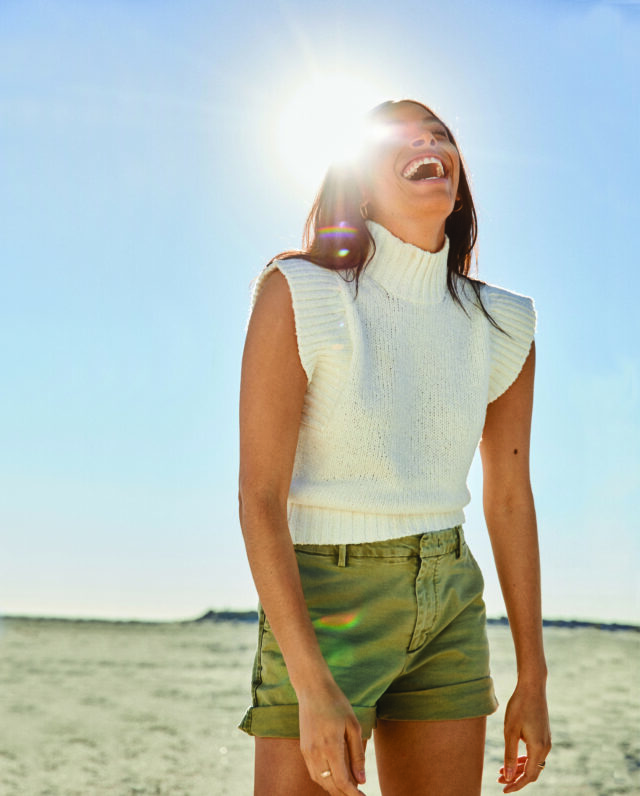 UNSUBSCRIBED
Embodying a "slow fashion" philosophy, Unsubscribed's new Hamptons store features both mindfully designed merchandise and a relaxed interior aesthetic. Capturing the easy-breezy tone of the Hamptons, the Main Street location has an understated decor that incorporates earth tones, raw vintage wood display pieces and comfortable white lounge furniture. The 1,100-square-foot sanctuary rejects the sensory overload experience of some retail destinations, instead inviting customers to slow down and enjoy a quiet moment while expanding their wardrobe. With the words "Kind, Conscious and Free Spirited" etched onto the boutique's front window, Unsubscribed's values shine through in both the space's ambience and timeless fashions.
The brand's summer 2021 collection was inspired by nature, offering modern styles in warm neutrals and shades of whites, with vibrant seasonal prints and pops of yellow, lilac and picante. In addition to original creations, Unsubscribed carries fashion from sustainable brands like LIKHA, Ophelia & Indigo, Boyish Jeans and more. 73 Main St., East Hampton; unsubscribed.com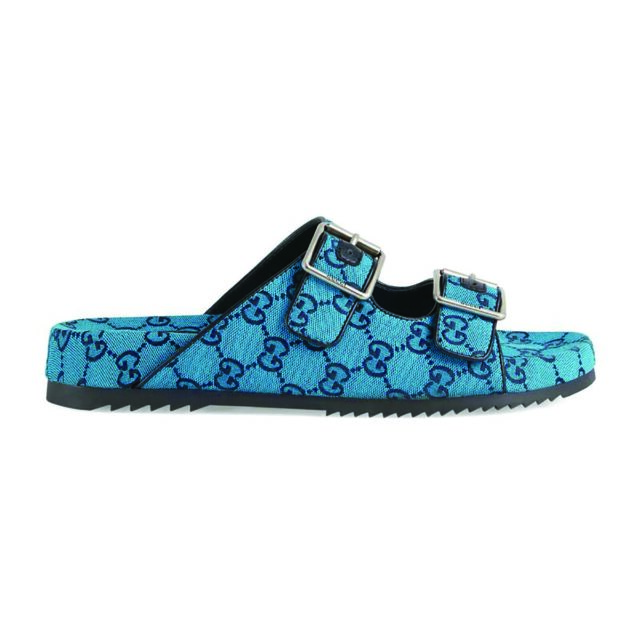 GUCCI
The iconic luxury brand makes its way to the East End for the first time with a two-story, 2,000-square-foot retail experience. The new East Hampton location will feature a wide collection of men's and women's ready-to-wear, shoes, handbags, luggage, small leather goods, jewelry, watches, eyewear, children's wear, Gucci Beauty and Gucci Décor. Inspired by the natural landscapes of the Hamptons, the store's walls are painted with a stunning aqua-hued moire design, and outfitted with natural hardwood flooring, wicker accents and plush velvet armchairs. 17 Newtown Lane, East Hampton; gucci.com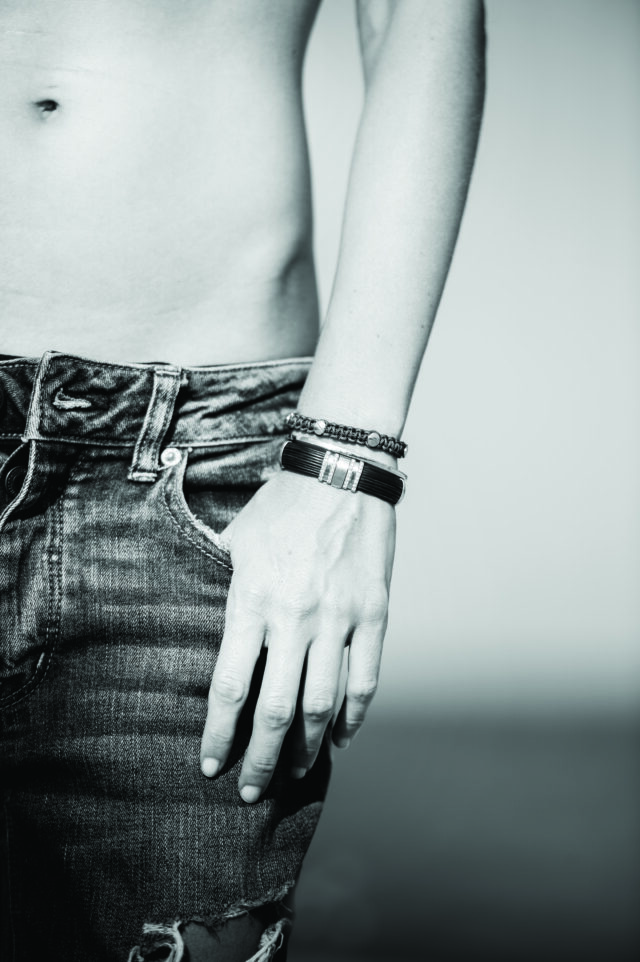 ZADEH NY
After adorning equestrians at the Hampton Classic horse show with luxury jewels in years past, Zadeh NY founder Catherine M. Zadeh has given her line a permanent home on the East End. The brand's new boutique, located on Main Street in Southampton Village, features handcrafted jewels made from a variety of unique and sustainable materials. Exquisite details, including precious metal and gemstones, exotic woods and ethically sourced Asian Buffalo horn, are woven into eye-catching statement pieces including bracelets, earrings, belts, rings and cuff links. A trailblazer with over 25 years of design expertise, Zadeh creates structural and minimalistic pieces, offering gender-neutral styles with a sophisticated twist.
Zadeh NY's daring yet timeless jewels fit right into the chic, effortless aura of beach season in the Hamptons. Nestled in the village's bustling epicenter, the new retail destination features bright, cheery design motifs that showcase the eclectic line. Stunning photographs of wild horses by Drew Doggett grace the store's walls, an homage to the brand's horse show roots. Further equine inspiration comes from Zadeh NY's Blake pendant, a delicate polished gold charm evoking imagery of a stirrup. Perfect for either attending a summer soiree or spending a day at the shore, Zadeh NY's jewels symbolize relaxed luxury. 94 Main St., Southampton; zadehny.com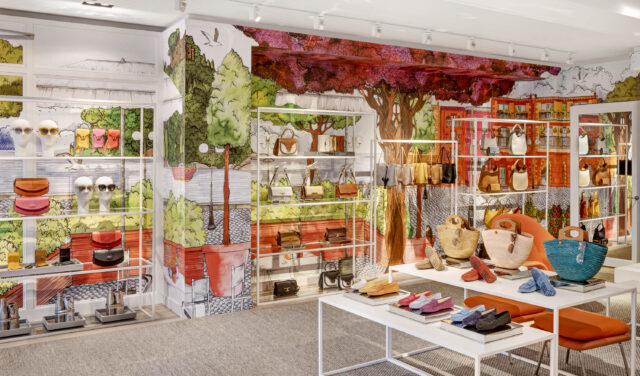 TOD'S
Iconic Italian fashion house Tod's makes its way to East Hampton this season, arriving with a collection of ready-to-wear apparel, handbags and shoes. Daring neon details are matched with dark-wash denim and earthy animal prints, plus delicate pastels for a feminine twist. A range of footwear fit for an afternoon on a yacht, an alfresco lunch or a formal gathering is also offered in store, as are structural leather handbags in lilac and cool blue, pony print, and bright and warm toned leather. Located just a stone's throw from RH, Warby Parker and Stoney Clover Lane, Tod's new fashion destination is a perfect addition to the East End's retail epicenter. 47 Newtown Lane, East Hampton; tods.com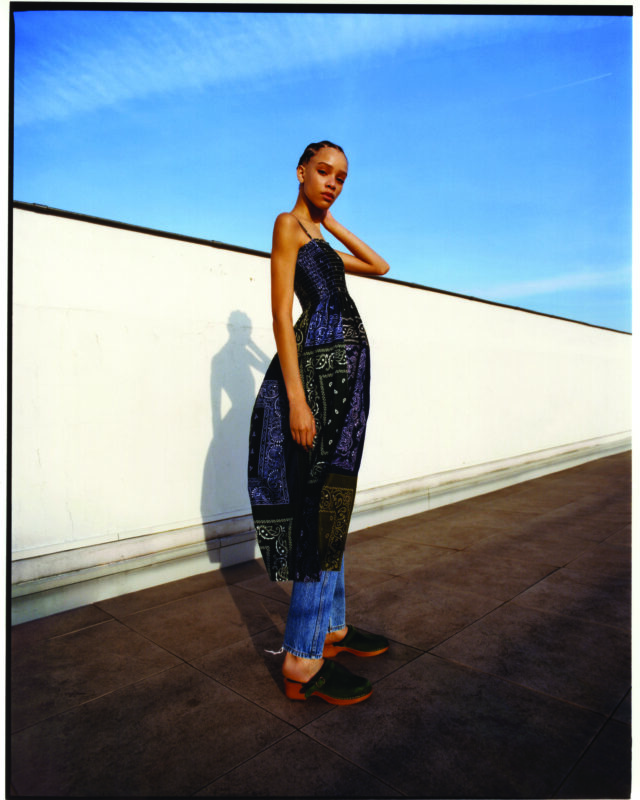 RE/DONE
Bringing mid-century California motifs to the streets of East Hampton, RE/DONE's third-ever location opened its doors this May, just in time for peak-season retail therapy. Embracing vintage design motifs for both style and sustainability, the store is outfitted with oak shelving, mint green linoleum flooring and powder-coated Richard Neutra red accents. "We are so excited to give RE/DONE a physical footprint in the Hamptons, a place with a culture parallel to our own." says brand co-founder Jamie Mazur.
The ultimate destination for denim, RE/DONE currently offers one-of-a-kind reconstructed Levi's jeans, shorts and even chic, upcycled ready-to-wear. More creative repurposed fashions include two-tone babydoll dresses made from vintage bandannas, vintage shirts and sweatshirts, and leather made entirely from vintage, pre-loved materials from decades past.
RE/DONE's marketplace, an initiative meant to extend the longevity of collectible items and promote accessibility to vintage goods, features books, jewelry, belts and Hanes products from decades past. Titles by Patti Smith and Joan Didion are currently available, plus far-out accessories like 1970s-era mood rings, a retro sterling silver surfer girl necklace and more. 58 Newtown Lane; shopredone.com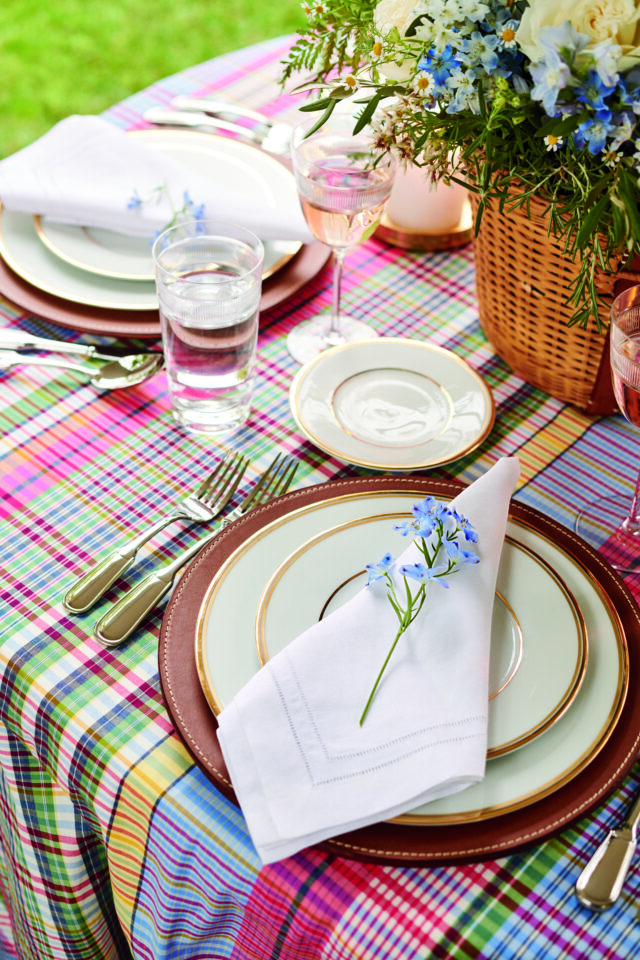 THE HOME COTTAGE AT RALPH LAUREN SOUTHAMPTON
Ralph Lauren's Southampton establishment has carved out a space for the home collection, a one-stop destination for home decorating, entertaining and gift-giving needs. The Summer Hill Collection is an ultra-fresh take on Hamptons elegance, with a line of accessories and furnishings featuring bright, preppy motifs with a summer-inspired color palette. Evocative of sunny beach days, poolside parties or decadent meals enjoyed alfresco, the Summer Hill line further elevates the classic yet fashion-forward aesthetic of Ralph Lauren.
The rainbow hues of beach umbrellas and swimsuits inspire the vibrant madras plaid and striped beach towels, while imagery from lively summer polo matches is etched into a lead-free decanter set with matching cups. Get rejuvenating beauty sleep after action-packed days at the shore or in town on plush Heritage Icons sheets and bedding, including RL Organic Sateen, as well as the mahogany-detailed Jamaica bed. For a kitchen refresh or to wow dinner party guests, opt for dining essentials like natural brass and stainless steel glassware, plus the ornate Ralph Lauren x Burleigh Collection china, featuring deep-indigo floral designs. 41 Jobs Lane, Southampton; ralphlauren.com
VINCE
For quintessential summer luxury, visit Vince's East Hampton outpost, newly established this year in the heart of Main Street. The brand's laid-back California aesthetic comes alive in the 1,900-square-foot retail space, featuring an earthy, neutral color palette, plaster details, and accents of warm wood and rattan. Pristine white drapery and natural stone detailing add a classic Hamptons feel to the store's West Coast vibe. Art by women creators from New York and California will be featured on the store's walls, including sculptures by Katie Thompson, Simone Bodmer-Turner and Kate Crassweller, plus photography by Vince's creative director, Caroline Belhumeur. "Our goal with each store is to create an environment that highlights the relaxed, luxury feeling of the collections," said Belhumeur. "For the Hamptons, each design element imbues the space with a sense of comfort and warmth."
Featuring summery color palettes like oceanic blues, cheery yellows and sandy tones, Vince's current line of chic womenswear and menswear is perfect for both stay-at-home elegance and vacation ensembles. 50 Main St., East Hampton; vince.com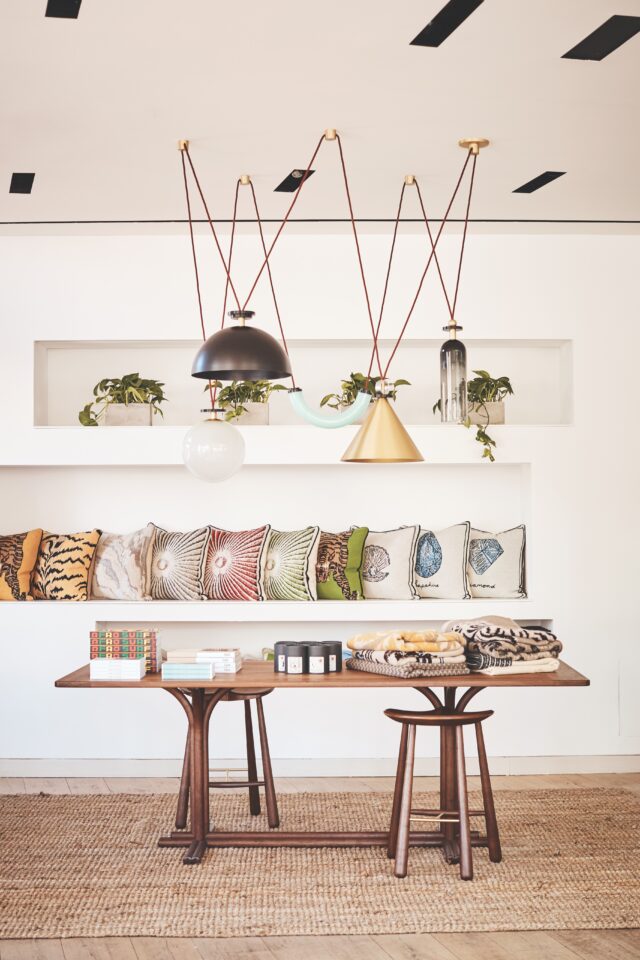 ONE
Creations by forward-thinking designers of apparel, jewelry and home interiors are showcased at the new One, which celebrates its grand opening in East Hampton this Memorial Day weekend. From indi, an apparel collection that spotlights the work of artisans, to dheartd, a line of sustainable cotton and linen pieces from Diane Nelson, One's goods are thoughtfully curated and support worthy causes. This summer, the store wil host events like the New York Rising gallery art show, coordinated by Artsy, and a sandal-making workshop led by Anita Patrickson, founder and stylist of Amanu. Check the constantly updated calendar on One's website for trunk shows, other events, and list of designers. 1 Main St., East Hampton; one1main.com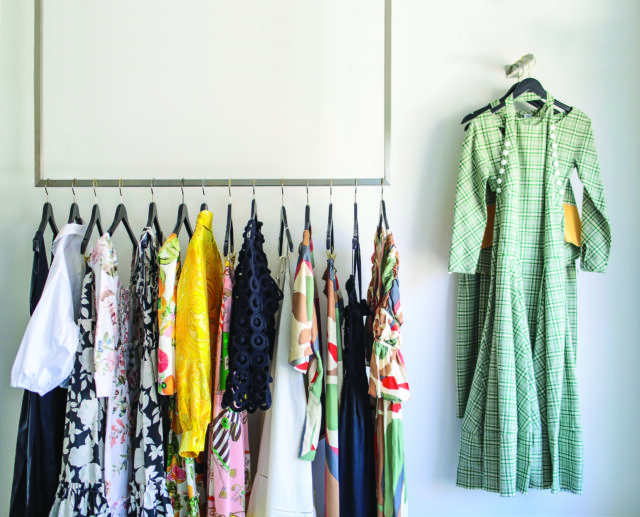 FIVESTORY
The uptown Manhattan luxury outfitter heads East this spring, with a second brick-and-mortar location now open in Southampton. The brand's beach-themed store will carry names like Dauphinette, Le Sirenuse, Lug Von Siga and Batsheva, plus an extensive collection of "pre-loved" items. "It's a dream of mine to have a store where I could create an experiential journey for customers to enjoy and discover new brands, products and concepts under one roof," says owner Karen Murray. "After a long year of staying at home, fashion is finally ready to burst out in the form of colorful fabrics and prints, bold shapes and unrestricted silhouettes." 38 Jobs Lane, Southampton; fivestoryny.com
LEONARD FRISBIE
This dapper menswear brand, now open in Sag Harbor, uses fair-trade business practices with artisans in Peru to produce casual, ready-to-wear apparel. In addition to the permanent brick-and-mortar location on Main Street, the brand operates a Montauk "summer surf shack" outpost during warmer months, offering loungewear and shoes out of a quaint shed. Cozy cardigans and crewnecks made with baby alpaca wool and cashmere are available alongside sharp joggers made with upcycled cotton and recycled plastic water bottles. 78 Main St., Sag Harbor, 805 Montauk Highway, Montauk; leonardfrisbie.com