By Cristina Cuomo
Naomi Watts is a multitasking force of nature. This English rose is not only one of today's leading actresses, starring in films like Birdman and The Ring, she's busy co-parenting two beautiful teens and co-owns a celeb-favorite clean beauty company, ONDA Beauty, with curated e-commerce and brick-and-mortar locations in Sag Harbor and New York City. I got to sit down with my conscientious friend—she came into my life when our kids went to camp together—to discuss her latest chapter (a new home in Montauk just down the road from her photographer brother Ben) and a host of other topics like fear, creativity, choices, nontoxic living (in culture too!), on being shy yet standing out, and of course, just how she keeps up with it all.
Cristina Cuomo: So Naomi, what inspired you to co-own ONDA, a clean beauty business, a clean beauty curated site and brick-and-mortar stores? That's a big venture.
Naomi Watts: I know! I've always had a passion for skin. Larissa Thomson and Sarah Bryden-Brown are two old friends of mine and I introduced them. Both of them come from an editorial background, magazine world, and so they know storytelling. And Larissa had become deeply passionate about clean products and she introduced me to some. It came right at the time where I was having problematic skin for the first time, really, in my life, and I think that was something to do with hormonal changes. I was very sensitive all of a sudden and very reactive. She gave me a few things to try out and I saw an immediate change. And then as their brand was growing, they asked if I wanted to get involved and because I loved it so much and it felt like an authentic fit, I thought, why not? I became involved in it somewhere between 10 months and a year after they got started. Then it just sort of grew and grew.
CC: You launched at a perfect time for wellness. The industry is growing by leaps and bounds, so you were ahead of the curve pre-COVID.
NW: Yes. Everyone basically had to press the pause button and that's when we started looking deeper. Now, everyone is not just curious but actually obsessed and fascinated by the ingredients on our product labels.
CC: It was a good pivot for wellness brands, certainly. The focus became on a chemical-free lifestyle. What you put on your skin is as important as what you put in your mouth. It's as important as the life you live. You want to nourish your skin. What's your daily beauty regimen from the moment you wake up?
NW: If I've got time, I love to exercise. If I don't exercise at least two or three times a week, I feel the funk take over my mind. If I just move, whether it's yoga or a little bit of jumping around or a strength training session, I'm going to feel better in my day. And then I'll jump in the shower—usually I'll use a foam cleanser. I love the African Botanics Baobab Clay Oxygenating Cleanser. And then I'll use a mist, another spray to keep the pores open so that they'll absorb moisture more easily. I'm also loving Tata Harper Regenerating Cleanser. I'm very into Furtuna Skin right now, all of their line, and Symbiome. They have a great product called The Answer. Moon Juice has a great resurfacing exfoliator. I love toners as well. Marie Veronique is a wonderful brand, but it requires a lot of education. That's one of the best things about a place like ONDA. Things are well curated. You're going to get somebody who can spend the time at ONDA.
CC: It's not like an emporium of beauty. You get a personal relationship with your staff.
NW: Exactly. It's a boutique experience that feels like what everybody kind of wants and needs right now. It's important to know how to mix things based on the unique needs that you have. The ONDA team establishes real relationships with their clients. They're highly versed in clean beauty, and an incredible resource.
CC: What's the hardest thing about aging?
NW: Watching the toxic culture out there in the media and seeing how harmful that is, that the mature woman isn't embraced enough, because we're all mortal beings. We're all going to get older and so if it's embraced more it will be a much more beautiful journey for everyone.
CC: What's the most fun thing about aging?
NW: Having long, long friendships. I've got a team of women and we just share so much. Thirty-year-old friendships I'm talking about, where we can really look back on great experiences and talk about how valuable our time is together and what we want to achieve moving forward.
CC: What does all-natural mean to you?
NW: Well I think being in a sense where you feel you're most yourself and you're connected to yourself and you're on OK terms with it.
CC: Mantra that you live by?
NW: Stay in the present.
CC: What inspires you?
NW: I love to travel. I love deep friendships. I consider myself a very curious person, so I'm always inspired by great thinkers and thought leaders and into shifting my own thinking beyond what I know.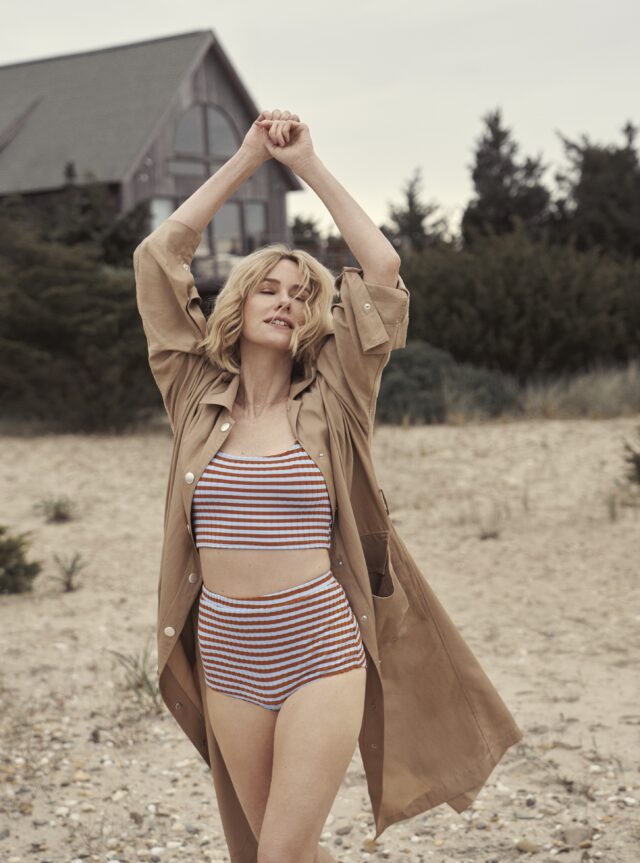 CC: You just landed a new Netflix limited series with Ryan Murphy, co-starring Bobby Cannavale.
NW: I can't say much because I'm not allowed to yet, but Ryan Murphy, we all know, everything he touches turns to gold. He's such a talent, and I've done a movie with Bobby before. We start shooting the series with Ryan in the fall. It's a psychological thriller based on a true story.
CC: It's the 20th anniversary of Mulholland Dr. That was the launch of your career in American cinema. How does it feel looking back on it now?
NW: Yeah, it was definitely the launch of my career. I had been working in America, but nothing had reached that level. Maybe I got the lead in something, but it didn't really make anyone think, Oh wow, this is going to put this girl on the map. When I got the job on Mulholland Dr., I couldn't believe it. I happened to know the casting director, because I had gone in several times for that woman and she always liked me, I guess. And she brought me in for David Lynch, who has a very different way of casting. We sat down and talked for 45 minutes, which was a very unusual process to me. Normally it was like you barely got eye contact with someone. David just kind of drew me out of myself. He cracked the shell open, and I was able to connect with him because of that. The night that it premiered in Cannes was an unforgettable night. It's been a different career ever since. Every filmmaker in the country—in the world, actually—saw that film. And so instantly I had every agent reaching out to me. I had directors reaching out, and I've never had to audition for a role since. So I was really lucky.
CC: It's interesting that David Lynch started a foundation in wellness which is all about Transcendental Meditation. The two of you have gone into that.
NW: When I worked with him, he said he'd been meditating for at least a few decades. He has never missed a meditation in his life. David swears by his meditation practice and yes, all his ideas come from that headspace.
CC: What type of role would you like to play that you haven't yet?
NW: I feel like I've covered a lot in these past few decades, and to the point where I'm going back to similar worlds. In a film called Infinite Storm, which we shot in Slovenia during COVID, I play Pam Bales, who is a volunteer search-and-rescue team member in her 60s who still climbs those mountains daily. She is a national hero. The film will probably be coming out toward the end of the year. It felt good living in someone's shoes like that. I could definitely afford to expand on more comedic roles.
CC: I once interviewed you maybe 10 years ago and I talked to you about what you think attracts people to horror films. And you talked a little bit about fear. Do you remember that conversation?
NW: Yeah, I do. I think fear is a big part of the human psyche and we all live with it, some more than others. It's interesting to examine fear and that's why we go to the cinema to collectively experience it together.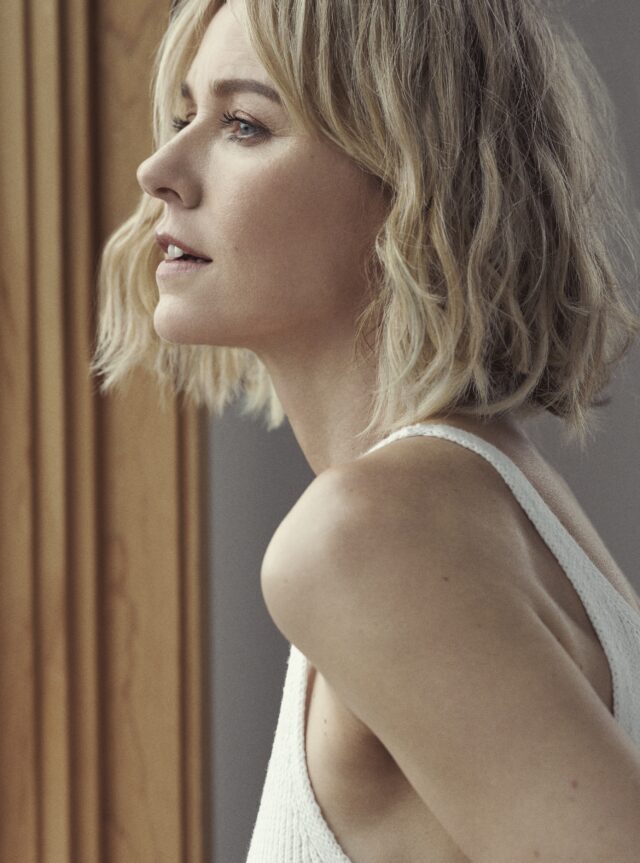 CC: Then comes parenting. The biggest fear of all.
NW: Yes, the hardest job of all. But it's always evolving. As your children grow, you get through one stage, and you feel like you've solved one problem but then a new one pops up. I absolutely love being a mom. It centers me, teaches me, keeps me on my toes, humbles me and also fills me with pride. I am truly grateful to watch these little tiny people grow into sensitive, kind human beings. That's my biggest hope for them—that they're kind and decent people. I just want to get that part right most of all.
CC: You and your ex [actor Liev Schreiber] have one of the best post-breakup relationships that I have ever witnessed. You co-parent so beautifully. It can't be easy with both of you being actors. How do you make co-parenting work so well?
NW: We both just have a common goal, which is we want our children to do well and that's our main job. And we actually still enjoy each other's company as well, and we talk on the phone not just about parenting sometimes—mostly it's about parenting and navigating schedules and things like that, but we're also good and better friends.
CC: Is there any advice you'd give your younger self?
NW: Don't try to please everyone. Don't compare yourself to others. Trust your instincts. I'd say those three are the strongest. I got caught up in that kind of stuff too early on, which cost me. You're enough. Be you. Just be you. Find you and embrace it, warts and all.
CC: You sold your house in Amagansett and moved to Montauk. What made you go to the end of the island?
NW: In all honesty, I'm still not settled with that idea yet, because I'm still grieving the loss of my Amagansett house. But it's because I'm not in the Montauk house yet. It's been under renovation. My brother lives in Montauk. I sold the Amagansett house before COVID hit. I was still in escrow during COVID, and I suddenly panicked. What am I doing? What if we never work again? What if our industry is kaput? It was all about swirling anxiety.
CC: It certainly forced us into decisions we might not have otherwise made. What are some places that you've discovered in Montauk?
NW: I love Duryea's. I went to the Crow's Nest last weekend. It's so gorgeous. That's the great thing about Montauk. You've got an unbelievable setting, as well as great food.
CC: And your favorite place to get a facial?
NW: Sag Harbor is one of ONDA's beautiful locations. We've got that lovely garden as well and we'll be doing some pop-ups through the summer. So I hope I see you there.
PURE PICKS: Naomi's Favorites