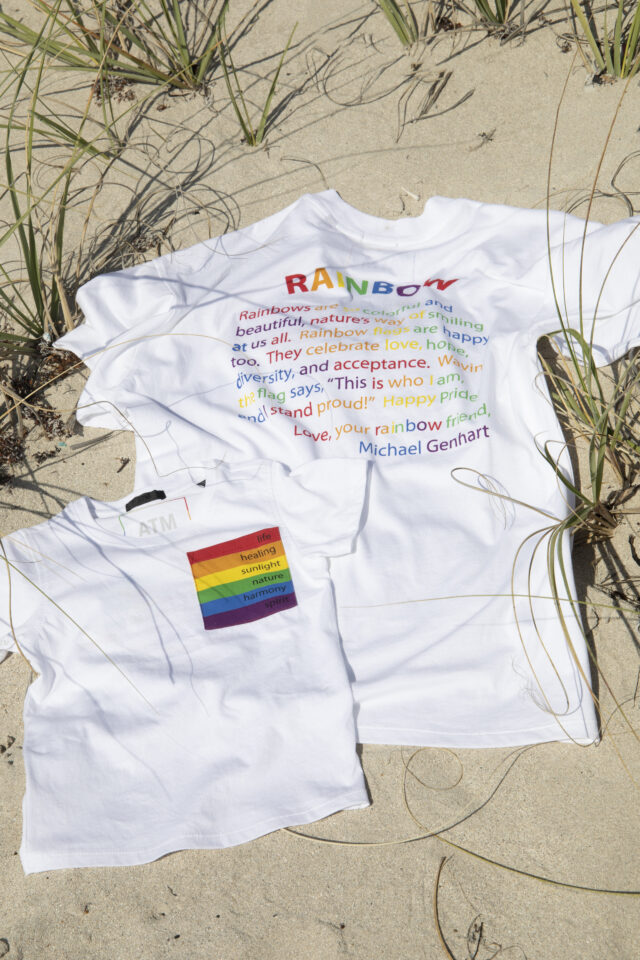 Anthony Thomas Melillo, creator of ATM Collection, lends his design mastery to an exclusive Pride 2021 line. With unisex styles made both for adults and children, these vibrant pieces celebrate the LGBT+ community and the symbolism of rainbows. Standing for life, healing, light, nature, harmony and spirit, the new shirts are inspired by Michael Genhart's children's book Rainbow: A First Book of Pride. A percentage of the proceeds will be donated to New York City's Lesbian, Gay, Bisexual & Transgender Community Center, which advocates for justice and promotes healthy living for LGBTQ+ people.
Now on the brand's website (atmcollection.com) and coming soon to the brick-and-mortar store located at 20 Newtown Lane in East Hampton, the new line of ultra-comfortable shirts is constructed with drop shoulders and a wide crew neck in a plush cotton jersey. The front features a rainbow patch pocket, with colorful print on the back quoting the book's author: "Rainbows are so colorful and beautiful, nature's way of smiling at us all. Rainbow flags are happy too. They celebrate love, hope, diversity and acceptance. Waving the flag says, "This is who I am, and I stand proud!"
Here, Purist spoke with the designer about the meaning of pride and raising children with kindness.
Ray Rogers: This special limited-edition Project Rainbow T-shirt was inspired by the children's book Rainbow: A First Book of Pride. I love that this initiative is helping to teach young people about diversity and inclusion, and the meaning of pride. How did being a father to a young child yourself inspire you on this front?
Anthony Thomas Melillo: Trying to explain things to a young child is always a little tricky. You don't want to make anything—such as being gay—seem odd or different; however, you want to explain that there are boy/boy, girl/boy and girl/girl relationships. We like to make it all seem natural. The pride colors and meaning are a cool way to express to a child the meaning of kindness on all fronts. I think that's how we tried to explain things.
RR: Part of the proceeds from the sales of the shirt will go to support the Lesbian, Gay, Bisexual & Transgender Community Center in NYC—tell me about why it's important to you to support this organization.
ATM: It's a New York organization, and I have been part of fundraisers for—and heard stories from—the NYC kids and families that this organization supports. This just happened to touch me and it's nice to give back when possible.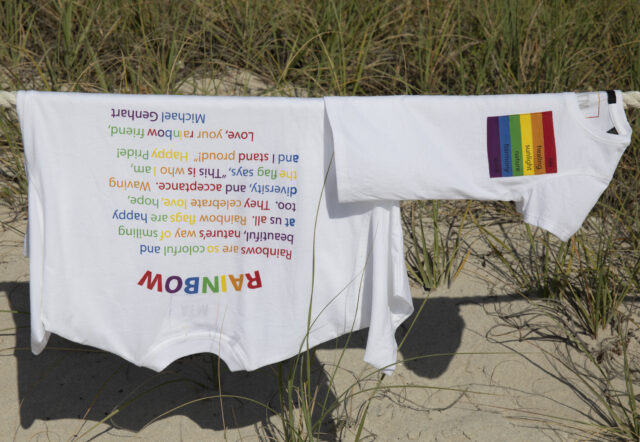 RR: A lot of gay men and women struggle with self-acceptance early in life—myself included. When did you become proud of who you are? What went into that journey?
ATM: It was a journey. I think it all changed in my early 30s when I told the first person who really didn't care but thought it was great. That released a lot of fear.
RR: This weekend is Pride weekend. What does pride mean to you, and what role has it played in your life?
ATM: It means togetherness. We are very open and very proud. I think it's worth celebrating, and this year we'll celebrate at the store by doing a private reading and hopefully educating other kids.
Following a private reading, there will be a shopping event open to all this Sunday, June 27, from 1 to 5PM; 20 Newtown Ln., East Hampton