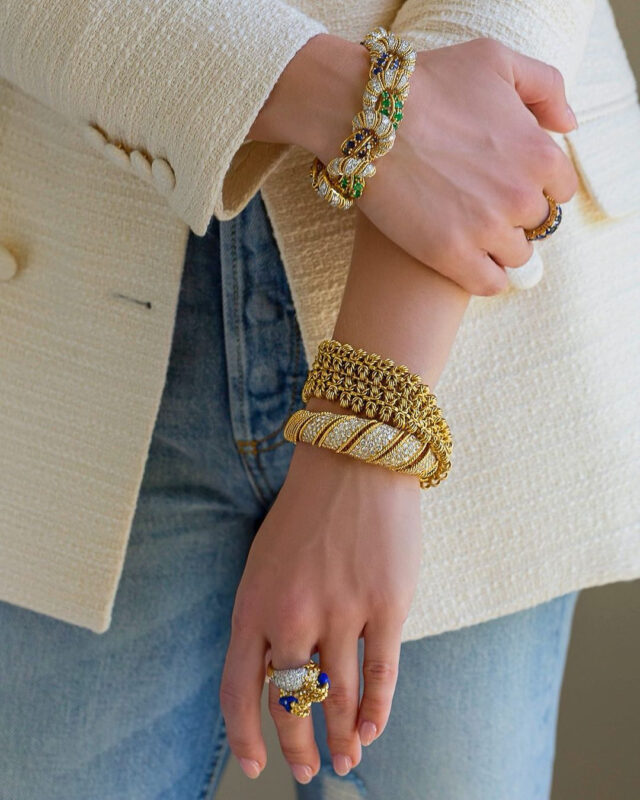 What began as a casual jewelry-making hobby turned out to be a true calling for Donna Vock, owner and lead designer of Vock & Vintage. With a robust education in geology and engineering, and positions at Tiffany & Co., H. Stern and Lazare Kaplan International, Vock has become a trusted figure in the world of bespoke jewelry. Recognized as a leader in design innovation, she has served as a member of the American Society for Jewelry Historians and has showcased her work at the Forbes Gallery's Designer Showcase. With a thriving presence in New York City's diamond district and Greenwich, Connecticut, Vock & Vintage serves collectors, manufacturers and dealers both in the U.S. and across the globe. Here, Vock tells Purist about launching her eponymous collection in Aspen almost three decades ago, Aspen's unique spark and the brand's hotly anticipated new pop-up event there this July.
PURIST: You are a New York native. What brought the Donna Vock brand to Aspen?
Donna Vock: In 1986, my then-boyfriend—who is now my husband and I went to visit his college roommate in Aspen. We loved it instantly and made friends there. We kept returning every winter and eventually when we had our sons, we would visit as a family both summer and winter.
My close friend Cindy Griem, used to manage Jewels of Aspen, and encouraged me to bring my talent to the public. She said, "You do all this work for these other jewelry companies and jewelry dealers? Why don't you let me put your name out there…what better place to launch your specific talent than Aspen?" That was in 1995, and I've been serving clients and friends in the Valley ever since.
I put a collection together to show at Jewels of Aspen, and it was a huge hit. We sold dozens of pieces and took special orders for dozens more. That first show was almost entirely contemporary designs I sketched and fabricated in New York City. Soon after, I started doing shows with vintage signed collectible jewelry as well. My husband and I had a shared passion for great gemstones and the extraordinary craftsmanship of the past. Mixing old and new became a way of life for us, professionally. Retailers and collectors alike turned to me for guidance on merchandising, and styling their clients.
Originally, I was always behind the scenes. My extensive training in diamonds and jewelry manufacturing was being put to good use helping the companies I worked for succeed but it was always under other names. Cindy recognized my talent and encouraged me to put myself out there. She was right, as I began to find a lot more satisfaction working directly with collectors than I was working from my desk in a factory. Eventually, Cindy opened her own salon in Aspen, where the Creperie is now! She was focused on launching "up and coming" designers in a relaxed, intimate setting and so I continued to thrive, inspired by that atmosphere and customer contact. Aspenites loved it, and even visitors seemed to make it a permanent stop on their annual Aspen vacations. The folksy yet refined interior
and our deep friendship made for a unique vibe. I could work there for hours building their collections, redesigning their old stuff and coaching them on how to get the most out of their jewelry. It was a lot of fun.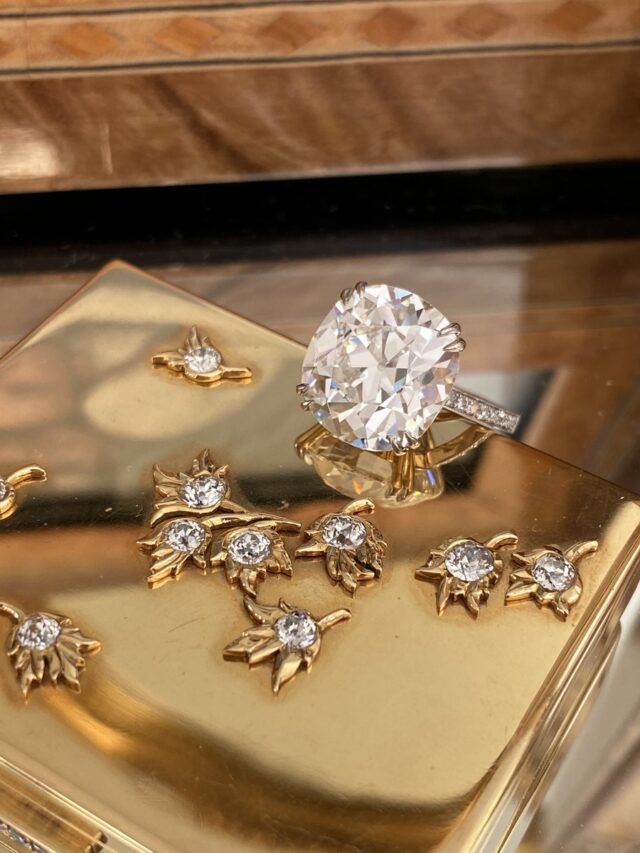 The Donna Vock brand became an institution, for both the locals and the homeowners there seasonally. "I still advise and sell to many of those original clients I met in the late '90's. Back then, a lot of men were going to Aspen for conferences, and as cliche as it sounds, their wives needed something to do while the men were tied up. My clientele grew every year, with more and more women from all over the country. We served as educators about jewelry, organized Q&As in store and held shopping personalized events. Understanding your client is as important as understanding the product."
Eventually, my husband and I bought a place in the valley, and my son also settled down in Aspen and started a fly-fishing business. In 2019, I launched Rare Aspen, which is an antique, fine art and jewelry show. We're dedicated to giving back to the local community, and we support critical services like The Hope Center, which aids in crisis intervention, as well as Mountain Rescue, Aspen Education Foundation and the Aspen Valley Hospital. Rare Aspen will return to the Ice Garden July of 2022.
PURIST: What is it about Aspen that inspires you the most?
DV: First, it's the natural beauty that hits me deep in my core. Any time of year, but mostly in summer. People go to visit Aspen in the winter before they discover how great it is during warm months. It is just…magical. The nature is unrivaled, especially the wildflowers. I have been all over the world and I still cannot think of a place that has that sort of simple yet majestic beauty.
Also, the people it attracts. The blend of creativity, activism, intellectual curiosity, and the sense of community amongst the locals there, is something I find somewhat unique to that place. As someone who does shows all over the country, nowhere do I experience the same tight knit feel. It's special. What's also pretty special is being able to work with such a fabulous cross-section of the population all in one place! Aspen attracts collectors from all over the US and the world. Of all the many places I do business domestically, Aspen remains the only place where I experience that. It feeds my creativity, to have that all in one place. It is so personally fulfilling, that business trips feel like vacations!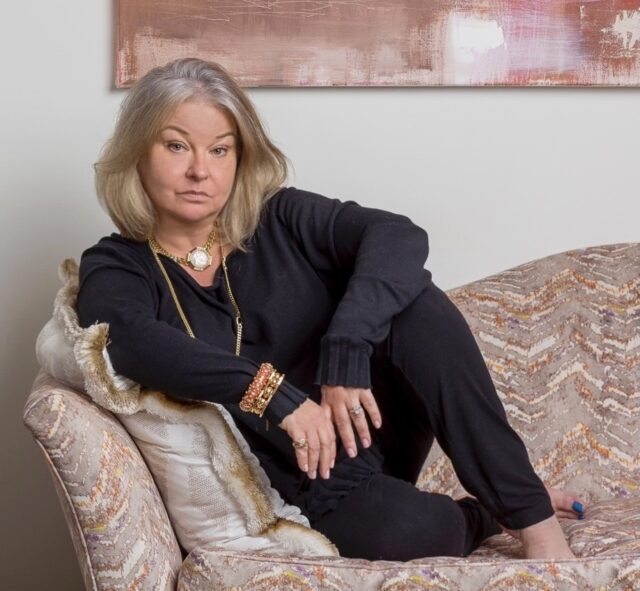 PURIST: You have business locations in NYC and Connecticut as well. How do your clients differ between the East Coast and Aspen?
DV: The Aspen crowd leads a very active lifestyle. They are generally art lovers, and appreciate great design. They enjoy wearing statement jewelry but they want something to wear while climbing Buttermilk. and don't want to look ridiculous while riding a mountain bike. Walking through town, diamonds and denim are normal. And anything that works well with cowboy boots and a custom made hat is a winner! Aspen people are drawn to more color, and that may be the impact of their surroundings. I see more interest in unusual gemstones and color combinations.
PURIST: Tell us about your new show next week.
DV: The show is called The Collectible, and it will run from July 14-17 from 11AM-6PM. My dear friend Liz Gilbert of Shompole Collection in Brooklyn, NY organized it. She exhibits at Rare Aspen, and has also been coming to Aspen for years and years. After Covid shut down our Rare Aspen plans for summer 2020/2021, it was just too long for us all to not be in Aspen. I'm excited to be joining this group of artisans, showcasing pieces at the Hotel Jerome in the Old Aspen Times Building, above the speakeasy called Bad Harriet.
PURIST: What does the brand have planned in Aspen for the future?
DV: I'll be back more frequently now that things have opened up and we're in full swing planning for Rare Aspen 2022. We are hard at work already, organizing the event with a group of brilliant artists and looking forward to partnering with the community again.