Taking a plunge into the ocean is restorative. The rhythmic crashing of waves, the sensation of cool water on the skin and sand between the toes is the ultimate combination for feeling grounded and peaceful. Beachgoers and those who love ocean sports, such as surfing, paddleboarding or an invigorating swim, offer a multitude of health benefits and keep the body in top shape. Muscles from head to feet are engaged, water provides resistance, and paddling helps condition the cardiovascular system. Though the health benefits of the beach are plentiful, sun protection is key to staying well.
Physical sunscreens made with all-natural ingredients are perfect for shielding the skin during long hours outdoors or in the midst of high-impact activity. Rather than relying on chemicals to block the sun's rays, physical formulas create a barrier between the skin and UVA/UVB rays while hydrating the skin. EIR, a clean beauty brand dedicated to all-natural remedies, offers a chic line of sun care designed with beach goers in mind.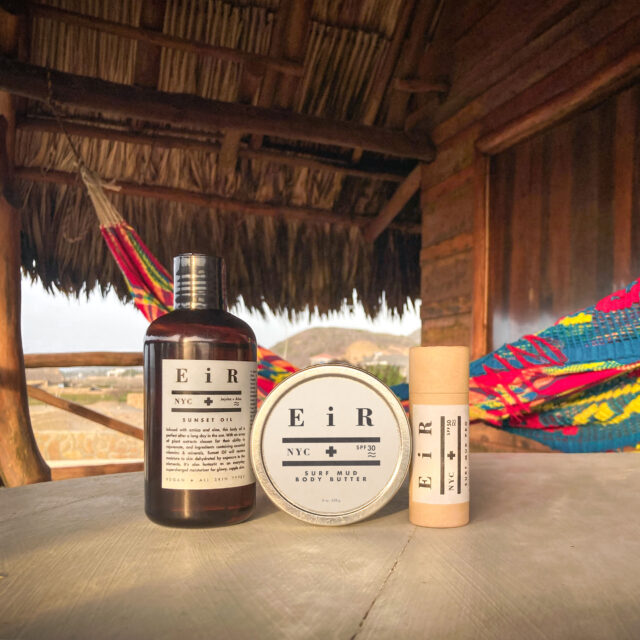 EIR's Surf Mud Body Butter, a reef-safe, non-nano zinc oxide sun protectant, is packaged in a stylish, plastic-free and recyclable tin. Infused with kokum seed butter to keep skin hydrated without clogging pores, the luxurious butter goes on smooth and is rich in omega-3 and omega-6 essential fatty acids to soften skin and promote elasticity. Tucuma seed butter, sourced from the South American rain forest, contains antioxidant polyphenols that help combat free radicals in the tissues, while cocoa powder promotes blood flow and cellular healing while giving the butter a heavenly scent. A companion product to the body butter, Surf Mud Pro is packaged in a compostable tube and is rich in cocoa butter, cocoa powder and water-resistant beeswax.
The Sunset Oil, a nourishing formula made with hard-core beach bums in mind, contains restorative ingredients like coconut, jojoba, rose and geranium essential oils to soothe burnt or dry skin. Aloe vera, a tried-and-true remedy for sunburns, is used alongside vitamin E, arnica and calendula to promote cell growth, soothe inflammation and keep connective tissue elastic.