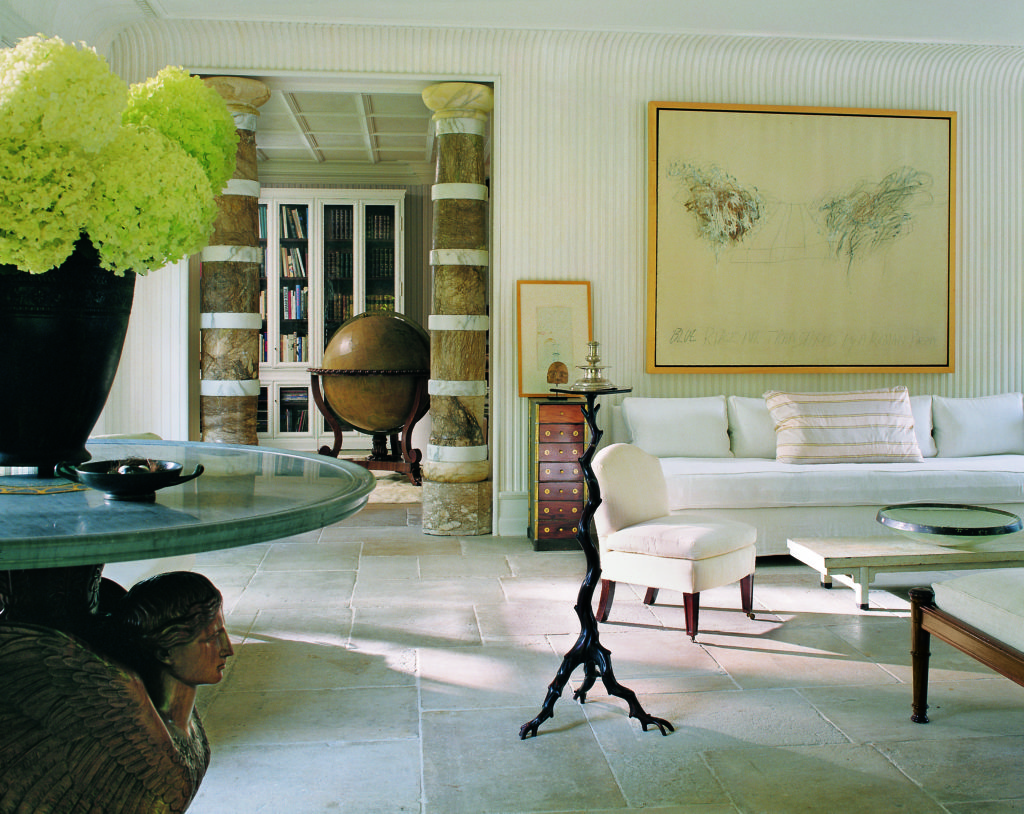 Martha Stewart: We both live in Bedford Township. You're in a beautiful, antique home that you continuously fuss with. You doubled the size of that house recently. I live on a farm that I'm continuously fussing with and planting trees. We're both avid gardeners, and we've gotten to know each other quite well. What you've created, not only in your own home and garden, but in your client's homes, is so extraordinary that I think, "Gosh, I'm in the presence of a master." I bought your most recent book, called Stephen Sills: Decoration. Another one is on its way. Right?
Stephen Sills: Right.
MS: Your first book, Dwellings, was with your first partner, your only partner.
SS: Yes.
MS: And you do not have a partner now, in work or in life.
SS: No. They're not worth it.
MS: I think what attracts me to you is that I don't have a partner in life or business either. I'm just a loner really.
SS: We're a team.
MS: Yeah, we are. We're a good team. But looking through Stephen Sills: Decoration, with a foreword by Karl Lagerfeld, you realize that there's a masterfulness going on in every single one of your photographs. I know a lot of decorators, a lot of interior designers, a lot of landscape designers, and I admire many of them. Something about your work really intrigues me. What's the most beautiful room you have ever seen or been in?
SS: There are so many. When I lived in Paris—this was the late '70s—I met a great Texas friend of mine, and I remember him taking me to the Hôtel de Vendôme in Paris, where he was working with many decorators, and it was something that opened up my eyes—18th-century French architecture.
MS: When do you think your next book will be ready?
SS: About a year from now, in the spring. I'm using a lot of old pictures of things in the new work that haven't been published or referenced yet. The next book is going to be a totally different—very friendly, not this chic, hard-core thing I just did.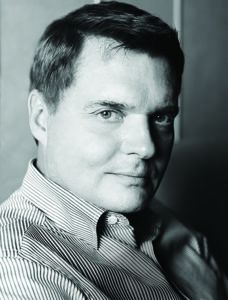 MS: You really do mix styles and periods in all your rooms. In the rooms you've designed, do you take a personal ownership of them, or do you work closely with your clients?
SS: I think the most important thing to me in this profession, is you have to understand your client. And it's fun for me to get to know my clients and interview them and talk to them, and see who they are and what their vibe is and how they want to live and interpret it for them, and that's why all my projects look so different.
MS: That's also so fun—from mid-century modern to late 18th century. And even before that, antiquities also interest you.
SS: I love antiquities. I love stone.
MS: In terms of the art collectors that you work with, and you've worked with some amazing art collectors, do you start with the art in a room?
SS: First I understand the environment that people want to create, how they want to live with these paintings. I have a photographic mind, and I know every picture they have; I know the colors, I even know the composition, but I don't decorate from the paintings and the art. It's all about creating a kind of puzzle in my head.
MS: When did you decide that you could actually take a person's home and alter it in such a way that would make an amazing environment?
SS: I was lucky enough to be brought up in a very small town in Durant, Oklahoma. I had great parents, very intelligent, who pushed me. They knew they were dealing with some kind of nut job here, but they were compassionate. My mother was driving me back and forth to art classes when I was 14 years old in Dallas, and I wanted to be a painter. I painted all my life. I loved it. I still do. My dad said, You've got to get a good education and a real profession. I loved interior design. After high school, I left Oklahoma. I spent a year at SMU in Dallas then I went off to North Texas University, which had a fantastic design program. My dad told me if I would graduate with a degree, they would send me to Europe, because that's what I wanted to do. I went to Europe, lived there for three years, and then he made me come back and get a real job in Dallas. I had a design shop there. I lasted 10 years in Dallas, then I came to New York.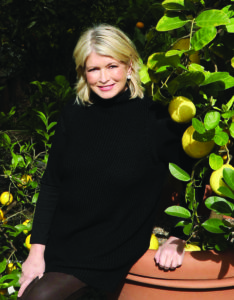 MS: And started your own business?
SS: I was still in Oklahoma before I moved to New York, and the clients of my dear friends from Texas came up. I did their houses, got a lot of press early on and was off.
MS: Now you've been spending time going down to South America. What are you finding there?
SS: I've been looking for Brazilian furniture at shops in São Paulo. It's expensive, because it's fashionable now.
MS: What would you say completes a room when you've finally finished decorating?
SS: People or beautiful flowers or a plant—something growing and living.
MS: What's the biggest mistake people make when decorating a home?
SS: There are so many. I think one of the corniest mistakes is decorating from a rug­. That is the worst.
MS: What's your favorite color?
SS: White, beige.
MS: You're known for that subtle backdrop in a lot of your rooms.
SS: Yes. I love it because it's a great canvas for objects and furniture.
MS: And what would your favorite fabric be?
SS: Simple cotton.
MS: What style of furniture is your favorite?
SS: The most refined furniture and the greatest line is late 18th-century French. It's all made up of mahogany, with no embellishments or bronze.
MS: You and I could talk forever about all these subjects.
This interview took place at the 2019 American Federation of Arts Spring Luncheon on June 4. amfedarts.org; stephensills.com