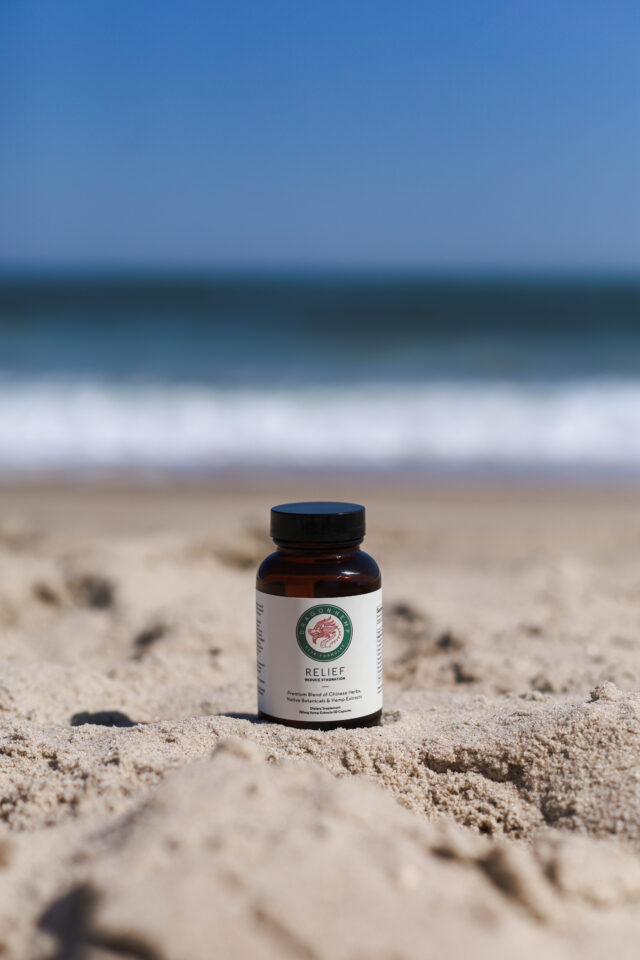 Renowned acupuncturist Kevin Menard, LAc, has been helping the East End heal from chronic pain and internal conditions for a decade, regularly implementing functional herbs in his practice. Now pivoting to another ancient remedy also found in traditional Chinese medicine, Menard is harnessing the powers of cannabinoids—referred to in Chinese texts as máfen—to soothe pain and support relaxation. Combining high-quality hemp with Chinese herbs and other healing botanicals, Dragon Hemp's line of proprietary formulas enhance performance, support recovery and help restore overall well-being.
Dragon Hemp's collection is engineered to regulate the body's energy through four channels: mental clarity, sleep support, chronic pain relief and inner calm. "We're very lucky to partner with a farm in upstate New York called Hudson Hemp," says Menard. "They're on their game. I think they produce the finest quality hemp in New York, if not the Northeast. It's premium grade and organic, so they grow and process there and have amazing chemists on board that actually worked with me on the extractions of the Chinese herbs to blend them together."
Dragon Hemp's Reach variety, infused with full-spectrum hemp, green tea, corydalis, yerba mate and ginseng, gives the brain an extra edge to think more quickly, process information more efficiently and provide a steady crescendo of energy without jitters. For those living with chronic pain, Dragon Hemp offers CBD-based remedies that can be used in tandem to fight aches, including the signature topical Cooling Balm made with frankincense, myrrh and red peony root for acute injuries, plus a Relief variety that can be ingested in tincture or capsule form. Kick insomnia and restless sleep to the curb with Dragon Hemp's Rest supplement, containing both CBD and CBN (a nonpsychotropic cannabinoid formed from aging THC), plus schisandra fruit, linden, passionflower and lavender. For a full day of ultimate homeostasis, choose the AM-PM Bundle, containing the Reach formula for sustained daytime energy and Rest drops for a gentle, restorative come-down at night.
108 Main St., Sag Harbor; Use code PURIST25 for 25% off at dragonhemp.com