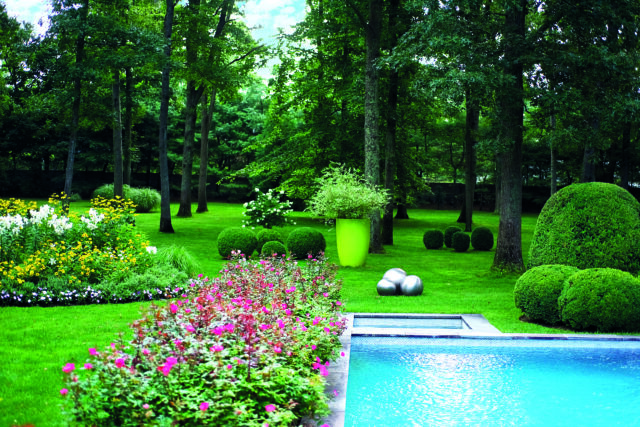 By Frederico Azevedo
Since founding Unlimited Earth Care in 1993, I have immersed myself in the joy of designing sustainable natural spaces suited to the diverse environments of the Hamptons. Unlimited Earth Care offers custom garden and landscape design, as well as full installation and maintenance services.
Unlimited Earth Care reimagines the traditional Hamptons garden by interpreting its aesthetics into modern natural spaces. This can mean pollinator gardens that provide beautiful views while working to enrich local ecosystems, and meadows of wheat studded with colorful flowers in place of high-maintenance lawns. Unlimited Earth Care designs alongside the lifestyles of our clients, and aims to enhance them by inviting life comfortably outdoors and guiding atmospheres for spaces for entertaining and relaxing.
Many studies have linked being in nature, particularly areas rich in green trees and plants, with improved mental health and reduced stress levels. Caring for a garden also promotes mindfulness and calm, and in the last few years I've designed many custom vegetable gardens for clients who are interested in the experience, or who have children or simply love to cook. My signature is color, and I design to make people happy, whether it's with a subtle palette of careful lavenders and soft greens, or a dramatic display of oranges, pinks, and yellows.
The newest addition to the Unlimited Earth Care experience is The Garden Market in Bridgehampton, which offers a curated selection of native and well-adapted plants and flowers chosen to suit the diverse environments in the Hamptons. The adjacent Garden Concept Store offers unique planters and outdoor furniture and garden accessories. This season, we are featuring the newest collection from artisan Brazilian furniture makers, Sossego, who design warm modern pieces with sustainably sourced wood.
My book, Bloom: The Luminous Gardens Of Frederico Azevedo is available for purchase at my stores in Bridgehampton, or from Pointed Leaf Press and Amazon.
Join Unlimited Earth Care on Saturday, June 25th for cocktails and hors d'œuvres to celebrate the season at the Garden Market. 4:30pm-7:30pm, 2249 Scuttle Hole Rd, Bridgehampton.