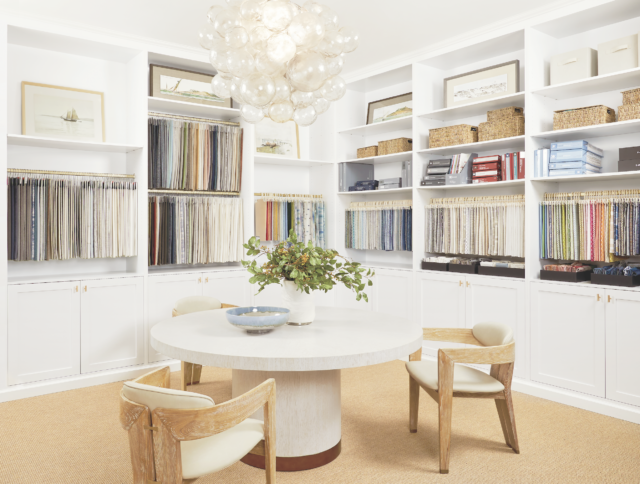 A home renovation journey can be a daunting task to take on alone. A slew of Pinterest boards and "DIY" Youtube channels may make these dramatic transformations look simple—but in reality, design comes with a plethora of unexpected challenges. Instead of flying solo, team up with Kathy Kuo Home, a group of like-minded experts who can bring your domestic dreams to fruition.
With a mission to create spaces that are "exceptional yet acceptable," Kathy Kuo has grown her namesake design firm for over a decade to curate stylish spaces that both enhance and elevate clients' lifestyles. Employing a team of in-house experts trained in both interiors and product design, Kathy Kuo Home is a one-stop destination for every home improvement project.
Lending her expertise to influencers like Cara Loren, Olivia Rink, Jenny Cipoletti and more, Kuo's custom spaces merge comfort and function while sticking to a cohesive aesthetic that serves as the perfect backdrop for any Instagram shot. "Kathy Kuo Home did an amazing job on my son's nursery," says one client. "I was looking for a neutral color scheme with furniture pieces that would grow with my child. Everything turned out exactly how I had imagined, from the room layout to furniture pieces and fabric choices. I was also extremely pleased with the customer service experience."
After being paired with one of Kathy Kuo Home's accredited designers, clients will work to develop a "design schematic," or a visual layout that shows what the completed room will look like. This mock-up includes a floor plan with Kathy Kuo furniture and decor laid out to scale with fabric and color recommendations, as well as any unique design elements specific to the client's space. Kuo's team lays out an individualized plan using two to three inspiration photos or vision boards provided by the client, as well as a wish list of signature Kathy Kuo items that will be incorporated into the room. Kathy Kuo Home can also work with the homeowner's architect or contractor to coordinate finishes, tile, flooring and paint that complement the planned decor elements. Clients can undergo up to three revisions at no additional cost, with each redesign package including concierge services to oversee ordering and installation logistics.
Be sure to visit Kathy Kuo Home's in-store brunch on June 25 for an exclusive look at the brand's summer collection! 30 Jobs Lane, Southampton; kathykuohome.com/designservices