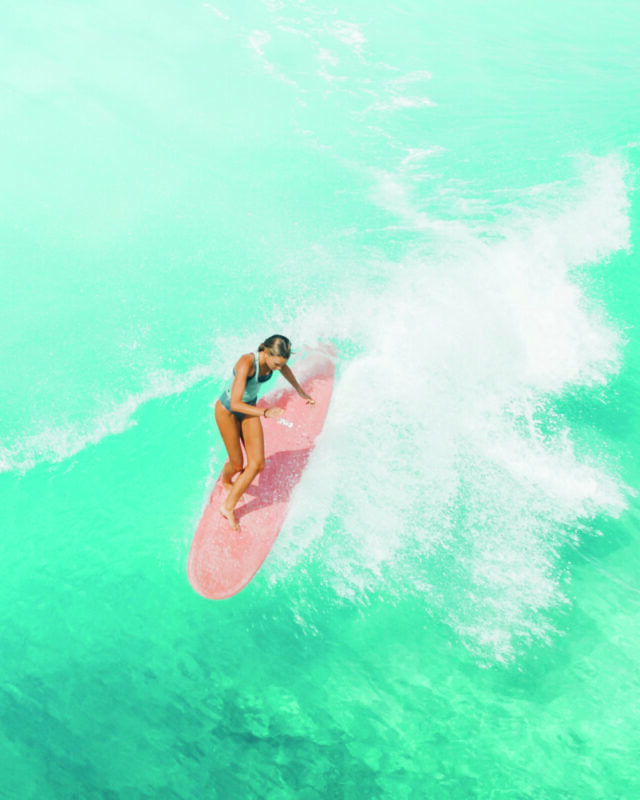 By Adam Rosante
Adam Rosante: For anyone who's not familiar, what is Surfrider Foundation?
Dr. Chad Nelson: The Surfrider Foundation is a nonprofit grassroots organization dedicated to the protection and enjoyment of our world's oceans, waves and beaches for all people. Our activist network of 200 volunteer-led chapters and student clubs across the U.S. tackles coastal protection issues every day to protect clean water and healthy beaches. Founded in 1984 by a handful of visionary surfers in Malibu, California, Surfrider now maintains more than 1 million supporters, activists and members, and we have achieved more than 800 victories for the protection of our coasts.
AR: What would someone who already knows about the organization be surprised to learn?
CN: While we have local chapters in the backyards of most coastal states, we are also working to address ocean protection issues at statewide and federal levels. We fight threats to our ocean and coasts, including poorly planned development, fossil fuel infrastructure and attempts to limit access. We also proactively take action to advance forward-looking protective policies to solve issues at their source, such as plastic reduction legislation, coastal adaptation plans and policies, and the establishment of marine protected areas. Through our collective work, we have protected hundreds of surfing and beach areas, eliminated sources of ocean pollution, stopped threats of development and offshore drilling, and established effective marine protection.
AR: Tell us about your work in the Hamptons.
CN: Through our Eastern Long Island Chapter's Blue Water Task Force program, which was launched nearly 10 years ago, Surfrider volunteers test popular ocean and bay beaches, ponds and streams to fill in the gaps of Suffolk County's beach water testing program. The chapter's program has grown into a massive and collaborative citizen science effort that provides year-round water quality information for more than 60 locations. The efforts of this chapter and local partners have been highly impactful, thanks to our dedicated volunteers and the Surfrider network.
AR: You also do work in Los Angeles, Palm Beach County, Miami and New York City. How does that work differ from what you do in the Hamptons?
CN: While the efforts of our network are similar across the nation, each chapter focuses on local coastal protection issues that are unique to their environment. We do that through stewardship activities like beach cleanups, and campaigns and programs, like our Ocean Friendly Gardens and Blue Water Task Force programs.
AR: What's your biggest challenge right now?
CN: Over the past 37 years, Surfrider has proven effective at defending and protecting our coasts and ocean. While our capacity, skills and impacts have increased significantly over the past five years, so have the challenges. Our ocean is still plagued with plastic pollution, and advances in clean water are backsliding as infrastructure fails or isn't built to withstand a stormier climate. At the same time, climate change is bringing new threats to our coasts through increased sea level rise, more powerful storms and acidification.
AR: Can you share a success story?
CN: One of our many victories is a marathon campaign of more than 15 years that led to the protection of San Onofre State Beach and Trestles from a toll road that would have decimated the last remaining undeveloped watershed in Southern California, the world-famous surf break at Trestles Beach, multiple endangered species and sacred Indigenous sites. That major win was made possible by thousands of passionate and motivated advocates who stood our ground to protect what we love. It also demonstrated that when we combine our efforts, we can effect change, even in the face of major challenges.
AR: Why is it important to use your life to be of service?
CN: Growing up surfing, swimming, lifeguarding and fishing at the beach, I saw the coast being destroyed by overdevelopment and other threats. I realized that if we didn't take action, those impacts would continue. That inspired me to get involved with ocean and coastal protection. At the Surfrider Foundation, we work to protect the places we love: the ocean, waves and beaches.
AR: How can someone get involved with Surfrider?
CN: Anyone interested in the protection of clean water and healthy beaches can join Surfrider as a member and get involved with their local chapter at surfrider.org.