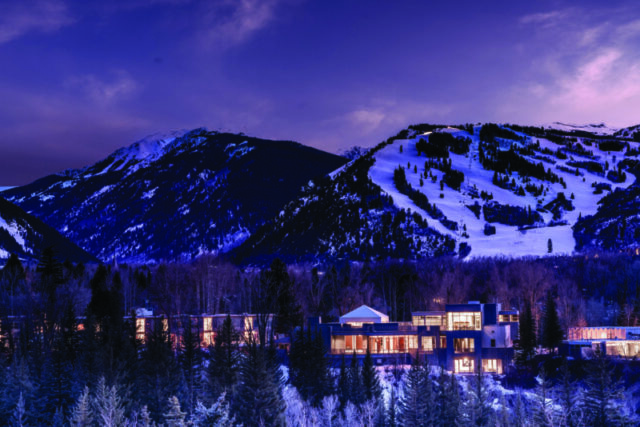 By Linda Hayes
Set within the 40 verdant acres that make up the Aspen Institute campus—at the edge of Aspen's exclusive West End neighborhood and bordered by the Roaring Fork River below—Aspen Meadows Resort, or "the Meadows," as it's locally known, embodies the Bauhaus influence so vital to local character and history.
Home to the Resort's lovely Plato's restaurant, the Walter Isaacson Center (named in honor of the former Aspen Institute president and CEO) is an architectural wonder, as are the series of low-slung buildings that house 98 serene guest suites. Reflecting Bauhaus architect Herbert Bayer's belief in designing the total human environment, the Aspen Meadows Resort epitomizes his crisp, minimalist aesthetic—simple geometric shapes, flat roofs, expanses of glass, cantilevered balconies, industrial materials, and the use of primary colors, whites and grays.
This past May, management of Aspen Meadows Resort was taken over by Salamander Hotels & Resorts, a privately owned and operated luxury resort management company based out of Middleburg, Virginia. And while there may certainly be change afoot, it's tempered by the fact that two key players have local pedigrees—Salamander Vice President of Operations John Speers is a former managing director of The Little Nell in Aspen; General Manager Justin Todd comes from a similar position at W Aspen.
"Salamander has great respect for the foundation laid many years ago, not only of design of the resort, but of the inspiration brought on by all of the incredible events that happen on the (Aspen) Institute campus through summer and the entire year," says Todd. "We are geared to pay homage to that, and also to incorporating more programming on the Aspen Meadows side of campus, so that people and visitors understand that this is a place they can visit and enjoy."
A sensitive renovation of the guest suites is underway by architect Michael Suomi, of Manhattan- and Florida-based hotel design studio Suomi Design Works, to be completed next fall. "Our design reimagines what the guest suites would have looked like coming out of the Bauhaus movement," he says. "It's a true honor to design in the Bauhaus language of Herbert Bayer and extend the legacy of design for which the Aspen Institute is known."
A new type of programming intended to engage the local community was showcased in June, when the Aspen Meadows Resort hosted a Juneteenth Celebration on campus as a closing out of the annual Food & Wine Classic, featuring food by entrepreneurial chef and author Kwame Onwuachi. "It was the start of what we are trying to do," says Todd, "and will continue to build on as we get further into our management of Aspen Meadows." aspenmeadows.com