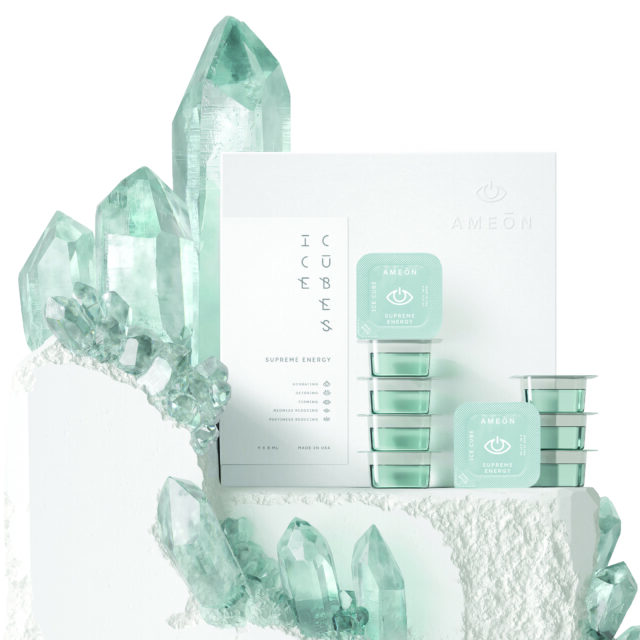 Alina Mehrle, founder of rising skin care brand Ameōn and a partner of global award-winning interior design studio Asthetique, is the quintessential wellness warrior. Merhle's world radically changed after a breast cancer diagnosis at age of 30. After fighting for her life through eight intensive chemotherapy sessions and a double mastectomy, Mehrle went into remission but suffered profound changes to her appearance along the way. To heal her fragile skin, an oncologist recommended cryotherapy, a sacred practice used for centuries to heal and rejuvenate.
After Mehrle experienced the profound effects of cryotherapy, she created Ameōn. "It was not just about beauty for me; it was about healing and love," says Mehrle. "I'm a spiritual person and a tech geek at the same time. I'm hopeful for the future, and I believe in the power of modern science. It saved my life." This is why Ameōn, a combination of the French word "âme" meaning soul, and the philosophy of turning "on" skin's potential, merges the worlds of scientific advancement and mother nature.
Mehrle spent two years meticulously crafting a line of five products for Ameōn. This icy-cold cryo-ritual consists of Glow Manifesto and Supreme Energy Ice Cubes, which awaken tired and irritated skin while creating a smooth foundation for makeup application. These unique frozen remedies can be paired with the Aurora Glow Serum or the Baby Buddha Calming Serum, along with the lightweight, ultra-absorbent Holy Cream Diamond Moisturizer.
Take this novel beauty regimen up a notch at the Ameōn retreat within the Equinox fitness space at Rockefeller Center, a tranquil respite from the hectic streets of Midtown. Surrounded by chic art and vintage design motifs, guests can tune into inner bliss with an ice sculpting facial, intended to tighten and brighten skin while accentuating the natural contours of the face. "Ameōn is a movement," Merhle says. "Our brand philosophy marries inner spirituality with novel technological innovation through thoughtful skin care remedies and self expression."
Visit AMEŌN at 45 Rockefeller Plaza inside the Salon Project at Equinox; ameonskin.com