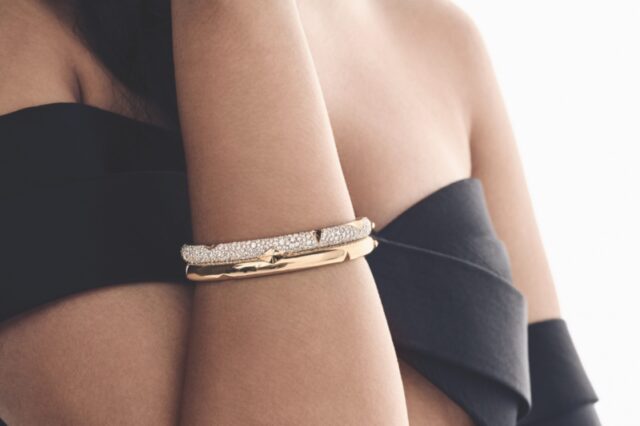 By Julia Szabo
"Diamonds made from air" sounds like a beautiful fantasy—and it's a reality in the luxury cosmos of Aether Diamonds (aether is a Greek word for the sky's upper reaches). Diamonds and sustainability are the keywords of every Aether Diamonds creation, whether the stunning Synthesis Statement Earrings, or the Octo Stud Signet Ring With Floating Diamond, from Aether Diamonds' just-launched Bombé Collection.
If you prefer a ring around your wrist to one on your finger, consider the Double Pavé Set Octo Stud Bangle. Meanwhile, the Ascent Pavé Diamond Engagement Ring's continuous geometric setting is a high-tech honeycomb of 18K Fairmined gold. Apart from their eco-consciousness, Aether diamonds are quite simply gorgeous, brilliant evidence that sustainability really is the new luxury.
"I am proud of the fact that we've been able to solve a problem that has been a universal challenge for the diamond trade," says Ryan Shearman, Aether Diamonds' CEO and co-founder. Mined diamonds and other lab-grown diamonds are made from carbon sources (i.e. fossil fuels) extracted from the ground regardless of the negative impact on the Earth. But Aether's diamonds take their carbon from a higher source: air. In a patented process, Aether Diamonds uses direct air (CO2) capture technology to extract carbon from the atmosphere. Next, the captured CO2 is synthesized into the hydrocarbon "feedstock" needed to grow diamonds in a chemical vapor deposition reactor. "Aether diamonds are the first diamonds on the market that drive a tangible, positive impact for both people and planet," Shearman says. Further to his point, another piece from the Bombé Collection, Aether Diamonds' Octo Stud Bauble Statement Earrings With Floating Stones, resembles the great globe itself, a symbol of how intentional design choices can help save the Earth.
"Sustainability may have once come with significant sacrifice when it comes to traditional hallmarks of luxury," Shearman allows, but no longer. "We believe that era is finally behind us, thanks to cutting-edge technologies just making their way to market. For Aether Diamonds, maintaining the importance of craftsmanship, design and superior quality while developing planet-friendly technologies has always been our true north." aetherdiamonds.com