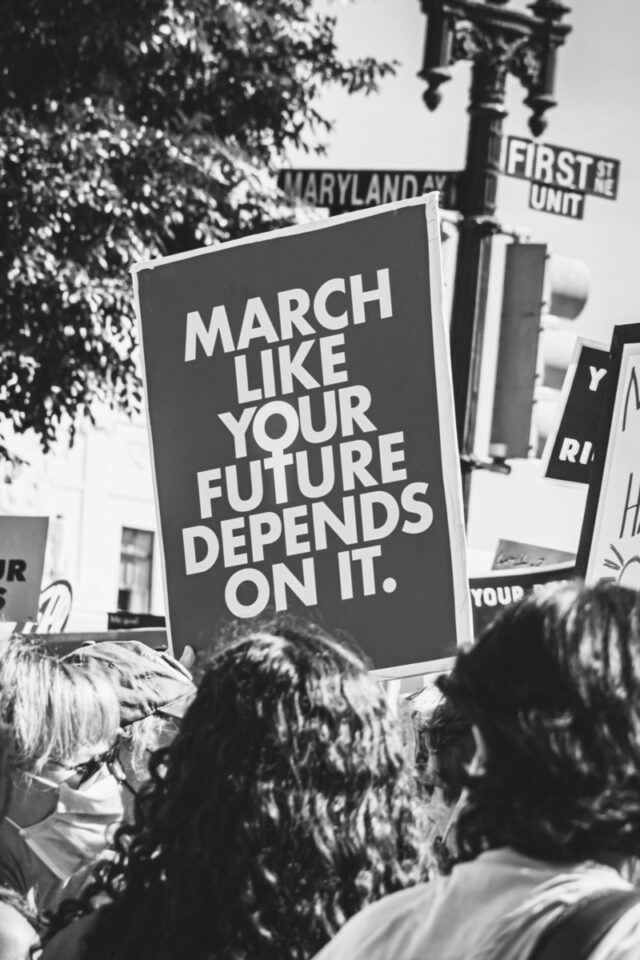 By Amely Greeven
Starting with our 2016 postpartum companion, The First Forty Days, and our new pregnancy companion, Nine Golden Months, my co-authors, Heng Ou and Marisa Belger, and I have spent years encouraging women to reclaim a more supported maternal experience, rooted in traditions of community care. A circle of midwives, birth workers, guides and healers from East and West that we call our "wise ones" has become our books' village of elders and sisters. Their words invite a shift from outsourcing oversight of our bodies and a return to sourcing deeply from within. I turned to this village now, hoping to reframe my response to this monumental rollback of rights and unearth a pathway through the darkness. Khefri Riley is a doula, educator, mompreneur and co-director of the Frontline Doulas perinatal health program in Los Angeles, which connects Black families to Black doulas. She shared the following four insights:
1. Circle Together
This moment is calling us to be fully activated, stepping up for and centering communities who have been historically marginalized, as well as for our local communities. Simultaneously we are called to be stewards of one another, and pivot into being protective nurturers for our communities. Can we be curious at this moment? I believe we can radically reimagine, remember and reclaim—a return to a primal knowing that we are the ones responsible for the power of our wombs. One way to access that power is being able to soften into our innate potency. If we only harden and rage in this furious moment, if we only prepare for the war on our wombs, we may miss the opportunity to find solutions from a place of liberation and wholeness. So often we put on our Superwoman capes and keep flying, but in fact, right now we need to make sure we also slow down, rest and gather our inner resources, so the solutions come from a mindful, invigorated place.
An important act we can each do is to create nurturing, safe spaces to gather, rest, heal past traumas and collective wounds, and move forward, intentionally making cocreated decisions on how we're going to move together as a whole—because we can't do this alone in a framework of separateness. Gathering might look like a small circle of friends, wider sister/brother circles or community healing circles. We should include the younger generation, the elders and all who have wombs. Nurture the awareness of reproductive cycles, acknowledge our reproductive responsibilities and create safe spaces to honor our daughters' first bleeds. So much of our power is in our softness, our nurturing, our fertility, fecundity and creativity. Our power is there even when we're not doing anything, it is just in our beingness. This kind of feminine power, not exclusive to gender, is capable of profound change and while it can be violated, it can't be taken away, which is why it is threatening to oppressive systems. Don't worry about circling together any "right way." You only need to gather with a shared intention. By intentionally gathering together, the healing occurs.
2. Return to Our Roots
Part of the awakening moment will take place in the care we seek out for ourselves and our younger generation. We can reposition ourselves outside of the Western industrial-medical complex and return to care that centers our needs, voices and our human rights first. This might look like finding health care providers who are culturally coherent and competent, who are good listeners, who make you feel truly seen and heard; or learning how to access education on natural family planning and even holistic reproductive health care. So many women assume they "have to" go to a busy OB/GYN office for all matters of reproductive health. That's not true. Midwives and family clinics can handle not just pregnancy and birth outcomes, but all low-risk reproductive concerns, starting with our early menstruation years. Midwifery-led care centers the whole person and family, not the medical treatment or intervention. Doulas trained as abortion doulas or full-spectrum doulas can offer emotional and social support for pregnancy release. In California, doula support for abortions should be available on Medi-Cal starting in January 2023 (a cause that I have been involved with as a stakeholder). This is a time to share knowledge about what other kinds of reproductive care is available outside the Western medical model of care.
3. Support the Front Lines
Just as this rollback of rights will impact marginalized and underserved communities more than others, the burden of care will fall even deeper into the caregivers, practitioners and community-based organizations who bring support to the womb-bearers in those communities—the midwives, the doulas, the family clinics. Activists who have been fighting for better maternal outcomes will now also fight for abortion rights. Consider this a magnificent call to action for anyone who cares about the most impacted people right now: Make donations to organizations that do reproductive justice activism, who train full-spectrum doulas, who create abortion doula workforce development, and to local midwives who seek training in abortion care. If you are in a state where pregnant people may have to make perilous journeys under threat of criminalization, support those who will make a safe space for them to land.
4. Don't Lose Joy
It's easy to feel like the Supreme Court decision has decimated our reproductive rights to ashes. Even so, there is beauty there in the ashes. What helps me is contemplation of the Buddhist teachings of impermanence. This is a temporary, impermanent setback in the scheme of things; we will find solutions by walking in the reawakening of our sovereign power, of our feminine wisdom in action, in the strength and success of our predecessors. While it may feel that we can't escape the shadow aspects of society's dominant systems of oppression—and the oppressors, who, for way too long, have loved to position themselves inside a woman's reproductive journey—this is their one final struggle. If you want to be up in our wombs, then you'd better get ready, because you are gonna get healed by our wombs. How can we invite ourselves to be the radical healers that we need in this moment? As we like to say at Frontline Doulas, "the revolution is in the womb." It's up to us to envision and stand firm in the revolution that we seek—what we see for ourselves, the health of our communities and for future generations. Let us reset the soil joyfully, with an exuberant framework so the youth can be inspired to reconfigure new systems in a magnificent way.
Nine Golden Months: The Essential Art of Nurturing the Mother-To-Be is released Aug. 30 from Abrams.
RESOURCES
Frontline Doulas – Centering the Community program, frontlinedoulas.com
Birthing Advocacy Doula Training, badoulatrainings.org
Sister Song, a reproductive justice organization, sistersong.net
Miscarriage and Abortion Hotline: 833.246.2632 (operates 8AM to 2AM EST)
Exhale Pro-Voice Hotline: 617.749.2948 (nonjudgmental counseling, operates 3PM to 9PM weekdays, 1PM to 9PM Saturdays, and 3PM to 7PM Sundays, all PST)