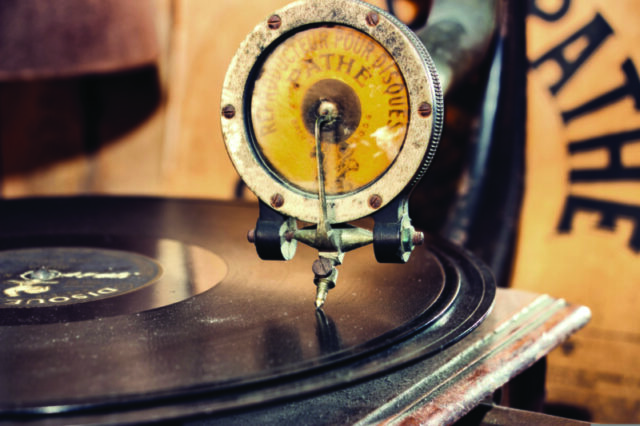 "Music gives a soul to the universe, wings to the mind, flight to the Imagination and life to everything." —Plato
Some people seek silence. Others need a hot shower or a long soak in a warm bath. For many, it's meditation or yoga. A friend of mine runs 4 to 6 miles six days a week no matter where on Earth he is. It clears his head. For me, it's music—all kinds, every day—and has been for most of my life. From lullabies to rock 'n' roll, from The Great American Songbook to modern jazz, from baroque to the blues, music has soothed my soul, uplifted me, made me laugh and cry, and gotten me through the toughest of days and the hardest of nights.
With few exceptions, I consider music to be the world's most foolproof panacea. Think of the power of national anthems like "America (My Country, 'Tis of Thee)" and "God Save The King" (same melody, by the way) to stir a throng. Likewise, a marching band at a Columbus Day or St. Patrick's Day parade. Both the real-life John Philip Sousa and the fictional Professor Harold Hill of The Music Man knew well the potency of that unbeatable combination of drums, tubas and trombones (ideally, 76). Gospel music raises our spirits and hymns cause us to reflect. And then there is music that can do harm: Take the legend of the Pied Piper, originally a scurrilous character in the early 13th century who promised to get rid of rats in the German city of Hamelin by luring them away and is now another name for any leader who can incite a crowd with bad intentions (anybody come to mind?).
None other than Oliver Sacks, the revered neurologist, wrote a book called Musicophilia. In it he states: "Music, uniquely among the arts, is both completely abstract and profoundly emotional. Music can pierce the heart directly; it needs no mediation."
My parents were music lovers. (Incidentally, the word for music lover is "melomaniac.") They grew up during the Great Depression and in the 1940s big-band era (led by Glenn Miller, Benny Goodman, Artie Shaw and others) during and just after World War II. Their musical choices, in turn, influenced mine to this day.
By the time it was the early 1950s, I knew the lyrics to whatever was on Your Hit Parade (a then-popular TV show), including inane tunes like "(How Much Is) That Doggie In the Window." With the advent of long-playing records (LPs) and hi-fi and stereo systems, the landscape markedly improved. By then, my parents were buying albums by Frank Sinatra and Ella Fitzgerald. I remember hearing Sinatra crooning, "I've Got the World on a String," arranged by the brilliant Nelson Riddle, and memorizing every line. Imagine an 8-year-old kid belting out "What a world, what a life, I'm in love!"
Early in the 1950s, my grandmother took me to see The Wizard of Oz (originally released in 1939) at a movie theater. The score is forever in my heart. My sister and I committed the lyrics and some of the famous lines ("I'll get you my pretty, and your little dog too") to memory. At family gatherings and to my parents' utter embarrassment, we'd perform to eyes rolling.
Enter Elvis, rock 'n' roll and doo-wop in the late '50s. As soon as school let out, I'd rush home to watch American Bandstand with its host, Dick Clark, and a bunch of teenagers from Philadelphia dancing to the Shirelles ("I Met Him On a Sunday"), Danny & the Juniors ("Rock and Roll Is Here to Stay") and Chubby Checker urging us to "Twist again like we did last summer." OK, I'm dating myself. But it was none other than Dick Clark who coined the phrase "Music is the soundtrack of our lives." It certainly became mine.
By the 1960s, Motown, the Beatles, the Beach Boys and a new Brazilian sound called bossa nova had swept in. It was also my introduction to jazz, thanks to a boyfriend who played the saxophone (sort of) and waited tables on weekends at the Five Spot Café in Greenwich Village, where the hipper-than-thou pianist and composer Thelonious Monk held court.
I was enthralled by it all, but it was my obsession with jazz that deepened, leading to attending late-night jam sessions in overcrowded downtown clubs and eventually—years later—to a seat on the Board of Jazz at Lincoln Center, headed by the incomparable Wynton Marsalis. I even took piano lessons for about 10 years in the late 1980s to learn how to play chords and read from what's called a "fake book." My teacher was superb, despite one irritating flaw: He was an ultra-right-wing conservative who worshipped Rush Limbaugh. But as soon as he sat at the keyboard, he became Erroll Garner or Oscar Peterson.
A later fling with opera and classical music enhanced my listening repertoire, so these days there isn't much I won't listen to. Confession: I am not a Wagner fan and while I like dissonance, I wince when I hear anything too discordant.
In my opinion, the best radio station for classical music is WQXR. I have the app, am a longtime monthly sustaining member and wake up to it every single morning. The hosts are dedicated, sometimes funny and have exquisite taste. Even the occasional fundraisers are bearable because the team is having a good time.
That brings me to the here and now. Like many people, I regularly tune in to Pandora, sometimes Spotify and Amazon on a regular basis. I have Sonos speakers, several pairs of earbuds and large noise-canceling headphones. My online library is extensive, so don't expect me to call out to Alexa for sentimental reasons. I often turn on YouTube to watch favorite videos and just signed up for "Jazz Live," Jazz at Lincoln Center's new video app for an annual fee of $99.99, which is less than an orchestra ticket.
As for music's ability to console, when my husband died two years ago, I turned to what we considered "our songs" (especially the Gershwins' "Love Is Here to Stay)." Miraculously, music got me through, as it has for so many in mourning.
The Friday after Thanksgiving, my go-to for the season is the soundtrack to A Charlie Brown Christmas, composed and played by the Vince Guaraldi Trio. Two of my favorite "place" songs are "April in Paris" (sung by Dinah Shore, accompanied by André Previn) and Billie Holiday's rendition of "Autumn in New York." Both were written by Vernon Duke (real name: Vladimir Dukelsky). I light up to Leonard Bernstein's overture to Candide and weep over "Somewhere (There's a Place for Us)" from West Side Story.
If it seems as if I'm way too "back there" for some of you Purists, then so be it. I don't apologize for my preferences, and neither should you. Yes, music can bring us together—at a Broadway show, a concert, an opera or a fireworks display. It can also tear us apart "(Marvin Gaye's "I Heard It Through the Grapevine" or "Earth, Wind & Fire's "After the Love Has Gone"). Sometimes, it's best experienced when all alone. No matter. Listen to what pleases, pacifies or ignites you. Silence may be golden, but music is magic—and the world's best medicine.