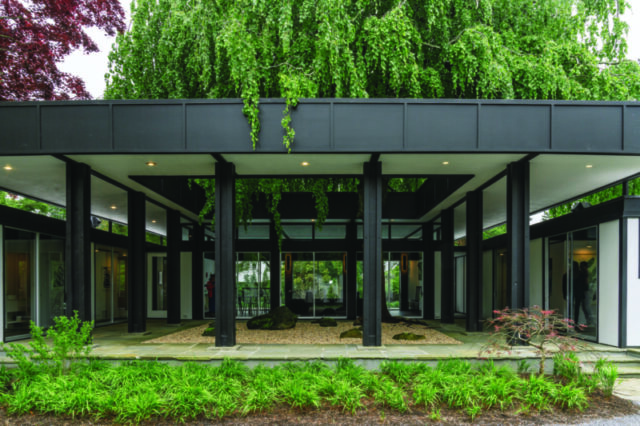 By Regina Weinreich
Lisa Perry has reinvented her brand at Onna House, an East Hampton show space in a Japanese modernist 1960s house for art by women. Prior to the pandemic, the fashion/interior designer and art collector's aesthetic was easy to spot: in fashion, signature A-line dresses with circle pockets in color; in decor, a look defined by bold planes of color on white. Sheltering in her North Haven home and imagining a new project and studio for herself, she was struck by @thecreativesagent on Instagram with a plea: Save this house.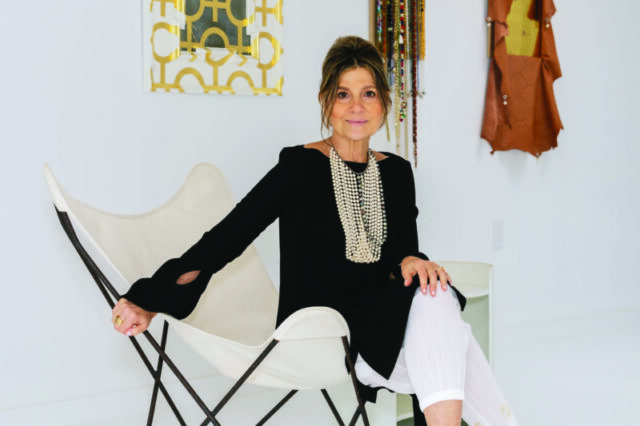 With her husband, former hedge fund manager Richard Perry, she bought what might have been a teardown to others, a midcentury steel-and-glass landmark designed by Paul Lester Wiener, built in 1962 for Pop Art collectors Robert and Ethel Scull. They were kindred spirits for Perry, in taste, politics and arts patronage. Robert was the first to commission a portrait from Andy Warhol—of his wife, in the manner of "Marilyn Diptych." The Sculls hosted political parties in this East Hampton home. Betty Friedan and Gloria Steinem had been guests. Politically active, especially advocating for women, Lisa Perry felt the synergy. Hillary Clinton wrote the foreword to Lisa Perry: Fashion, Homes, Design (Assouline).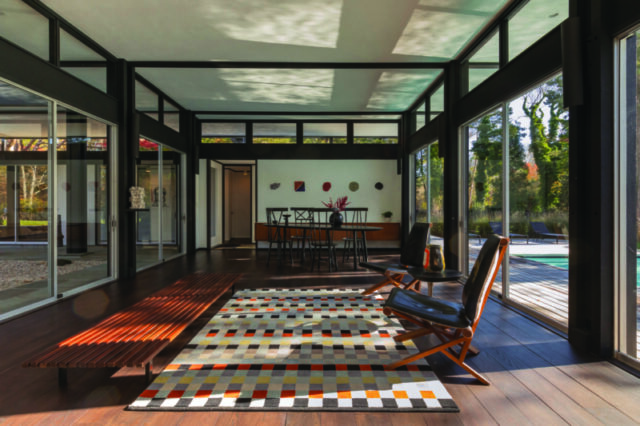 Perry had favored Pop Art pieces, adorning her residences in North Haven, a Sutton Place penthouse in Manhattan, Palm Beach in Florida, and Villefranche-sur-Mer in France with works by Warhol, Roy Lichtenstein, Damien Hirst and Jeff Koons. The Scull house, she says, resembled her home growing up. The bathrooms and kitchen may not have been renovated since they were built, but she "loved the beautiful bones and the vibe." And she did not want what happened to her childhood home to happen here.
She was reared in a Chicago suburb; her family's George Fred Keck-designed house was later demolished. This was where Perry's eye developed, with Scandinavian design, Charles and Ray Eames chairs and Herman Miller cocktail tables. Simple lines. A Bauhaus lack of embellishment. And no doors, just shoji screens.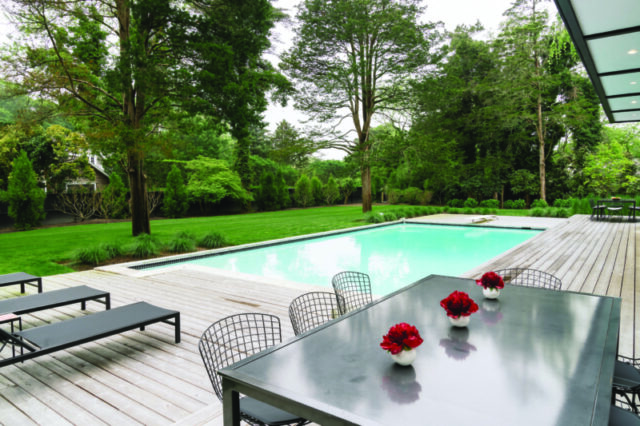 A graduate of the Fashion Institute of Technology, Perry worked in the New York offices of the family business, Dana Mills, and visited textile factories, instilling a love of art and design that sparked Onna House, named for the Japanese word for woman.
"I'm more creative when I'm around creative people," she says, imagining Onna House as an artist refuge and a space to showcase Asian women creatives who needed to be seen. But then Russell Steele, an East Hampton antiques dealer, pointed out, there are plenty of women artists in the Hamptons, prompting her to expand the scope of the gallery to include all female artists. Perry owns the work, so the experience of visiting Onna House is like coming to a private residence to view the art and decor: weavings, textiles, sculpture, ceramics, stone, teapots and vintage kimonos. Noting a boom in galleries out East, Perry is proud that "Onna House is seen as a little sister to established Hamptons spaces such as the Watermill Center, LongHouse, and Guild Hall." An early sign of success: East End art stars Toni Ross and Almond Zigmund bonding in Onna House's new kitchen. onnahouse.com
The first exhibition for 2023, Pearls, Pills & Protests, in response to the overturning of Roe v. Wade, features work by artists such as Jerelyn Hanrahan, Kelly Chuning, Lulu Varona and Michele Pred, who promote ideas through their creative media. It is on view from May 27-June 25.