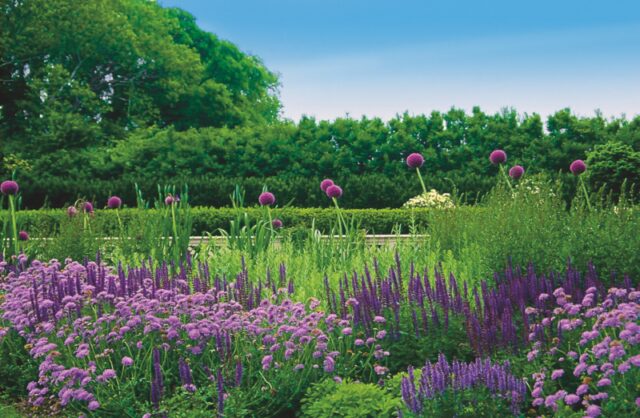 PURIST: Congratulations on three decades of Unlimited Earth Care. What inspired you to create the business?
Frederico Azevedo: Thank you, I'm so proud to reach this milestone of 30 years of colorful, sustainable garden design, but it has really been 30 years of incredible collaboration and strong relationships with my team and clients. I studied garden and landscape design in England and the U.S., and my intention was to have my own firm and be able to design according to my own sense of color and aesthetics, while implementing the sustainable methods inspired by my mentors in the U.K. and Brazilian design visionaries. When I saw the Hamptons, I knew it was the right place. Everyone talks about that incredible light, but what makes the Hamptons a special place goes below the surface. When I saw farmland, ocean, bay and woods, I knew that it would be challenging to accommodate so many types of soil—but it made me feel excited. In 1993, I founded Unlimited Earth Care. Every project has presented unique challenges to designing a healthy, beautiful, sustainable garden. I remember from my early days that all-white gardens were trendy, and I design in full color, so there was a moment of tension: Would I conform to what people wanted, or follow my own ideas? I went with my instinct, and people responded positively.
PURIST: What were a few milestones over the years?
FA: Some of the most important milestones for Unlimited Earth Care were my book, Bloom: The Luminous Gardens of Frederico Azevedo, which we celebrated the launch of with Purist. The Garden Concept Store and The Garden Market, which opened last year, also stand out as big moments. The Garden Market is the chance to open up the Unlimited Earth Care aesthetic to more people; we carry plants and flowers that I use in my designs, and that I know do well in the Hamptons. It has been so exciting to see what people do with them. I especially love to see people putting together their own pollinator gardens to attract and support butterflies, bees and hummingbirds.
PURIST: Beyond the high points, what were some of the hurdles or struggles?
FA: Garden design is a social process, and I think people often underestimate how much coordination is an essential part of successful design. I find it pleasurable, but it is always a process. In a way, garden and landscape design is also about having good communication with nature: I have to read the signs that the soil, plants and flowers are giving me, and work with them to find the healthiest solution. Every element in the garden is telling you what it needs; you just have to know how to listen.
PURIST: How have you seen the needs of clients change over the years?
FA: People are working from home more, and having colorful outdoor spaces can really enhance daily life. A garden is more than an outdoor room; it's a space of living things, of dragonflies, flowers and birds—it's a whole environment to interact with and watch. unlimitedearthcare.com