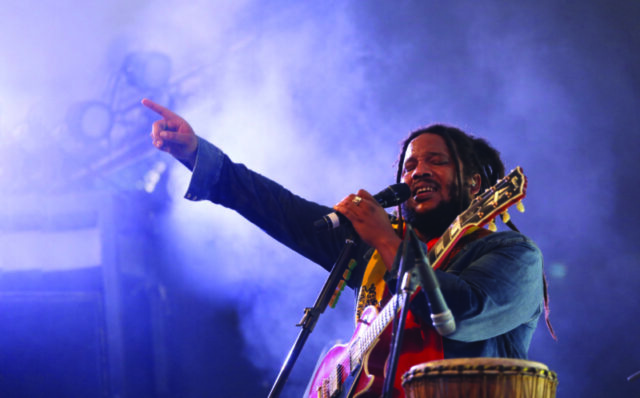 By Vivien Goldman
A feature of the many musical junior Marleys—now three generations deep, as Skip Marley, Bob Marley's grandson, is a young leader of the pack—is how their singing voices often resemble that of the late patriarch. It was evident even back in 1979, when the world first heard Ziggy Marley & The Melody Makers, the band put together by Bob and consisting of his children with wife, Rita: Stephen, the youngest, Cedella and Ziggy. Stephen wryly reflects on the father-son artistic echo, "Well, I am a fruit from that tree, so nothing hard in being just that…no thought to it…just being oneself."
In "Old Soul," his new single and the title track of his imminent album, he muses on the ancestral spiritual inspiration, genetic and otherwise, that propels him forward to represent. Evoking an encouraging childhood, he sweetly sings, "I was the favorite." Of his paternal training, Stephen recalls, "He would always tell us to practice and be serious about it, if we're going to do it."
Now, as he hits the Hamptons for his 51st birthday, with his Babylon By Bus tour (coming to the Clubhouse in East Hampton on July 29), a creative conglomerate of other Marleys, including his popular nephew, Skip, and sundry bright sparks of Jamaican talent, Stephen is proving he learned Bob's lessons well.
The whole touring shebang is spearheaded by the acoustic grace of "Old Soul," in which Stephen channels the epic minimalism of "Redemption Song"—a Marley classic he told The Guardian he would have liked to have written. Its touching video is dedicated (or "livicated," as Rastas prefer to say, with their inventive, profound use of language), to Stephen's eldest son, Jo Mersa Marley, also a musician, who died tragically young in December 2022.
In the several years I covered Bob Marley as a journalist, at home in Jamaica, where he had a studio, or on the road, the kids were too young to be around much in the workplace. But whenever Bob spoke of them, it was with a proud smile, and he applied to their training the same rigorous discipline he directed to his own music and leadership.
The children of Bob's many legendary liaisons, brief or enduring, have long since formed a de facto clan, sensibly welded by Rita. They became the Royal Family of Reggae, and Stephen was always recognized as the tribe's in-house producer from a young age. But since 2007, he has also been a solo artist, winning Grammys for his first three projects (he has five more as a producer). "People kept asking for a 'Steve set,' so that was really the inspiration behind me performing more," is his humble comment on the transition that propelled him to step forward now as an elder statesman and guardian of sacred mentors and memories in "Old Soul."
"Everything me sing about come true, you know, every time," Bob Marley once said to me about his compositions. Seeing generation after generation of Marleys grow into the family music business—and diversify into so many others business areas, as well, from coffee to (legal) ganja—makes any fan of his lyrics smile at the fulfillment of Bob's prophecy in the song "So Jah Seh": "Not one of my seeds / Shall sit on the sidewalk / And beg bread." clubhousehamptons.com