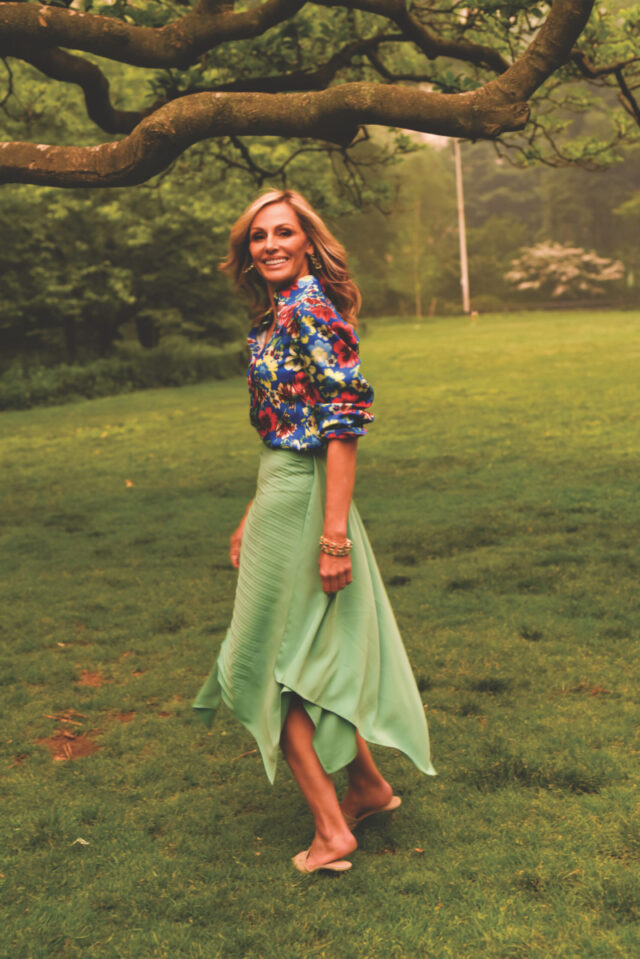 By Jim Shi
"Heaven on Earth." Jamie Tisch doesn't mince words when asked to describe Aspen, the picturesque hamlet she's called home each summer for the better half of two decades. Renowned the world over for its skiing and après-ski scene, for Tisch, a statuesque and athletic mother of three, Aspen in bloom is where she finds her balance—both spiritually and physically. "My meditation is just being in nature here," she says, "whether it's hiking the Roaring Fork, sitting in my backyard listening to the rush of the river or, as I have recently started to garden, tending to my tomato plants."
This summer, Tisch has joined forces with high-design emporium R & Company to showcase the likes of Rogan Gregory, Jeff Zimmermann and Katie Stout at Pitkin Projects, the concept gallery she founded in 2020 as a pop-up that has since grown to be an Aspen mainstay. "I bought a [Joaquim] Tenreiro cabinet from them 20 years ago at a show at the Santa Monica Civic Auditorium and started following them as an antiques groupie," she recalls. "This was all pre-Instagram, after all."
Complementing the lineup this summer are works by Nancy Pearce, known for her stunning bronze pieces, glass designs from Paul Arnhold, jewelry by Lisa Eisner, and Gregory Parkinson's textiles. "Aspen has wonderful galleries, but I'm not a gallerist," Tisch admits. "The anti-gallery feel is really part of its success." Also on hand at Pitkin Projects will be a series of drinks trays Tisch commissioned from local artist Jody Guralnick. "I'm a shop girl; what's featured at Pitkin is really a collaboration of art in many forms—all things I love."
At 5-foot-11, Tisch is an avid paddleboarder, hiker and biker, yet cuts quite the figure in her high-profile social circles—be it raising funds for the Entertainment Industry's Women's Cancer Research Fund she co-founded, or sitting courtside at the French Open. But at the end of the day, "Aspen is the place that I genuinely want to be," she says. "No matter where I am, a piece of me always longs to be here."
How she unwinds in the 81611 comes in many forms: dinner and game night with family; yoga and Pilates (her go-tos remain Anna Armstrong at O2 Aspen and Jen Metcalf at Higher Terrain) or hiking up to the Tenth Mountain Hut Division—originally created by the U.S. Army in 1943 to train soldiers to fight in cold weather and high-altitude terrain. "I also try to be still and quiet for 15 minutes a day," she says with a chuckle.
There is no shortage of activities for the town's discerning aesthetes. But for Tisch, the annual ArtCrush Gala she co-chairs each August is the highlight of the summer season.
"There is something so majestic about being in the mountains. There's a freedom that exists here unlike anywhere else," she says. "From extreme workouts to talks on world security, Aspen offers something for everyone." 516 E. Hyman Ave., Aspen; pitkinprojects.com
Quickfire Aspen Q&A with Jamie Tisch
Lunch spot: The Butcher's Block
Hiking trail: Smuggler Mountain for a quick catch-up with friends; American Lake if I have more time.
Dinner spot: My house with friends
Mountain: Highlands to ski, Tiehack to skin, and all of them to hike
Salad: Sabrina's Spring Salad at Spring Café Aspen
Cocktail: Gardener from Matsuhisa
Market: Aspen farmer's market on Saturday morning
Secret spot: The bookstore at St. Benedict's Monastery is not to be missed! They also sell delicious honey made from their monastery farm.
Signature dish you make at home: Butternut squash soufflé