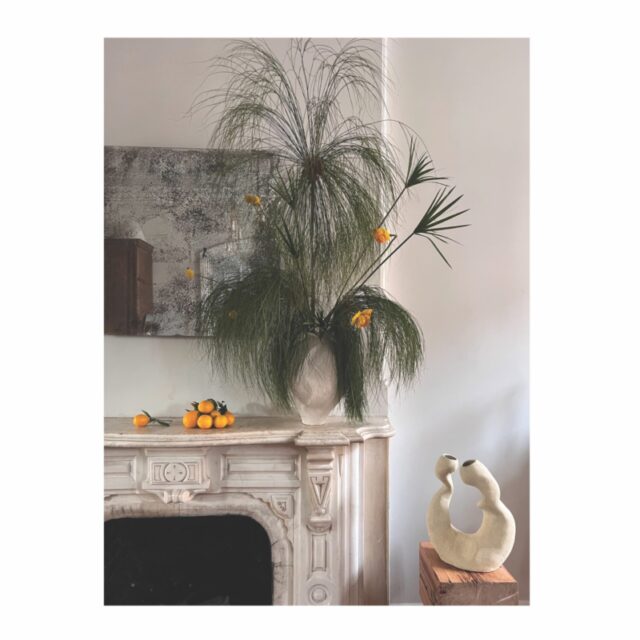 By Amely Greeven
April Johnson is giving flowers a major new moment. The longtime fashion stylist, design consultant and founder of made-in-New York fashion label Alasdair switched lanes during the pandemic, when disconnection and isolation compelled her to plunge her hands into organic matter. Tapping back into the bounty of nature she'd embraced as a young girl in rural Arkansas, she began crafting with flowers, fibers and unexpected plant materials instead of clothing. Very much not a floral arranger by training, she began breaking the old-school rules: outsize '30s glamour collided with '80s exuberance, mindful Japanese ikebana rubbed up against edgy punk, and as Johnson fell crazy in love with the unlimited possibilities of plants, her project Flowerpsycho was born.
Her large-scale arrangements of tropical plants and native flowers are the most-Instagrammed design feature at downtown's bastion of chic, Nine Orchard, where she oversees all of the hotel's floral visuals. Design gurus like Jenna Lyons and Ulla Johnson let the fledgling arranger's imagination run wild for private parties—a tonal orchestration of all-things-chartreuse perfectly complemented Lyons' legendary pink sofa, while maple sugar "flower floss" glittering with rose petals and lavender made partygoers giggle like kids. Gucci let her spill decadent blood roses and red peonies onto dinner tables from lavish silver cups. For large spaces like design showrooms, she pushes the edge further, crafting outsize sculptural installations such as floating hydrangea balls (one was hand-tinted charcoal black) and massive three-dimensional wall art made of hand-sewn wheat stalks. By creating stop-in-your-tracks encounters with plants in a time when nothing feels more precious than nature, Johnson has become interior designers' and event planners' secret weapon of sorts.
This summer, Johnson shares a few ways to reinvigorate your own florals and get a little flower psycho, too.
Stretch your imagination beyond go-to flowers and green filler in a vase. Step back and look at the flower you want to showcase and ask, "How could this be paired with something else?" Push yourself to pair unexpected elements—a voluminous bloom or soft iris with a spiky tropical leaf, or consider tall or flowering herbs from your garden.
Consider making the greens themselves the star of the show, combining a variety of textures and shapes, with no blossoms added.
Invest in striking vases—Johnson loves the dramatic, organic shapes from ceramicist Lost Quarry—and don't be afraid to go big with plant elements like palm fronds or tumbles of greenery over the side.
Forage items from the farmers market and directly from nature to create colorful or extravagant tablescapes that surprise and delight. Johnson has laden tiered cake platters with medleys of mushrooms and vines and done wonders with spiky Romanesco broccoli.
Look at spaces where furnishings, sculpture or art might go, and consider a custom plant or fiber creation instead. Plant materials can dry over time and become permanent or semipermanent features.
IG @flowerpsychos; flowerpsycho.com